An internationally respected actor known for successfully bridging the gap between the theatrical world of the Shakespearean stage and contemporary film and television, Patrick Stewart continues to demonstrate his versatility with a wide range of projects.
Stewart will next be seen in the Showtime remake of "The Lion in Winter." In addition to starring opposite Glenn Close, Stewart will also executive produce along with Wendy Neuss, Robert Halmi Sr., and Martin Poll, who produced the orginal film. The film will air on Showtime in May.
In 2003, Stewart appeared in two high profile stage productions: Ibsen's "The Master Builder" in London 's West End which also starred Sue Johnston and Lisa Dillon. For his role as Solness Stewart received outstanding critical acclaim. Most recently he completed a run of Harold Pinter's drama "The Caretaker" on Broadway. Starring as "Davies" the production included Kyle MacLachlan as "Aston" and Aidan Gillen as "Mick" and was directed by David Jones.
Stewart is well-known for his roles in two hit movie franchises. He stars as 'Professor Charles Xavier' in 20th Century Fox's "X-Men" and "X-2" both directed by Bryan Singer. The "X-Men" films also feature the all-star cast which includes Sir Ian McKellan, Hugh Jackman, Halle Berry , Famke Janssen, Jimmy Marsden and Anna Paquin. He also stars as Captain Jean-Luc Picard in the "Star Trek" feature films, a role he played on television for 6 years.
Stewart earned both Emmy and Golden Globe nominations for "Best Actor in a Dramatic Series or Mini-Series" for his role as 'Captain Ahab' in the USA network's "Moby Dick," opposite Gregory Peck and Henry Thomas. The $18 million epic mini-series was filmed on location in Australia and set a ratings record for the network. In 2000 Stewart earned a SAG Award nomination for his role in TNT's "A Christmas Carol." Stewart played "Ebenezer Scrooge," a role which continues a cherished association with Charles Dickens' classic that has included his noted one-man performance of the play on Broadway. The film was produced by Robert Halmi and Stewart for Hallmark, and also starred Joel Grey.
In 1998, Stewart received critical notice for his portrayal in the title role of "Othello" at the Shakespeare Theatre in Washington , DC . Jude Kelly directed Stewart along with an otherwise all-Black cast in a 'photo-negative production' which took a bold, new look at the play. Stewart's performance was praised in the New York Times as "never anything less than uncanny in his psychological portrait: it's like watching an autopsy on human feeling."
In December of 1996, Stewart brought "A Christmas Carol," his award-winning adaptation of Charles Dickens' classic tale, to an exclusive engagement at the Doolittle Theatre. Stewart first performed this acclaimed one-man show for Broadway audiences in 1991, playing over 40 characters and earning him a Drama Desk Award for Best Solo Performer. This marked his first return to the New York stage since 1971, when he appeared in the now legendary Peter Brook production of "A Midsummer Night's Dream." When Stewart presented "A Christmas Carol" at London's Old Vic Theatre he received an Olivier Award nomination as Best Actor and the Olivier Award for Best Entertainment. In December of 2001, he took the show back to Broadway for eight benefit performances. The ticket sales from the sold-out performances were the highest single-week sales for any play in the history of Broadway.
On television, Stewart originated the role of 'Jean-Luc Picard' in the hit series "Star Trek: The Next Generation" which aired from 1988 to 1994; this role earned him Best Actor nominations from the American TV Awards and the Screen Actors Guild. In addition to his starring role, he also directed several episodes, one of which ("A Fistful of Datas") received an Emmy. Stewart reprised the role of 'Jean-Luc Picard' for Paramount Pictures in the motion pictures "Star Trek: Generations" (which also starred William Shatner and Malcolm McDowell), "Star Trek: First Contact," "Star Trek: Insurrection" and "Star Trek: Nemesis."
Stewart's additional film credits include the film adaptation of Paul Rudnick's play, "Jeffrey," "Hedda," "Dune," "Lady Jane," "Excalibur," " LA Story," "Death Train," "Robin Hood: Men In Tights," "Gunmen," "Masterminds," "The Pagemaster," "Conspiracy Theory," "Safe House," and "Dad Savage." He also lent his voice to the character, 'Seti,' in Dreamwork's hit animated feature film, "Prince of Egypt" and to the character of King Goobot in Paramount and Nickelodeon Movies' highly successful computer animated motion picture "Jimmy Neutron: Boy Genius."
Other television roles include the title role of "King of Texas" an updated version of "King Lear" set in Texas during the Mexican revolt in the mid-1800s with Hallmark Entertainment which Stewart co-produced; the title role of "The Canterville Ghost" for ABC and The Hallmark Hall of Fame, TNT's "In Search of Dr. Seuss," FOX's animated series "The Simpsons," as well as hosting several documentary series including "The Shape of the World" on PBS and TNT's "MGM: When the Lion Roars," a six-part series on the history of Metro-Goldwyn Mayer.
For the BBC, Stewart has been seen in the acclaimed miniseries, "I, Claudius," "Tinker, Tailor, Soldier, Spy," and "Smiley's People." He has also portrayed Salieri in "The Mozart Inquest," Oedipus in "Oedipus Rex," and Rev. Anderson in "The Devil's Disciple."
Stewart is an Honorary Associate Artist of the Royal Shakespeare Company, having been made an Associate Artist in 1967. With the RSC he has played such roles as King John, Shylock, Henry IV, Cassius, Titus Andronicus, Oberon, Leontes, Enobarbus, Touchstone and Launce. He has also starred in many contemporary works with the RSC, including premiere productions by Tom Stoppard, Edward Bond, Howard Barker and David Rudkin. In 1986, he played the title role in Peter Shaffer's play "Yonadab" at the National Theater.
Stewart won the Society of West End Theater (SWET) Award for his performance as Enobarbus in Peter Brook's production of " Antony and Cleopatra" and was nominated for his Shylock in "The Merchant of Venice."
Stewart's additional stage productions have also included his role in Arthur Miller's "The Ride Down Mt. Morgan." Stewart played Lyman Felt a bigamist who is visited by his two wives while he is convalescing in a hospital after an automobile accident in His critically acclaimed debut at the Public Theatre in 1998, earned him a Drama Desk nomination. During the Summer of 2000, Stewart reprised the role in a Broadway production which received a Tony nomination for Best Play. In 2001, Stewart appeared in "Johnson Over Jordan" in Leeds , England . Directed by Jude Kelly, the production marked the first revival of the play by J.B. Priestley since the original opening in London in 1939. Also in 2001, he appeared in the Guthrie Theater's ( Minneapolis ) critically acclaimed production of Edward Albee's "Who's Afraid of Virginia Woolf?" Stewart starred as George, a middle-aged college history professor in a destructive relationship with his wife Martha. Directed by David Esbjornson the play also starred Mercedes Ruehl, Carrie Preston and Bill McCallum.
In addition to "A Christmas Carol," Stewart has adapted other works for the stage, TV and radio, including two works by Mikhail Bulgahov, "The Procurator" (from the novel "The Master and Margarita") and "A Country Doctor's Notebook." In 1992, he directed the music/drama "Every Good Boy Deserves Favour" by Tom Stoppard and Andre Previn, starring with four other cast members of "Star Trek: The Next Generation" and the Orange County Symphony Orchestra. In 1993, the same production was presented with symphony orchestras in Minneapolis , Chicago and Atlanta .
In 1995 Stewart starred on Broadway as Prospero in Shakespeare's classic "The Tempest," for which he received a best actor nomination from the Outer Critics Circle. The production, which was originally featured as part of the hugely successful Shakespeare In The Park Festival , received overwhelming public and critical response - becoming the festival's biggest event since 1980.
In 1996, in honor of his work on the stage, Stewart received the prestigious "Will Award" from The Shakespeare Theatre in Washington , D.C. The Honor is given annually to an individual who makes "a significant contribution to classical theatre in America ."
That same year, Stewart also won a Grammy Award for his narrative work on the Best Spoken Word Album for Children, "Prokofiev: Peter and the Wolf."
In 2001 New Years' Honors list, Her Majesty Queen Elizabeth conferred on Stewart the order of the Officer of the British Empire (O.B.E.).
Patrick Stewart appears in the following:

Wednesday, August 12, 2015
Stewart stars in the new Starz series, "Blunt Talk." He and show creator Ames talk about the project.

Friday, January 09, 2015
In his latest film, "Match," Stewart plays a master dance teacher at Juilliard who is forced to confront his painful past.

Wednesday, December 11, 2013
Sir Patrick Stewart was on the Leonard Lopate Show recently, along with his co-star Ian McKellan, to talk about starring in No Man's Land and Waiting for Godot on Broadway. He also told us how to make his favorite sandwich. 

Tuesday, December 10, 2013
Sir Ian McKellen and Sir Patrick Stewart talk about their roles in Beckett's "Waiting for Godot" and Pinter's "No Man's Land," in repertory at the Cort Theatre.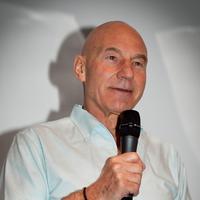 Thursday, October 28, 2010
5:00 PM
The Greene Space presents an intimate conversation between Patrick Stewart and WQXR's Elliott Forrest that takes us behind-the-scenes of this master craftsman's work and creative process.
Friday, February 22, 2008
Patrick Stewart
reinforces his reputation as one of the greatest Shakespearean actors of our time in his role in "Macbeth," now at BAM through March 22. The UK's
Telegraph
calls this production "brilliantly inventive, heart-stoppingly scary."

Friday, February 22, 2008
Leonard talks to two of the finest stage actors of our time:
Patrick Stewart
, now starring as Macbeth at BAM. Then
S. Epatha Merkerson
, who plays a faded beauty queen in "Come Back, Little Sheba." Also, a strange-but-true Nazi counterfeiting scheme during WW II. And
Please Explain
is all about ...

Sunday, August 05, 2007

Sunday, September 05, 2004
As an actor, Patrick Stewart is perhaps best known as the Captain of the starship "Enterprise" in "Star Trek." But he is also acclaimed for his stage portrayals, ranging from Shakespeare to Dicken's Scrooge in A Christmas Carol, to a multitude of roles in film.