New York Public Radio Events
FUNDRAISING EVENTS
The Lehrer Prize for Community Well-Being
Wednesday, December 9, 2020
7:00 PM EST
A Virtual Event and New York Public Radio Fundraiser
Join us as we look back on a notable year and honor the nominees of the first annual Lehrer Prize For Community Well-Being. This award aims to recognize a standout idea, individual, effort, or group that has contributed meaningfully in the past year to improving quality of life in New York City and nearby areas.
This event will be free and open to the public. Please visit nypublicradio.org/benefit for event registration and suggested levels of support. 
Have questions? Please contact Molly Hindenburg, Special Events Manager, at 646-829-4459 or via email.
Brooklyn Bowl and New York Public Radio have teamed up to present an annual event celebrating all of New York Public Radio's brands. The inaugural 2018 event included a live Soundcheck with John Schaefer featuring interviews and performances from Grizzly Bear—as well as a stellar line up of NYPR talent. Guests included Radiolab's Jad Abumrad and Molly Webster, Nancy's Kathy Tu and Tobin Low, WNYC's Brian Lehrer, and Gothamist co-founders Jake Dobkin and Jen Chung. The program ended with a DJ set by Talib Kweli.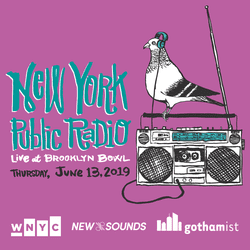 Join WNYC and Gothamist at Brooklyn Bowl for the second annual New York Public Radio Live, a sprawling performance-party hosted by Michelle Buteau with all your WNYC favorites and some very special musical guests—including Real Estate, Yo La Tengo's Ira Kaplan and Georgia Hubley performing a DJ set, Red Baraat, and the High and Mighty Brass Band. 
This evening of music, mingling, and public media camaraderie takes place this year on Thursday, June 13, 2019. 
This is a 21+ event. All ticket sales and contributions support New York Public Radio and its mission to make the mind more curious, the heart more open and the spirit more joyful through excellent audio programming.
For questions or additional information about this event please contact Molly Hindenburg. 
The annual Gala is our largest fundraising event of the year—celebrating the illuminating work produced across New York Public Radio and the generous supporters who make it all possible. The evening includes a cocktail reception, a sumptuous dinner, and a lively program, and attendees are welcome to purchase tables or individual tickets. If you are unable to attend the event but would like to support NYPR, contributions of any size are appreciated. Past performers and Gala hosts include John Turturro, Hilary Hahn, Glynn Washington, Cynthia Nixon, Renee Fleming, Kristin Chenoweth, Alec Baldwin, and Brian Stokes Mitchell. 
Individual gala tickets range from $1,500-$5,000. Gala tables range from $15,000-$100,000.
For more information about NYPR's fundraising events, please email Molly Hindenburg.
---
From intimate roundtable discussions to live tapings and exclusive performances, New York Public Radio events connect you—our fans and supporters—with the hosts, reporters, and personalities you hear every day on our airwaves. These events offer unique insights into culture and the news, bringing our listeners behind the scenes and into the conversation. Please visit wnyc.org/events for a list of upcoming ticketed events.
NYPR also offers a variety of exclusive invitations to thank our supporters for their generosity and partnership.
Gothamist Member Mingle: In January 2019, Gothamist supporters gathered for a night of comedy and magic. Upcoming events will be listed here.
Members of the NYPR Patron Programs ($1,200 and above) are invited behind the scenes at NYPR, and get insider access to some of New York City's most sought-after cultural events. Past events include:
Producers Circle Reception: This annual event features WNYC hosts in conversation with prominent journalists and cultural luminaries, and lets guests mingle with their favorite WNYC personalities over cocktails. Past guests include Ira Glass, George C. Wolfe, Cokie Roberts, Carl Kasell, Ari Shapiro, and Elie Mystal.
Patrons Circle Salon: The Patrons Circle Salon is a private musical gathering with WQXR personalities and performances from WQXR's favorite artists. Past performers include: Ailyn Pérez, Pablo Villegas, Anthony McGill, and Alessio Bax.
For more information about our Patron Programs, please email Chloe Hughes.
---
In 2009 New York Public Radio opened the Jerome L. Greene Performance Space on the ground floor of its downtown headquarters—a vibrant hub for performance, conversation, and community engagement. The Greene Space makes live events affordable and accessible to the public, with ticket prices rarely exceeding $25. Most performances are also live-streamed, and available free of charge on our website for on-demand viewing. Please visit thegreenespace.org to purchase tickets or to see a calendar of events. Past events include:
The Brian Lehrer Show Live: Join us once a month for a live broadcast of Brian Lehrer's Peabody Award-winning radio show, in which he takes questions from callers as well as the audience. Past guests include Katie Couric, Barry Jenkins, Jennifer Eagan, Chris Thile, and Alyssa Mastromonaco; and WNYC's Nancy Solomon, Kai Wright, and Shumita Basu.
TGS Artist-in-Residence Series: 2019's Artist-in-Residence is six-time Grammy Award winner Arturo O'Farrill. The mission of O'Farrill's residency is to be transcultural, genre-fluid and embrace all persuasions of musical deviancy and fun.
Podcast Mixtape: Join us for live tapings of your favorite podcasts, sneak peeks of unreleased pilots, and conversations with people who make great audio experiments of all kinds. Past Podcast Mixtape events include tapings and conversations with The Nod, Death, Sex & Money, Where Should We Begin? with Esther Perel, Thirst Aid Kit, More Perfect, and Trump Inc.