Events
Edit Bucket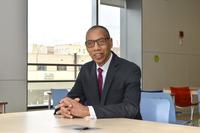 Monday, October 30, 2017
Queens Library President & CEO Dennis Wolcott hosts a live discussion on how to navigate government in New York City at the Queens Library in Flushing.
Tickets: Free
Edit Bucket

Tuesday, December 5, 2017
8:00 PM
Former White House counsel John Dean joins Alec Baldwin for a live taping of Here's the Thing at the Skirball Center for the Performing Arts at NYU.

Friday, October 6, 2017 through Monday, October 16, 2017
WNYC is a media partner of The Paley Center for Media, leading discussions on the cultural, creative, and social significance of television, radio, and emerging platforms for the professional community and media-interested public.

Thursday, December 7, 2017
WNYC is a media partner of the New York Academy of Sciences, presenting The Will to Meaning: Seeking the 'Why' of Our Existence series. The second event in the three-part series will be the evening lecture, The Story of Life: Critical Insights from Evolutionary Biology. Moderated by journalist Steve Paulson, Executive Producer of Wisconsin Public Radio's To the Best of Our Knowledge, this panel discussion brings together paleoanthropologists Melanie Chang and Ian Tattersall and paleontologist Simon Conway Morris to share their insights on what evolutionary biology can tell us about the meaning of our lives, and explain how purpose can be gleaned from the remarkable story of life itself. You can register here.

Friday, October 20, 2017
5:00 PM
WNYC is a media partner of Teens Take The Met!, a night of creativity, ideas, and excitement for teens at The Metropolitan Museum of Art.
Thursday, February 16, 2017 through Thursday, June 1, 2017
WNYC is a media partner of Strand Bookstore, New York City's home of 18 Miles of new, used, and rare books since 1927.  Info about Strand's monthly events is available on the Strand Books Events Calendar. 

Monday, October 30, 2017
WNYC is a media partner of Pop-Up Magazine, a live magazine created for a stage, screen, and live audience. Pop-Up Magazine works with Oscar-winning filmmakers, New York Times bestselling authors, and radio and podcast voices. Pop-Up Magazine will present a night of multimedia stories at David Geffen Hall at Lincoln Center on October 30th. 

Monday, January 4, 2016 through Saturday, September 30, 2017
WNYC is a media partner of The Moth, a not-for-profit organization dedicated to the art and craft of storytelling.

Tuesday, December 13, 2016 through Monday, May 1, 2017
WNYC is a media partner of Brooklyn Flea, operating flea markets every weekend of the year that feature hundreds of top vendors of furniture, vintage clothing, collectibles and antiques, as well as a tightly curated selection of jewelry, art, and crafts by local artisans and designers, plus a wide variety of fresh food. 

Friday, December 30, 2016 through Sunday, October 1, 2017
WNYC is a media partner of Brooklyn Public Library's 2016-2017 Presents Season, serving Brooklyn's 2.5 million residents and offering thousands of public programs.

Saturday, December 2, 2017 through Saturday, December 16, 2017
5:45 PM
Host Chris Thile is bringing A Prairie Home Companion to New York for three live broadcasts this December.