Events
Edit Bucket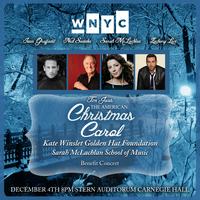 Friday, December 4, 2015
WNYC is a media sponsor of Tim Janis's The American Christmas Carol, benefiting Kate Winslet's Golden Hat Foundation and the Sarah McLachlan School of Music.
Location:
Carnegie Hall 57th Street and Seventh Avenue
New York, NY
Directions
Edit Bucket

Wednesday, October 7, 2015 through Wednesday, December 16, 2015
WNYC is a media partner of Monica Bill Barnes & Co.'s "Happy Hour," combining karaoke, cocktails, and modern dance every Wednesday in downtown NYC.

Wednesday, July 15, 2015 through Friday, July 15, 2016
WNYC is an exclusive media partner of Film Forum.

Saturday, November 28, 2015 through Saturday, December 12, 2015
5:45 PM
SOLD OUT
Garrison Keillor is bringing "A Prairie Home Companion" to New York this fall for three live broadcasts. 

Thursday, October 8, 2015 through Sunday, January 3, 2016
WNYC is a media partner of From Knowledge to Wisdom: Science and the Good Life, a lecture series presented by the New York Academy of Sciences.

Join us in The Greene Space at WNYC for live radio shows, concerts, visual arts, debates and much more. Now presenting "Answer Songs" with Rick Moody, Bullseye Presents: "Make Your Thing" with Jesse Thorn and John Hodgman, and The World Is Round: A Children's Audio Play.