A graduate of The Culinary Institute of America, Chef Bill Telepan has schooled at some of the world's top kitchens. He apprenticed with the legendary Alain Chapel at his three Michelin star restaurant outside Lyons. Under Chapel, he honed his culinary skills, and learned the importance of retaining the integrity of fresh ingredients.
On his return to New York in the early 90's, Bill worked with Daniel Boulud at Le Cirque and Gilbert Le Coze at Le Bernardin. Subsequently, he was hired by Alfred Portale at Gotham Bar & Grill, where he was executive sous chef for four years. He moved on to become the executive chef at Ansonia.
In l998 Telepan joined JUdson Grill, earning three-stars from The New York Times. He remained at JUdson until 2004. That same year in November, his cookbook, Inspired by Ingredients was published by Simon & Schuster. The following year he opened Telepan restaurant on the Upper West Side, where he lives with his wife and daughter.
Bill Telepan appears in the following:

Friday, July 17, 2015
Executive director of City Harvest Jilly Stephens and chef Bill Telepan discuss feeding kids when school is out.

Friday, July 17, 2015
Throw some bananas and some greenmarket strawberries into a blender, and you're good to go with a healthy and tasty smoothie! 

Friday, July 17, 2015
Kids will love this chilled soup, developed by Bill Telepan and his daughter, Leah, and its simple enough for them to make it too (just ask mom or dad for help with the food processor.)

Friday, July 17, 2015
Potato salad is an essential part of any summer picnic or barbecue, and this recipe from Bill Telepan and Wellness in the Schools features a nice added crunch thanks to the scallions.

Friday, July 17, 2015
Oatmeal pancakes are a tried-and-true twist on the breakfast classic, and these ones go especially well with homemade blueberry syrups.
Friday, April 04, 2014
Chefs Alfred Portale, of Gotham Bar and Grill, and Bill Telepan, of Telepan and the new Telepan Local, talk about the Gotham Bar and Grill's 30th anniversary and to discuss what makes a restaurant last for decades in NYC. To celebrate the longevity and many achievements of Gotham Bar and Grill, the restaurant is offering, among other things, the GOTHAM30 Menu Series developed in collaboration with chefs Bill Telepan, Tom Colicchio, Thomas Keller, Jonathan Waxman and Daniel Boulud.

Thursday, October 31, 2013
Having trouble getting your kids to eat foods that don't come packaged in box or wrapped in cellophane? 

Thursday, October 31, 2013
When you talk about picky eaters, the average kid can make a restaurant critic seem easy to please. Chef Bill Telepan shows us how to cook healthy meals kids will want to eat, and even make themselves.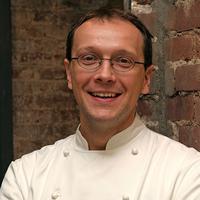 Wednesday, October 30, 2013
7:00 PM
Chef Bill Telepan has gotten three stars for his cooking at Telepan, but he's also the executive chef of Wellness in the Schools, bringing fresh and nutritious menu options to a public school cafeteria near you. He joins three-time James Beard Award winner Leonard Lopate to show us not only how to cook for kids, but how to get kids to cook their own healthy meals.
Wednesday, November 14, 2012
Our latest installment of Globavores: Food Travels since 1492 looks at squash and pumpkins! We'll speak with Bill Telepan, chef and owner of Telepan, and with Amy Goldman, author of The Compleat Squash.
Share your recipes for squash and pumpkins—leave them as a comment, below.
Tuesday, January 19, 2010
Chef
Jorge Collazo,
the Executive Chef for New York Public Schools, and Chef
Bill Telepan,
owner of Telepan restaurant, who volunteers as a cook in public school cafeterias, how to create fresher, healthier meals for young students.

Tuesday, January 19, 2010
Mark Bittman
drops by to talk about what's changed—and what hasn't—in the year since his book
Food Matters,
was published. Also chefs
Jorge Collazo
and
Bill Telepan
discuss their efforts to create fresher, healthier meals in New York City Public Schools. Plus,
Joshua Ferris
talks about his latest novel,
The ...
Friday, May 01, 2009
The Brooklyn Food Conference
brings together food activists, local farmers, health advocates, academics, union leaders and restaurateurs to discuss the challenges facing the global food economy, and what that means for New York. We'll be joined by conference organizer
Nancy Romer
and chef
Bill Telepan.
...