Edit Bucket
Thursday, July 16, 2015
We turned a pay phone into a roving microphone. First stop: Staten Island, where we're asking locals what Eric Garner means to them a year after his death. Here's what they told us
Events
Edit Bucket

Monday, May 18, 2015 through Thursday, September 24, 2015
WNYC is a media partner of SummerStage, celebrating its 30th anniversary season with an extended run from May through October.
Edit Bucket

Wednesday, May 27, 2015 through Sunday, August 23, 2015

Saturday, August 23, 2014 through Sunday, August 24, 2014

Thursday, September 10, 2015 through Saturday, September 19, 2015
Edit Bucket
Friday, July 17, 2015
Three dance legends talk about the future of ballet's performers and its audience, as long-entrenched racial boundaries and stereotypes collapse.
Spotlight On
Edit Bucket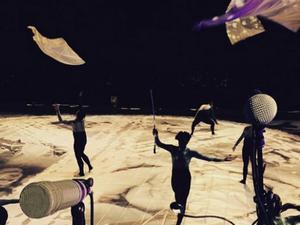 Wednesday, June 24, 2015
The latest project from indie rock icon David Byrne brings together rock music and color guard, the sport of flags and dummy rifles usually seen on football fields.