Events
Edit Bucket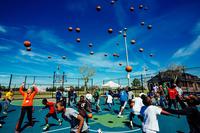 Wednesday, February 11, 2015
Location:
The Greene Space
44 Charlton Street, New York, NY
(corner of Varick Street)
Tickets: $10.00
Edit Bucket

Thursday, February 19, 2015
6:30 PM
Join us in The Greene Space for our first 40 & under singles event of 2015, dedicated to New York classics: pizza and beer!

Saturday, April 11, 2015 through Saturday, April 25, 2015
5:45 PM
Garrison Keillor is bringing "A Prairie Home Companion" to New York this April for three live broadcasts. As a WNYC listener, you can secure your tickets before they go on sale to the general public.

Saturday, January 3, 2015
5:00 PM
WNYC is a media partner of Target First Saturdays at the Brooklyn Museum, presenting Crossing Brooklyn Artists' Choice. 

Tuesday, October 14, 2014 through Wednesday, February 4, 2015
WNYC is a media partner of Beyond the Big Bang: Searching for Meaning in Contemporary Physics, an evening lecture series at the New York Academy of Sciences. The second event, The Unification of Physics: The Quest for a Theory of Everything will be held Wednesday, December 10th.

Friday, January 23, 2015 through Sunday, January 25, 2015
WNYC is a media partner of The New York Times Travel Show at the Jacob Javits Center.

Saturday, January 24, 2015 through Wednesday, February 11, 2015
WNYC is a media partner of Nai Ni Chen Dance Company, celebrating the Lunar New Year of the Sheep.

Wednesday, February 25, 2015 through Tuesday, December 15, 2015
WNYC is a media partner for Manhattanville College, presenting "Castle Conversations." 

Join us in The Greene Space at WNYC for live radio shows, concerts, visual arts, debates and much more. Now presenting Ana Gasteyer in conversation and song, WQXR Presents: A Chanukah Party, and WNYC's Singles Holiday Party.