Events
Edit Bucket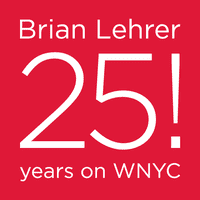 Thursday, October 30, 2014
Join us in celebrating Brian Lehrer's quarter century anniversary on the air!
Location:
The New York Society for Ethical Culture
West 64th Street at Central Park West
New York, NY
Tickets: $20
Edit Bucket

Wednesday, October 22, 2014
7:00 PM
Making new friends can be hard when you're a busy mom. Making new friends who you also really click with can be even harder. That's why Hillary Frank, host of WNYC's parenting podcast the Longest Shortest Time, is hosting Speed Dating for Mom Friends!

Saturday, November 22, 2014 through Saturday, December 6, 2014
5:45 PM
Be in the audience when Garrison Keillor brings "A Prairie Home Companion" to New York for three live shows this fall.

Saturday, November 1, 2014 through Sunday, November 9, 2014
WNYC is a media partner of the Malcolm X and Dr. Betty Shabazz Center, presenting Latin American Cultural Week. 

Monday, November 3, 2014
6:30 PM
WNYC is a media partner of FERN Talks & Eats, an immersive food-focused event featuring storytelling, performances, music, and food by local eateries.

Tuesday, October 14, 2014 through Wednesday, February 4, 2015
WNYC is a media partner of Beyond the Big Bang: Searching for Meaning in Contemporary Physics, an evening lecture series at the New York Academy of Sciences. The second event, The Unification of Physics: The Quest for a Theory of Everything will be held Wednesday, December 10th.

Wednesday, November 12, 2014
6:00 PM
WNYC is a media partner of Pratt Institute, presenting Planning for Parks: What's Next?

Saturday, August 2, 2014 through Sunday, November 30, 2014
WNYC is a media partner for The New York Community Trust Nonprofit Excellence Awards. Educating New Yorkers about top management practices in nonprofit organizations. 10 semi finalists were recently announced. 

Join us in The Greene Space at WNYC for live radio shows, concerts, visual arts, debates and much more. Now presenting Lopate and Locavores and The Sporkful: Eat More Better.