SchoolBook
After Last Year's Big Drop in State Testing Scores, Hopeful for Modest Gains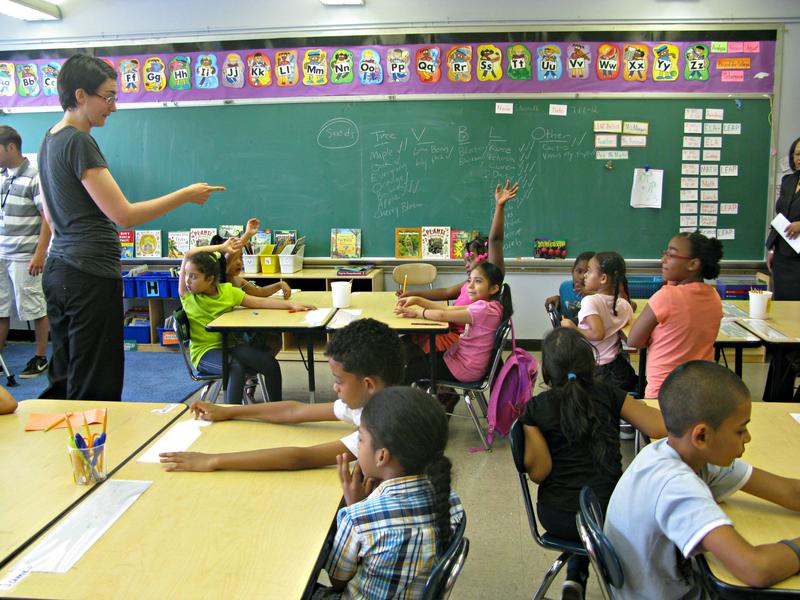 After a seeing a plunge in proficiency rates last year, state education officials said Monday that student performance on the standardized math and English tests should improve incrementally as teachers and students continue to adjust to the new Common Core learning standards. But progress may not come each year in each grade or subject, and significant gains will likely only be seen over several years.
Last year, less than a third of students statewide were considered proficient on the state tests, the first year that tests were aligned to the more rigorous Common Core standards. Education officials at both the state and city level campaigned hard to temper expectations on student performance.
This year proves no different. And according to a recent WNYC analysis, the percentage of students who could cross the proficiency mark — moving up from a Level 2 to 3 — is unlikely to be high on this next round of tests.
"This does not mean our teachers are any less effective or our students are any less prepared," wrote state education commissioner John King on Monday in a letter to school district leaders across the state. "It simply means we have set higher aspirations as we work to help our students be truly college and career ready." 
This second round of Common Core-aligned tests comes at a time when King has spent much of the school year defending the standards against criticism from educators, parents, lawmakers and Gov. Andrew Cuomo.
Critics have said assessments came too soon before educators were able to transition to the learning standards. In New York City, for example, schools received Common Core-aligned curricular materials, and the training to use them, after the first round of tests.
The state education department, for its part, has put the responsibility of training teachers and shifting instruction on school district leaders.
Devon Puglia, a spokesman for the city's Department of Education, said education officials are hopeful that student scores will improve with this year's additional teacher training, plus the introduction of curricula aligned to the Common Core.
"But we're also mindful of some of the implementation challenges that have occurred previously. This is an adjustment period — our schools are undergoing a paradigmatic shift in their instructional approaches," said Puglia in a statement. "That's why it's our goal to double down on quality support for teachers going forward. We have been very clear that it's our goal to shift all of our energy into improving classroom instruction."
English tests for third- through eighth-grade students begin on April 1. The math tests will begin on April 30. The state education department had to space the exams weeks apart this year, in order to work around various districts' spring vacations.
High school students will take the first round of Common Core-aligned Regents exams this June, such as English and Algebra. State education officials said the phase-in of new exams and the methods for scoring them will not keep more students from graduating.