SchoolBook
Common Core Training Kicks Off for Teachers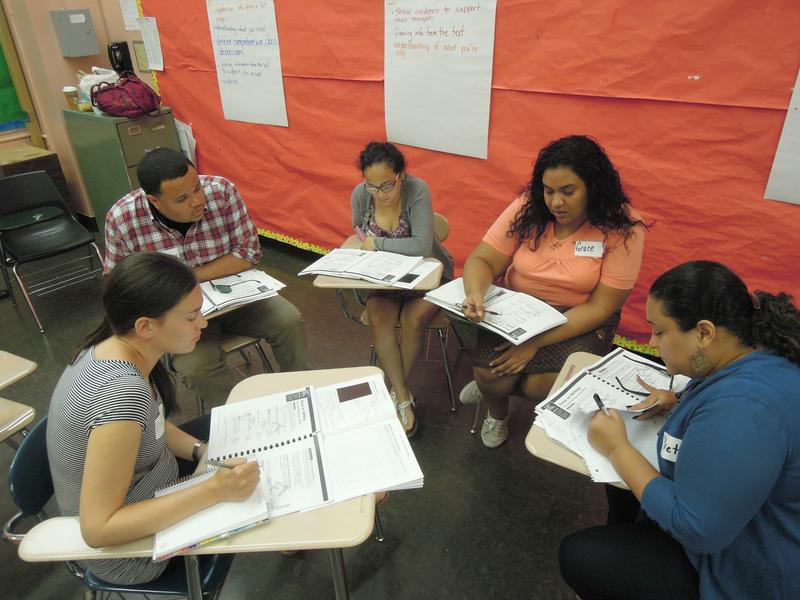 At the same time that city teachers are absorbing the results of new state tests, they are also receiving training on brand new curriculum materials that, some teachers say, would have been quite useful in the classroom had they arrived before their students were assessed in April.
"It's a learning curve more than anything," said José Vilson, a math teacher at I.S. 52 in Inwood, who also actively blogs about education. It would have been better, he said, to fully implement the more demanding Common Core standards into teaching practice before assessing students.
Now, months after the tests, thousands of teachers are attending summer training sessions on new math and English curricula developed by Houghton Mifflin Harcourt, Pearson and Scholastic that are aligned to the Common Core learning standards. More training will be offered after the start of the new school year.
The city's Department of Education announced in February that it was recommending new curricula, and schools had the option of ordering them or state approved curricula before the end of June. Education officials said 87 percent of regular district schools ordered these new materials. Schools could also choose other publishers, or stick with what they have and add supplements.
(The city does not track whether or not charter schools opted for the approved new curricula, because they don't order them through D.O.E.)
The materials are just becoming available now and being shipped to schools or posted online, and more will continue to trickle in after September.
But it's not as if schools are replacing all of their books. For example, officials said a popular staple such as Charlotte's Web will remain in the city-approved English curriculum, but it will be read aloud to second graders. Currently, many teachers use this book in fourth or fifth grade when kids can read it alone. By using it earlier, the idea is to expose children to longer texts and to more vocabulary words at an earlier age. 
The city and state posted numerous resources online for teachers last year so they could plan lessons and work in teams to map out their own curricula. But culling these resources took time, with many teachers working long hours after school or on the weekends.
The new materials provide a more structured guide for the key concepts of the Common Core: advanced reading and vocabulary, analysis and critical thinking skills. In math, students will delve more deeply into concepts, and spend more time in topic areas. Depending on the grade, students may only have a few math units for the entire school year instead of several.
The materials also offer guidance to teachers on pacing lessons, prompting small group work or offering interventions for students below or above grade level.
"I think that ReadyGen is teacher-friendly, finally," said Jackie Warren, referring to the new English language arts curriculum by Pearson. Warren, a third-grade teacher at P.S. 21 Crispus Attucks, attended a training session earlier this week. She added that she liked how the curriculum emphasized the teacher's role as "facilitator" rather than "lecturer."
"The 'teacher as facilitator' allows the children to develop questions, allows them to think about vocabulary, allows them to break away from being dependent on the teachers," she explained.
For many educators, the concepts of the Common Core are already integrated into their teaching practice. Some schools also prefer to chart  their own curriculum based on the mission of the school and its student population.
But now, schools across the city may at least have a common language, said Amy Andino-Flohr, principal of the Academy of Public Relations in the Bronx.
"I think the only thing that's going to ultimately push student achievement is getting kids to school and being engaging," she said. "And if you can't do that, regardless of how great a program is, I don't think student achievement is really going to increase."