SchoolBook
Officials Advise Lowered Expectations on State Tests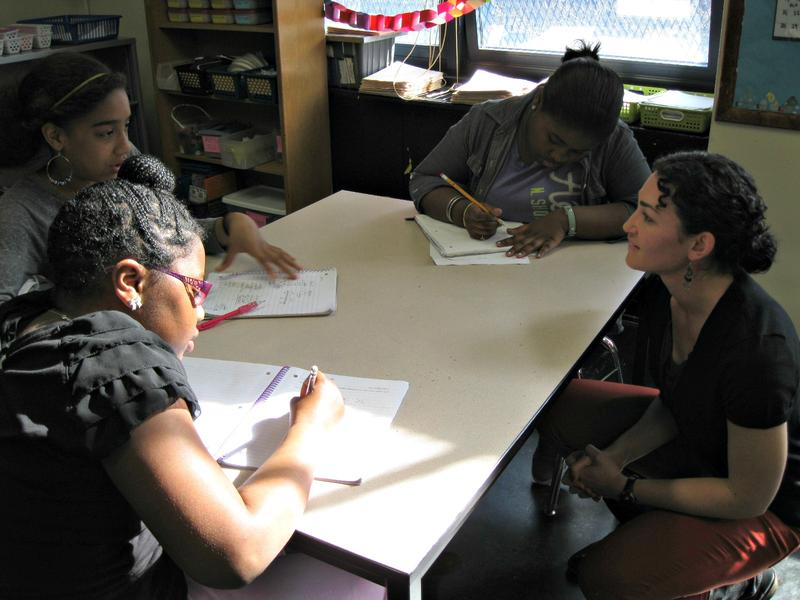 State and city education officials visited schools and briefed reporters on Tuesday in an effort to lower expectations for student performance on state tests set to begin next week.
They said the test questions, now aligned to new Common Core learning standards, will be harder this year and scores will likely drop.
"We know that the Common Core is a raising of the bar, and so we do expect that there will be a lower percentage of students who perform at the proficient or advanced level," said New York State Education Commissioner John King.
He spoke to reporters while visiting the Urban Assembly Academy of Arts and Letters along with the city's Schools Chancellor Dennis Walcott and Merryl Tisch, the chancellor of the board of regents.
Students in grades three through eight will begin taking the exams next week.
The Common Core standards, said King and Walcott, are meant to better prepare students for college by requiring them to demonstrate more critical thinking schools.
"This represents a new baseline, and it's a new more rigorous baseline and this is something that we aspire to," said Walcott.
The tests include more complex reading passages than in years past and more writing. In math, students will be expected to solve more multi-step problems and show their work, rather than answer multiple choice questions.
The state has posted materials online to help guide instruction, such as videos and curriculum maps for some subject areas and grade levels.
But teachers did not have curricula aligned to the new standards this year, and that has left many teachers and administrators nervous about how their students will perform on the tests.
Melanie Joseph Leathers, a fourth grade teacher at P.S. 20 Clinton Hill, said she's concerned about how teachers will be held accountable for students' scores.
"I mean, this is all new to us," she said. "It's new to the teachers, it's new to the students."
Nerland Jeanniton, a fifth grade teacher at P.S. 115 Daniel Mucatel School in Canarsie, said this school year has been the most challenging in her 15 years as a teacher. She said she thinks the Common Core "is exactly what" schools need, but she said implementing the new standards has been stressful without a curriculum to set expectations and help teachers pace lessons.
"The problem becomes that you spend a tremendous amount of time looking for those resources," she said.
In February, education officials announced that they chose new materials aligned to the Common Core standards which principals could incorporate next school year.
They also sent a letter home explaining the rigor of the new tests.
Reema Khrais contributed reporting.