New York Public Radio's Volunteer Ambassadors Program
New York Public Radio is making stronger efforts to stimulate awareness about the station in non-traditional public radio communities.
Volunteer Ambassadors will aid us in this effort by representing the station in these communities. In small groups, Ambassadors will engage and inform the public about the station and events throughout the boroughs of New York City.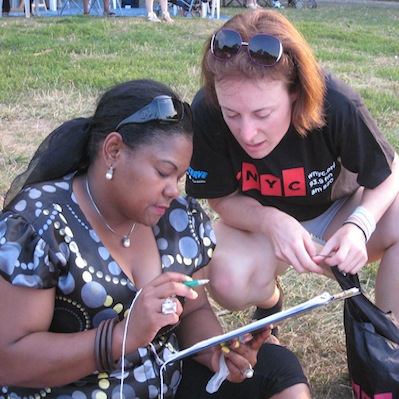 Ambassadors:
- Attract and cultivate new audiences for the station by having conversations with people about their community concerns
- Encourage people to join our Facebook group, Twitter account, Public Insight Network, and The Express e-newsletter by signing them up via iPad
- Inform people about their favorite shows on WNYC and WQXR.
- Distributing station event flyers and post cards
- Teams meet up for 2 hours of service twice a week. Ambassadors receive a $4 stipend for each day of service.
If you love talking to people and attending cultural events throughout New York City,  please send in your resume along with a brief statement of interest to volunteers@wnyc.org.