Did Christie Aides Cover Up Bridgegate?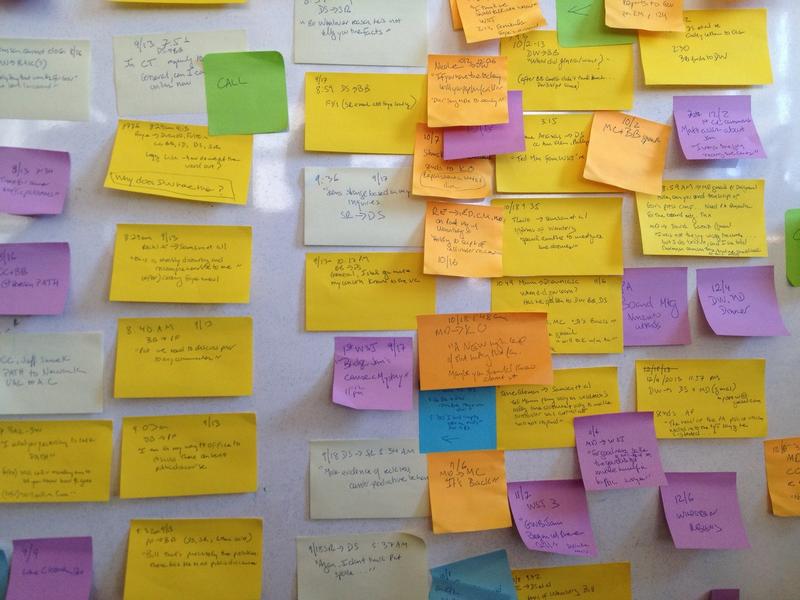 A team of lawyers lead by Randy Mastro and hired by New Jersey Gov. Chris Christie asserted in a report released last month that within the governor's office, "there is no evidence of any cover-up" of wrongdoing associated with the now infamous September traffic jams at the Fort Lee end of the George Washington Bridge. 
But there is another reading of the documents — one that shows the governor's top aides in the statehouse and his allies and appointees at the Port Authority carefully tracking the scandal that's come to be known as Bridgegate, working frantically to throw reporters and legislators off the scent and — at key points — informing Christie himself of certain facts about the unfolding mess. 
Here is a chronology of how Christie's team responded as the GWB traffic jams drew scrutiny from the press and lawmakers:
Sept. 13: Executive Director Patrick Foye reopens the lanes to the George Washington Bridge and fires off an email calling the closures "hasty and ill-advised," dangerous and illegal. After an exchange between Port Authority Chairman David Samson, a close Christie ally, and Bill Baroni, Christie's top appointee at the agency, Baroni sends an email to Foye: "There can be no public discourse."
Sept. 17: Reporters are asking more questions about the mysterious lane closures. Damage control begins. "We should sched. a meeting to stave off reporters," writes Bill Baroni, the top New Jersey official at the Port Authority, to David Wildstein, who ordered the lanes closed.
Oct. 2: A Wall Street Journal story with more details about the mysterious traffic jams is published, and Samson and Wildstein are up before dawn to read it. Documents do not indicate surprise or outrage by anyone in the Port Authority's New Jersey office or the governor's office about the revelations that the lane closures jeopardized public safety. But Samson, the Port Authority chairman and a father figure to Christie, privately declares that Foye, who reopened the lanes, is "playing in traffic, bad mistake." 
Baroni texts Wildstein about the article, referring to Maria Comella, Christie's Director of Communications. "Comella didn't think much of the story. Said nobody paying attention."
Oct. 16: State Sen. Loretta Weinberg attends a meeting of the Port Authority board with questions about the official account of the traffic study. Christie staffer Regina Egea is there, observing. "Weinberg attended," she notes in an email to the governor's chief of staff, Kevin O'Dowd; his counsel, Charles McKenna; and his spokesman, Michael Drewniak. "Questions ensued on Fort Lee but holding to script 'all under review.'"
Oct. 18: Christie spokesman Michael Drewniak continues to get questions from reporters. He emails Kevin O'Dowd, Christie's chief of staff: "A new high level of s**t is hitting the fan tonight on the Ft. Lee/GWB issue. Maybe you should know about it."
But Drewniak's response to reporters doesn't reflect all the behind-the-scenes commotion. "For goodness sake, the Governor of the State of New Jersey doesn't involve himself in traffic studies," he said.
 Nov. 25: The Port Authority's Bill Baroni testifies before the state legislative committee investigating the lane closures. He brings with him a large photograph of the George Washington Bridge, a red Sharpie and many details about a "traffic study" now known to be non-existent.
The Mastro reports says Baroni was coached by top officials in the Christie administration to prepare for the testimony. Many of those officials had worked with the governor at the U.S. Attorney's Office: Regina Egea, Nicole Crifo, Philip Kwon and Charles McKenna, the governor's counsel.
Nov. 26: Christie's reelection campaign manager Bill Stepien emails Baroni: "Hey, great job yesterday. I know it's not a fun topic, and not nearly as fun as beating up on [the late U.S. Sen.] Frank Lautenberg, but I wanted to thank you."
Wildstein texts Christie spokesman Drewniak: "Most importantly, Gov was not brought up in this."
Dec. 2: New Jersey Public Radio's Matt Katz asks Christie if he had any knowledge of lane closures. "I worked the cones, actually, Matt," the governor responds, to laughter. "Unbeknownst to everybody, I was actually the guy out there, in overalls and a hat. I was the guy working the cones. You really are not serious."
Dec. 3: The Port Authority police union chief, A friend of Wildstein's, offers a cover story to reporters: the lane closures were his idea. That turned out to be false. In a rare direct communication with Samson, Wildstein forwards a news report about his friend's account, with no comment or additional explanation.
That night, Wildstein and Drewniak dine together in New Brunswick. According to the Mastro report, Wildstein tells Drewniak that he'd told the governor about the lane closures while they were happening, and that two of Christie's top staff — campaign manager Stepien and Bridget Ann Kelly, the governor's deputy chief of staff — knew about them.
Dec. 4: The next day, Drewniak tells Christie about his conversation with Wildstein. According to the Mastro report, the governor tells his spokesman that it's time for Wildstein and Baroni to go. Christie himself edits the press statement thanking Wildstein for his service, according to emails released by the legislature.
Dec. 5: Wildstein emails Drewniak: "Thanks again for all your sound advice last night."His resignation is made public the next day.
Dec. 13: Baroni resigns. "Bill Baroni has characterized this as a mistake," Christie says in response to a question on whether he feels he's gotten to the bottom of what happened in Fort Lee. "I am not curious. Believe me, I've heard more about this than I ever wanted to hear."
Christie says he is satisfied no one on his staff was involved. "I've made it very clear to everybody on my senior staff that if anyone had any knowledge about this, that they needed to come forward and tell me about it, and they've all assured me that they don't," he says.
Jan. 9: The legislative committee investigating the lane closures releases the subpoenaed documents from Baroni and Wildstein — and for the first time, Bridget Ann Kelly's email is made public. It was sent in August, the day after the Democratic mayor of Fort Lee declined to endorse Christie for re-election: "Time for traffic problems in Fort Lee," it said.
Christie fires Kelly and cuts ties to Stepien. He says he was blindsided by the news, and that he fired Kelly because she lied to him.