Leave a Legacy for WNYC
In Memoriam: Fred Del Pozzo
New York Public Radio honors the late Freddie (Fred) Del Pozzo, who left this world way too soon on February 28, 2018.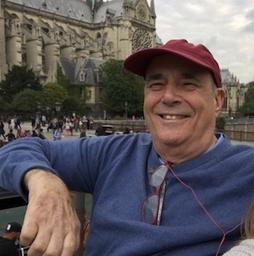 Fred was a man you only had to meet once and you would remember him forever.  He was full of life, knowledge, wisdom and opinions, which he was not shy to give, especially when it came to politics. He grew up in an immigrant Italian neighborhood in the Bronx, but had his sights on New York City at a very young age.
Fred travelled the world.  Unsure of what he wanted to do in life and just married at 22 years old, he decided to become a travel agent after his honeymoon to Europe.  He thought to himself, "How can I travel the world for free and still hold down a career?" And there started his legacy of Scheyer Travel, his travel agency for close to 60 years, in NYC. 
Fred raised a family and did, in fact, travel the world and bless so many people with his expertise in travel.  His next trip was never far from his thoughts. New York Public Radio was truly part of his daily routine – Fred told his children over and over again how much it impacted his life and he wanted to leave a gift that would impact and benefit others.
---
In Memoriam - Sandy and Phyllis Bolton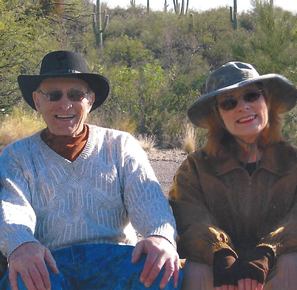 New York Public Radio honors the memory of Dr. Sanford "Sandy" Bolton and Phyllis Peltz Bolton, dedicated fans who cherished the arts and sciences. Phyllis and Sandy were married for over 60 years before their passing in 2011. Their loved ones speak highly of the Boltons' love for humanity, the arts, sciences, and the plight of those less able to succeed without some help along the way.
Dr. Bolton's professional career was spent in the pharmaceutical industry, where he was an inventor and a pioneer in the field of Biostatistics.  He served as a professor and department chair at St. John's University, in the College of Pharmacy and Health Sciences in New York, and held a position as visiting professor at the University of Arizona. Dr. Bolton was a widely-known expert in his field and had over 100 publications, including the textbook, "Pharmaceutical Statistics: Practical and Clinical Applications."  His other passion was guitars - playing them, building them, and listening to guitar music in concert.
Mrs. Bolton was an artist. She illustrated books and worked as an art teacher. Her artwork was featured in several exhibitions in New York and New Jersey. Art was a constant source of joy and purpose for Phyllis and she sought to use art to uplift and inspire her many students.
The Boltons' commitment to both the arts and sciences is demonstrated by their generous legacies in both fields. The couple, characterized by their loving, sharing and kind spirit, were enormously generous throughout their lives, supporting many institutions and interests that were dear to them.
Grammy-winning guitarist David Russell will honor Dr. and Mrs. Bolton at the inaugural Bolton Memorial Concert, taking place next month at the 92nd Street Y in New York City, with a program that traces the development of the instrument's repertoire. Beginning with a selection of lute songs by the English lutenist and composer John Dowland, Mr. Russell will also perform several works of Johann Sebastian Bach as well as Vicente Asencio, whose works were championed by the great Andrés Segovia. The concert will feature Sandy's Portrait, by celebrated composer and guitarist Sérgio Assad in memory of Dr. Bolton, his friend and passionate devotee of classical guitar music. Finally, Mr. Russell will perform the world premiere of Phyllis's Portrait, also composed by Sérgio  Assad, and written in memory of their mutual friend, Mrs. Phyllis Bolton. There will also be a pre-concert talk by Benjamin Verdery, chair of the Guitar Department of the Yale School of Music, and Art of the Guitar artistic director at the 92nd Street Y.
The Bolton Memorial Concert
Saturday, April 13, 2019 at 8PM
Tickets available at:
https://www.92y.org/event/david-russell-guitar
---
Testimonials
"I don't remember exactly when I started listening to WNYC, but it's become an integral part of my day – from the bed, to the kitchen, to the car! I really feel that it expands my world, enriches my life and satisfies my curiosity. Because I wanted to help sustain the programs that I had come to love, I decided to set up my first charitable gift annuity almost ten years ago.  Don't ever think that whatever you can give is not enough.  It's a start and will help keep the stations we love from disappearing in the future."
—Ruth Kram, Listeners Legacy Circle Member
"Over the years WNYC has become an essential part of my daily life, helping me to speak knowledgeably about current events – local, national and international – as well as music and culture with my colleagues and friends. When I was recently updating my will and reflecting on what organizations were important to my life, it seemed only fitting that I include WNYC in my plans – to help ensure the station's continuity for future generations and as my way of saying thank you."
—Melissa Williams, Listeners Legacy Circle Member
"The key to our functioning well in society is information. I've always been concerned that we have free access to the facts, ideas and background information we need to make informed choices and sustain our community, our country, our world. WNYC provides that context for me. That's why when the time came for me to consider what I wanted to leave as my legacy, I decided to become a member of the Listeners Legacy Circle."
—Carol Drisko, Listeners Legacy Circle Member
"I listen to WNYC every single day. The station is New York City. It takes the pulse of the city and transmits it back to us succinctly and intelligently. Placing it at the top of my list of organizations that mean the most to me when I created my estate plan was my way of giving back to the station that serves me and the city I love so well. I feel wonderful about it!"
—Virginia Chakejian, Listeners Legacy Circle Member