Mona Eltahawy appears in the following:

Tuesday, April 21, 2015
The Egyptian American writer and activist Mona Eltahawy argues for full equal rights for women in the Middle East.
Tuesday, December 06, 2011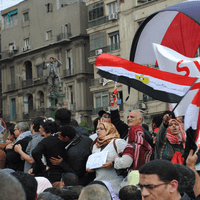 Thursday, October 27, 2011
7:00 PM
Our Egyptian salon transcended an energy of advocacy with the uprisings in Cairo's Tahrir Square as its nucleus and expanded this focal force to surrounding areas of the region and the evolving political and cultural transformations.

Tuesday, February 22, 2011
Yesterday afternoon former President Bill Clinton said in a statement: "The world is watching the situation in Libya with alarm. The government of Libya has a responsibility to respect the universal rights of the people, including the right to free expression and assembly." The EU, Italy's Prime Minister Silvio Berlusconi and other European figureheads made similar condemnations. But it's not always as simple as tyranny against democracy, is it? Lybia is a country in which the West is invested. 
Friday, February 11, 2011
Guests today include: 
As well as Shinasi A. Rama, deputy director of the NYU Alexander Hamilton Center for Political Economy and one of the leaders of the Albanian student movement; Suketu Mehta, New York City-based journalist, professor of journalism at NYU, and author of Maximum City: Bombay Lost and Found; Neferti Tadiar, professor and chair of women's studies at Barnard College; Anne Nelson, adjunct associate professor of international and public affairs at Columbia University who's covered revolutions as a journalist in Central America; Omar Cheta, PhD candidate in the departments of Middle Eastern and Islamic Studies and History at NYU; Shiva Sarram, who was eight years old during the 1979 revolution in Iran and the founder of the Blossom Hill Foundation, which works with children affected by conflict.; Gladys Carbo-Flower, recording artist and witness to Cuba's revolution; Didi Ogude, a recent NYU graduate who was ten years old during South Africa's regime change in the nineties; Hesham El-Meligy, a Muslim-American community organizer from Staten Island; and Ali Al Sayed, Egyptian New Yorker and owner of Kabab Café in Little Egypt, Astoria, Queens.

Wednesday, February 02, 2011
Women have long been on the frontlines of poliltical uprisings in Egypt. We see them now in the streets chanting for Mubarak to step down. Women were also integral in the 919 revolution in Egypt, which pushed out Egypt's British occupiers. It is a misconception that women are not part of the pro-Democracy demonstrators, says Mona Eltahawy, columnist and speaker on Muslim and Arab issues.

Monday, January 31, 2011
This is Egypt focusing on Egypt. Yes, Mubarak has been one of the major allies of US administrations for decades now, and they knew very well that he was a dictator and ran a police s...
Thursday, January 27, 2011
Friday, June 05, 2009
President Obama received a standing ovation after his speech yesterday in Cairo calling for a "new beginning" between the U.S. and the Muslim world. But was the response around the Mu...