Transportation Nation
Seven Things the MTA's Capital Plan Does. You'll Probably Only Notice Three of Them.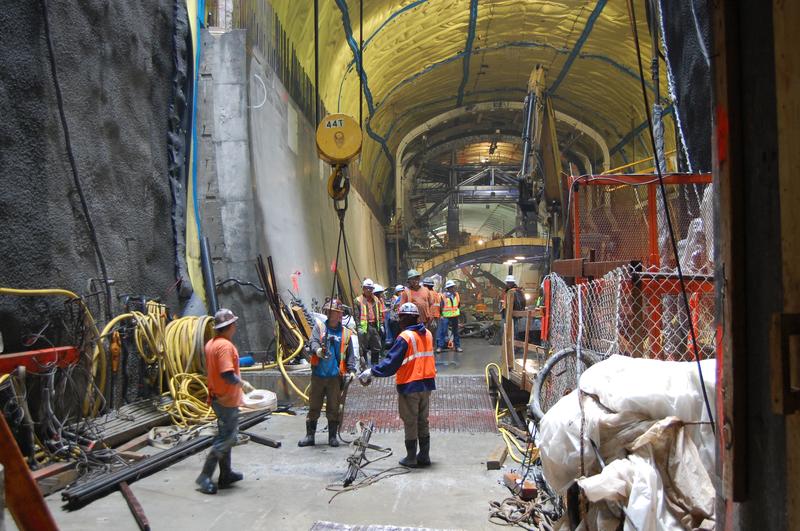 The MTA now finally has a (mostly funded) five-year capital plan. This means $26.1 billion worth of state-of-good-repair projects, upgrades, and expansions.
So what will this mean to you, transit rider?
Probably not that much.
"Customers won't notice the vast majority of the capital program," said MTA spokesman Kevin Ortiz, "because it's work that happens behind the scenes inside tunnels and other locations not accessible to the public." And most of the biggest projects take longer than just — just?! — five years to design, build and complete.
Here's what's in the plan, visible or not:
1. Track and signal upgrades and new switches. You probably won't see them. But they can make your commute faster and more reliable.
2. Positive Train Control. The MTA will complete installation of this federally-mandated safety system on all Long Island Rail Road and Metro-North trains by 2018. (Yes, the deadline is this year. Most railroads are going to miss it. Stay tuned on how that will play out.) Invisible to the rider most of the time, but it may help save your life. It's meant to prevent derailments like the fatal 2013 Metro-North crash.
3. New subway cars and buses. The agency will buy nearly 1,000 new subway cars, as well as 1,500 buses and 1,000 paratransit vehicles. But you won't see them for some time. And if you DO see new subway cars, say, on C train tracks in 2018, it's because they were paid for in the 2010-2014 capital plan.
4. Help Points. The MTA will finish installing these "highly visible" blue intercoms in all 469 subway stations this capital plan cycle.
5. Some, but not all, of the next phase of the Second Avenue Subway. Phase 1, which runs from 96th to 63rd Streets, is slated to open in 14 months —but it was funded in previous capital plans. Phase 2, which will run north to 125th Street, is being funded in the new capital plan. But it won't open during this time period, because the MTA must spend the next four years planning. The tunneling contract won't be awarded until 2019. (You think the Second Avenue Subway is taking a long time? Consider the No. 7 extension, which opened last month and consists of only one station. Work began in 2007.)
6. Penn Access. The MTA will start working on building four new Metro-North stations in the east Bronx that will connect to Penn Station. But this won't come to fruition for years, because it's tied to another MTA megaproject: East Side Access, which brings LIRR trains to Grand Central. Both projects are scheduled to open in 2022.
7. A new contactless fare payment system. The replacement for the MetroCard was initially supposed to be done in the 2015-19 capital plan, but it's behind schedule. That means work continues, and there's $250 million for it in the new capital plan.
A caveat. MTA officials have not yet signed off on the 2015-19 capital plan. It will be submitted to the MTA board for approval at the end of this month; it then must be approved by a state review board. Another $3 billion of improvements to MTA bridges and tunnels — which officially brings the total capital plan value up to $29 billion — does not need the state board's approval.