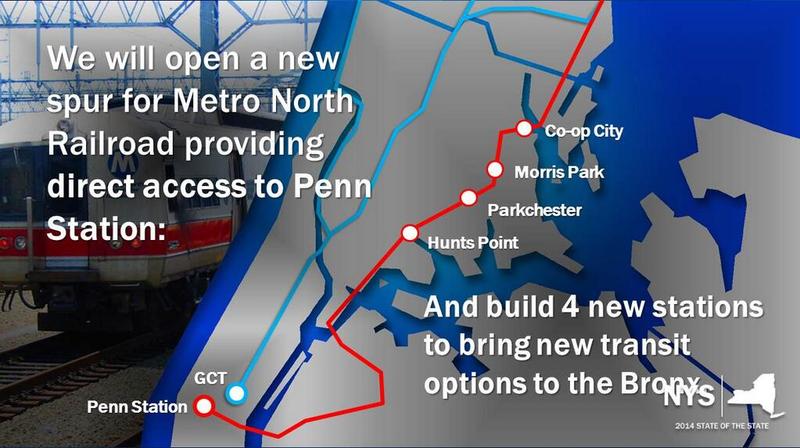 Governor Cuomo used his State of the State speech on Wednesday to express support for an MTA plan to send Metro-North trains through neighborhoods in the East Bronx.
"We will open a new spur for Metro-North railroad to provide more resiliency and direct access to Penn Station, which will also, at the same time, build four new stations to bring transit options to the Bronx," Cuomo said.

The new stations would be built in Hunts Point, Parkchester, Morris Park and Co-Op City. New Haven line trains would use an Amtrak rail line that runs through Manhattan, Queens and the Bronx. The MTA says the new line, which could be built by 2019, would carry thousands of Bronx commuters to and from Penn Station in 20 to 30 minutes.
The project's estimated cost is $1 billion dollars.
The MTA has extensively studied the idea of bringing commuter rail to the East Bronx. In October, officials held public information meetings in the four Bronx neighborhoods that would see new stations. (Bronx officials have backed the plan, calling it a job creator and long-needed link to Manhattan and Connecticut for a transit-starved area.)
A presentation from one of the public meetings shows that the plan depends on Metro-North becoming a major tenant of Penn Station. It assumes that platform space will be opening in 2019, when the MTA's East Side Access project is scheduled to be done, allowing Long Island Railroad trains to carry passengers to Grand Central Terminal. But railroad officials and elected representatives from Long Island have been wary about surrendering any of Penn Station's precious train slots.
Perhaps Governor Cuomo, with his endorsement of a Metro-North expansion, will prompt an agreement on the issue.