SchoolBook
De Blasio Rounds Up Pre-K Planning Posse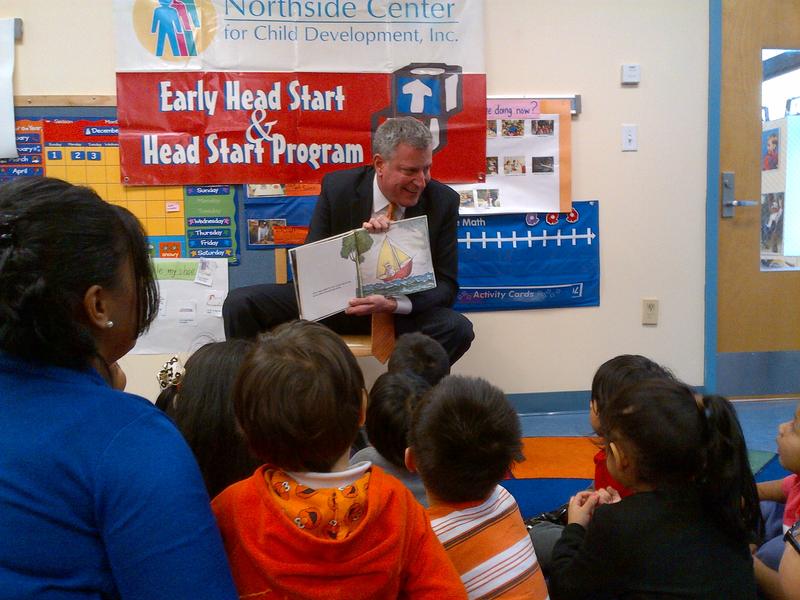 Let the wild rumpus start.
Mayor-elect Bill de Blasio announced the next steps in his push for an ambitious pre-K plan on Tuesday during a visit to the Northside Child Development Center in Harlem, where he read Maurice Sendak's Where the Wild Things Are to a room full of youngsters.

Afterward, de Blasio told reporters that he had picked a working group to focus on his pre-k plan, a centerpiece of his mayoral campaign, that requires raising taxes on the wealthiest New Yorkers in order to fund full-day early childhood education and after-school programs. Any tax increases must be approved by the state legislature.

The working group is led by his transition committee co-chair Jennifer Austin Jones, who runs the Federation of Protestant Welfare Agencies. The other members are:

-Elba Montalvo, founder, president and CEO of the Committee for Hispanic Children and Families
-Josh Wallack of the Children's Aid Society's early childhood programs
-Sherry M. Cleary, executive director of the New York City Early Childhood Professional Development Institute at CUNY
-Gail B. Nayowith, executive director of SCO Family of Services
-Nancy Kolben, executive director of the Center for Children's Initiatives
 
"You could literally not find in this country more experienced people in the field of early childhood education," de Blasio said.

Assuming he gets his way in Albany, de Blasio said he would be ready to start expanding the city's pre-K capacity in September 2014 for as many children as possible. He said there are school buildings and nonprofits with space, and highly effective teachers waiting to be employed.

He noted that about 20,000 New York City children currently get full day pre-K, while another 50,000 do not.

"It's our job to close that gap as quickly as possible," he said. "This would be a historic undertaking, the greatest expansion of early childhood education in our city's history. And we will begin to make our case in Albany quite soon, and we will relentlessly pursue this goal."

Albany Republicans have expressed concern about how to pay for the program, which could cost hundreds of millions of dollars. But de Blasio cited a recent poll that found two out of three New Yorkers support his plan. On WNYC's Brian Lehrer show Tuesday, Gov. Andrew Cuomo said he is "with" de Blasio on universal pre-K. But he refused to offer specifics, adding, "we're going to have that conversation in January."

On the search for a new schools chancellor, de Blasio said his transition committee is "talking to a number of individuals with extraordinary careers in education."

Although he will not be sharing their names with the public, he called this "an open process" unlike when Mayor Michael Bloomberg chose the publishing executive Cathie Black as chancellor in 2010 with no additional input. Black lasted just a few months.

"I am going to ensure that we will never have a situation like that again on my watch," he said.