SchoolBook
Confident de Blasio Predicts Albany Will Support Pre-K Tax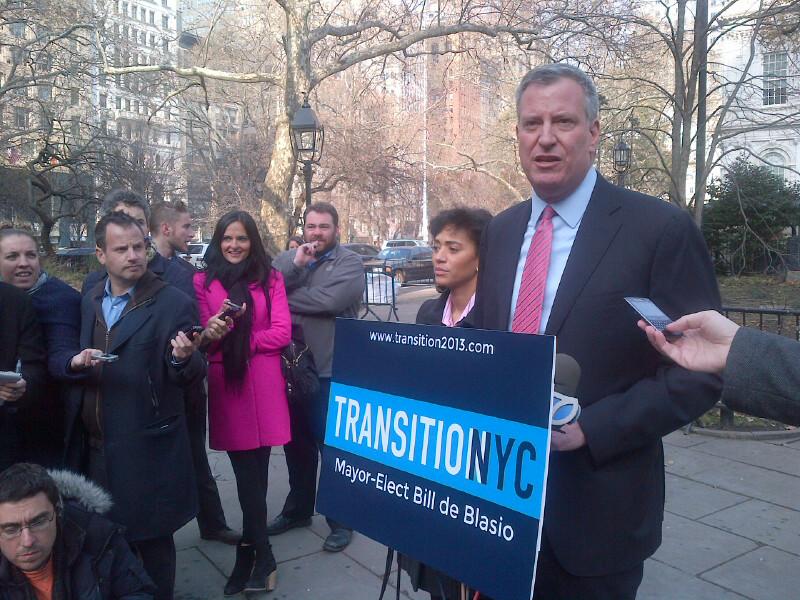 Mayor-elect Bill de Blasio claimed on Monday that a recent poll demonstrated what he called "extraordinary and energetic support" for his plan to tax the wealthiest New Yorkers in order to pay for universal pre-kindergarten and after school programs. And he predicted Albany lawmkers will see the light. 
"All of those senators and assembly members in Albany are going to be hearing what we believe they'd be hearing from their constituents," he said during a brief press conference in City Hall Park. "A strong belief that this is the right thing for New York City and something we want to see happen on a broader level all over our country."
The Quinnipiac University poll released last week found two out of three New Yorkers, statewide, supported the incoming mayor's plan. On Monday, he met with Assembly Democrats who are already on board. Senate Republicans remain wary about the tax hike.
 
Scott Reif, a spokesman for Republican coalition leader Dean Skelos, said the Long Island senator supports the concept of pre-kindergarten for all, but the question is "how do you pay for it."
Instead of de Blasio's plan to raise taxes on those making over $500,000 a year, Skelos suggested the city pay for the expansion with licensing fees from an NYPD surveillance system that's being shared with other cities. The city is expected to bring in $300 million from this program but de Blasio has said that won't be enough.
In other news, de Blasio said he will make one or two "major announcements" this week about high-level appointments and also about whether his family will move from Park Slope, Brooklyn, to Gracie Mansion. He also said there will be no public vetting of his potential choices for schools chancellor.
"We're going to welcome input," he said, to a point. "We're not going to have a beauty contest, we're not going to put the different finalists on display."
He said no decision has been made yet, that the transition team is still looking at candidates.
De Blasio has said he wants a chancellor who is an educator with a superintendent's license; Mayor Bloomberg's three chancellors all need a waiver from that state requirement from Albany.