SchoolBook
One Charter School Group Sits Out Latest Battle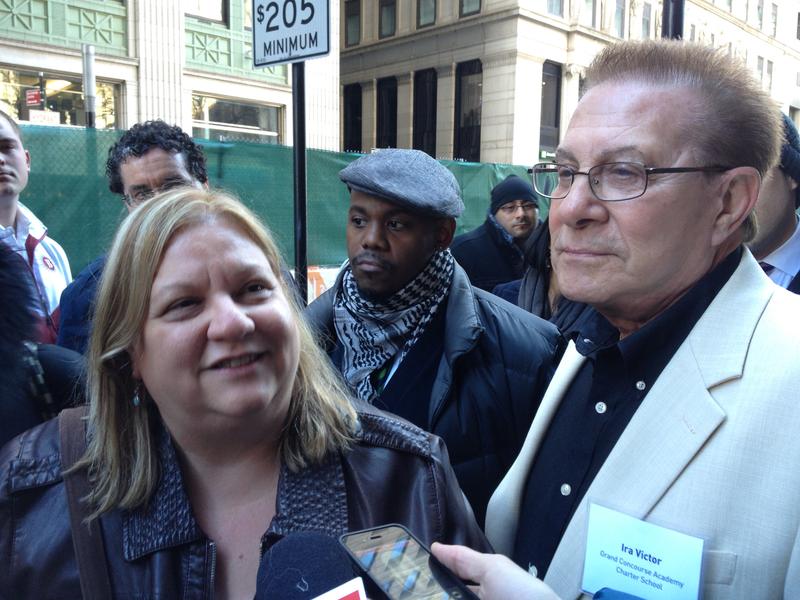 While some charter operators rallied in Albany this week with Gov. Andrew Cuomo, others were working more quietly behind the scenes.
Stacey Gauthier is the principal of the Renaissance Charter School in Jackson Heights, Queens. She's among 34 charter leaders who recently joined a coalition to work with the mayor, by explaining how they serve diverse communities, including children with special needs. 
Gaulthier said she accepted the city's decision to halt three charters from opening this fall because officials opposed placing elementary schools in the same building as high schools. The third would have taken space from a special education program. Despite that decision, she said, she believed the mayor is pro-charter.
"I'm going to hope that he actually will come out and say that he's pro any school that's serving kids with a high-quality education," she said.
At issue, the possibility that Mayor Bill de Blasio will charge rent to better funded charter schools, and that he would slow down the pace of opening new charter schools inside regular public schools. Last week, the mayor blocked three charters and three district schools from opening this fall, a decision that sent shock waves through at least part of the charter sector.
The three charter schools blocked from opening were part of the Success Academy network founded by Eva Moskowitz. She told NY1 that preventing one of her Harlem schools from expanding into a middle school would affect 194 fifth-graders who she said, "are being thrown out on the street, educationally homeless."
Schools Chancellor Carmen Fariña countered on Wednesday that these children can apply to other Success Academy middle schools or regular district schools. 
Moskowitz was one among thousands of supporters at Tuesday's charter school rally in Albany where Cuomo praised her schools. Gauthier's coalition declined to go, calling it divisive because it conflicted with the mayor's rally for expanding pre-kindergarten and after-school programs. For more on the rally organizers -- and the support behind charter schools -- take look here.
Morty Ballen, the C.E.O. and founder of Explore Schools in Brooklyn, argued the rally was needed to convince state lawmakers that charters should be allowed to grow. Ballen wasn't happy with de Blasio's move to block three charter schools. But he said that doesn't mean the mayor is anti-charter overall.
"It signaled that there's an understanding that charter schools are snowflakes, and that there are different situations and contexts for the different charter schools," Ballen explained.
Gauthier said her charter school coalition is hoping to meet with some of the larger charter operators in coming weeks. 
"My gut tells me we want to see the same thing in the end," she said.
Meanwhile, some critics were against the mayor for not going far enough in rolling back charter schools' expansion.
City Council Speaker Melissa Mark-Viverito and Public Advocate Leticia James said they may revive a lawsuit seeking to stop all of the co-locations approved in Mayor Michael Bloomberg's final year on the grounds that they would cause overcrowding and didn't involve enough community consultation.