SchoolBook
Parents Say Charter Suit Leaves Them in the Lurch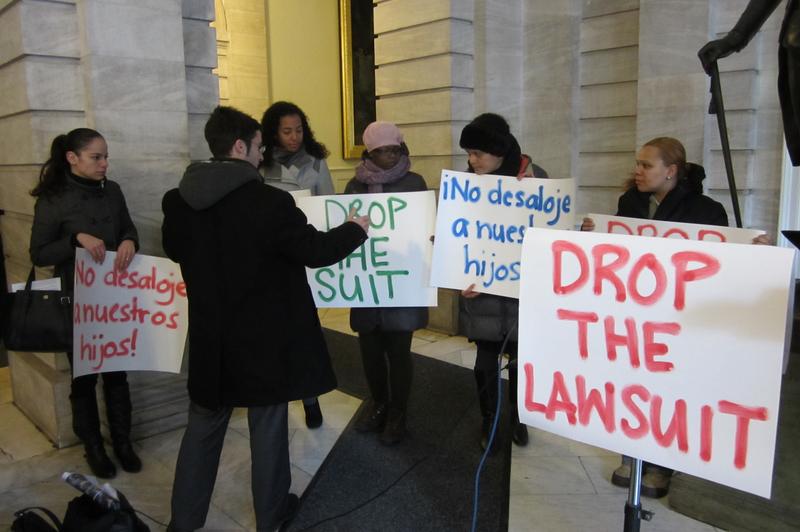 A group of charter school parents braved the severe cold on Tuesday to urge local politicians to take their opposition to charter schools elsewhere, and drop a legal challenge to dozens of schools approved under the Bloomberg administration.
They said the political fight over 41 schools approved to open next fall --  19 of them charter schools -- left their children's education in limbo.
Rafael Lois, whose daughter attends Girls Prep in the Bronx, said she is supposed to start sixth grade next fall at the charter's new middle school, which was approved to open inside a building that also will house M.S. 301 and a special education school.
"Girls Prep Bronx was one of the few schools in the Bronx that was rated with the A," he said, adding that he's missed the deadline to apply to another middle school.
Carmen Melendez, whose two daughters attend Success Academy charters in Harlem, said she's worried about families living in limbo.
"Why do we have to be fighting over this if it's a public school that's doing a great job in educating kids? Charters are public schools. We're not the enemy."
The parents were members of the advocacy group Families for Excellent Schools.
The lawsuit plaintiffs, which include some political heavyweights, claim former Mayor Michael Bloomberg rammed through the proposals for ideological reasons while Bloomberg said they were intended to offer more choices to families.
"The co-locations rushed through by the previous administration were an attempt to over-extend its influence. They were inappropriate and ill-advised," said Public Advocate Leticia James. "We must halt these proposed co-locations and the new chancellor must conduct a thorough review all co-locations slated to be implemented in the coming years."
While the schools chancellor has not commented on the contested schools, Mayor Bill de Blasio has, only to put the issue at the feet of his new legal adviser, Corporation Counsel Zachary Carter. When asked by WNYC last week about the lawsuit, de Blasio said Carter would have to look at the suit's dynamics and legal precedents.
"This is a sensitive area and we don't have a hard and fast rule," he said. "Does it make sense to reverse them, is it possible to reverse them, is it more productive or counterproductive to reverse them?"
During the mayoral campaign, de Blasio called for a moratorium on co-locations. Carter's office declined to comment further.
The suit was filed in late December by three community groups and five City Council members including James and Melissa Mark-Viverito, who is vying to become Council Speaker. 
The lawsuit mirrors a similar one filed by the teachers union in June that seeks to overturn the approval of 11 charter schools slated to open the 2014-2013 and 2015-2016 school years. Parties involved said it's likely the two lawsuits will be consolidated.