SchoolBook
Co-location Issues Rev Up Along With New School Year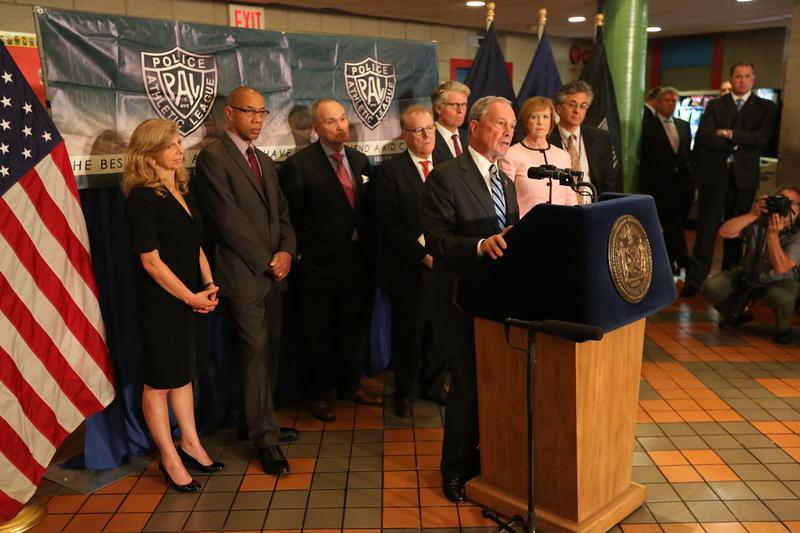 Parents opposed to new proposals to open multiple schools in the same building called on the Department of Education to withdraw the plans from the agenda of the Panel for Education Policy meeting next month. The release of more proposed co-locations late on Friday before the Labor Day weekend prompted the parents' outcry.
"I think we all want to be part of the solutions," said Miriam Aristy-Farer, interim president of the Community Education Council for District 6, which includes Washington Heights and Inwood in Upper Manhattan. "We know our communities, so when there is a proposal on the table the community needs to be informed -- not at the point of a P.E.P. vote, but at the point of the initiation of the idea."
She and members of the Community Education Councils for Districts 1, 17, 30 and 31 held a press conference Tuesday at Tweed to voice their concerns about community engagement and the D.O.E.'s method of calculating available building space, which they call flawed.
Aristy-Farer is concerned about the proposal in District 6 to locate a middle school in a building that already houses P.S. 192 Jacob H. Schiff and P.S. 325. The proposal is one of nearly two dozen planned co-locations set for a vote at the Oct. 15 meeting of the Panel for Educational Policy.
Aristy-Farer said members of the P.S. 192 and P.S. 325 communities did not learn about the proposals until the end of June, when schools were preparing to break for the summer. The D.O.E reached out to her about the proposals in July, she said, which she called "a cheap shot."
"They can say 'yes, we've done our part,' but I can't physically walk through a school and make an assessment," she said, since schools were closed over the summer.
The D.O.E. announced an additional set of co-location proposals on the Friday afternoon before Labor Day. The timing prompted critics to accuse the D.O.E. of pushing through proposals to open and co-locate schools before the mayor's tenure comes to an end this year.
"Bloomberg's proposals are a cynical effort to lock communities into permanent changes while ignoring community voices," said Bill de Blasio, the public advocate and democratic candidate for mayor, in a statement.
Bill Thompson, a democratic rival in the mayoral race and former comptroller, has also called for a moratorium on co-locations.

Bloomberg defended his policy of opening new schools alongside others in the same building, saying more choices are better for families. 
"Look, we have created hundreds of new schools which have given parents more quality school choices," he said. "I don't know why anyone would want to take that away from parents."
If approved, and if the school changes go forward under a new mayor, the co-locations would take effect in the 2014-2015 school year.