SchoolBook
De Blasio's Rent Plan Makes Charters Anxious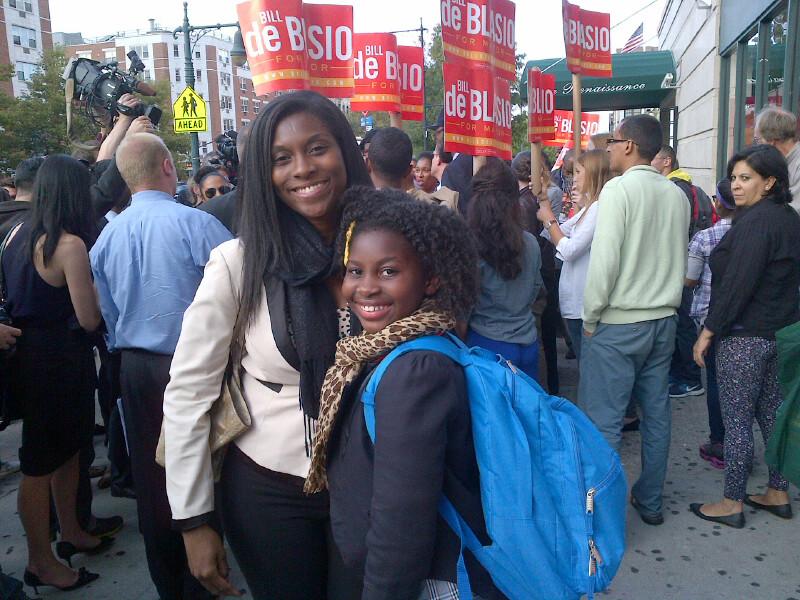 Mayor Michael Bloomberg has been one of the nation's foremost promoters of charter schools. The leading contender to replace him in City Hall has a very different view. Chief among the differences: Bill de Blasio wants many charter schools to pay rent for space in school buildings, albeit on a sliding scale.
"It would depend on the resources of the charter school or charter network," de Blasio explained. "Some are clearly very, very well resourced and have incredible wealthy backers. Others don't. So my simple point was that programs that can afford to pay rent should be paying rent. We certainly need the resources in terms of our public budget. Those that are less resourced should not have to pay rent. But the notion that it's one size fits all, regardless of the resources of the charter school, makes no sense to me."
The Democrat gave no details for how much rent he would charge for the better-funded charters. He did indicate that also wants to ensure charters serve all students equally (see more below). A campaign aide said he would be willing to work with all the stakeholders and a new Department of Education if elected mayor. His chief rival, Republican candidate Joseph Lhota said he would like to double the number of charter schools in New York City, rent-free.
Not surprisingly, representatives of the charter school sector said they were very anxious about the prospect of a de Blasio administration. Many charter operators also acknowledge that Lhota is highly unlikely to become mayor, and that most of their own members are Democrats. That's why they have been reluctant to antagonize the Democratic candidate.
But charter operators, from the smallest to the largest, said paying rent would be devastating. The privately managed schools get state funds, per-pupil, for operations, not for facilities. And those that operate in New York City are required to be non-profit organizations.
A report by the Independent Budget Office found charter schools that are co-located actually get a few hundred dollars more per student than district schools when you factor in the value of their space. The New York City charter center disputes that, however, partly because it says the report undervalued how much more money regular public schools get in pension contributions for their unionized teachers. It points to a letter by Department of Education that criticized the I.B.O.'s report.
David Levin, co-founder of the national charter network KIPP, has 10 charter schools in New York City, only one of which is in its own building. He said this policy of space sharing enabled his schools to flourish. They now serve about 5,000 students.
But in other districts, he said his network had to pay rent which "severely limited our ability to grow, which is why increasingly in places like Houston and St. Louis and Atlanta, districts are starting to co-locate schools."
KIPP said the cost of rent ranges from $157 per student in Baltimore to $589 per student in Memphis.
Jeff Litt, superintendent of the Icahn charter network, now has seven schools, only two of which are in Department of Education buildings. The network was founded by the investor Carl Icahn, who paid for the other schools to have their own buildings. But Litt said that doesn't mean the foundation that runs his schools has extra money to suddenly start paying for rent on the charters that are located in public school buildings. Nor does he see why it should. 
Litt noted that charters aren't the only schools sharing space, because hundreds of regular public schools are co-located in the same buildings. "What's the difference between us or when the mayor has two or three schools in the same building? I really don't understand the argument."

Steven Evangelista, who runs the charter Harlem Link, said he finds the ideas of charters paying rent district school buildings "abhorrent and unjust" because charters don't receive capital dollars from the city. He also said charging rent, "would effectively shut down the charter movement, since we have had zero increase in the past several years in our per-pupil funding and already budgeted at a six-figure deficit this year. And we feel we are one of the more fiscally responsible charters."
Damisa and Robert Henry said the Success Academy charter in Crown Heights, where their daughter Emily goes, should not have to pay rent to share space inside P.S. 167. (Beth Fertig/WNYC)
Some charter operators are looking at the prospect of rent in the future budgets. According to documents obtained by WNYC, one charter school in Brooklyn (which declined to be named) projected paying as much as a one million dollars a year - sending it into the red - if it had to pay several hundred dollars per student in rent.

Eva Moskowitz, who runs the Success network of charter schools, said she has not started planning for rent. Her network has 22 schools, all of them in Department of Education buildings, with six more planned for next year. Although her board members include people from the financial sector, and De Blasio has singled her out for being well resourced, she pointed out that most of her schools are in the poorest neighborhoods of the city.

Moskowitz has sent a letter to the families of her students encouraging them to attend the march across the Brooklyn Bridge next week organized by Families for Excellent Schools, to show their support for charters. She has even made the march part of the school day.

Brooklyn parent Damisa Henry said she will gladly attend with her five-year-old daughter Emily, who is a student at the Crown Heights Success school. Henry said she was unhappy about de Blasio's plan to charge charters rent, adding that it could affect her vote for mayor.

"How are they going to raise money to do that?"
But Althea Judge, whose daughter Jeanette (pictured above) attends the district school whose building is being used by the charter, supports de Blasio. P.S. 167 is in the process of being phased out for low performance.

"We have funds that we should be able to help these public schools out," she said. "We need funding."
De Blasio also suggested that he would hold charters accountable on issues other than rent. He said he would like to see charter schools educating a larger share of children with special needs and English-language learners. And he may consider those figures when weighing school closures.
"Some schools are working great, others aren't working so well and will have to be replaced," he said. "And so we're going to work with each and every school that is functioning well for its children and that is representing the children of each district. We want to see charters, like traditional public schools, have every kind of child involved. The ones that are doing well and are representative, I'm sure I will work with quite fine."

Technically, the charters don't have leases with the city but they could not be evicted without review. Any changes in the utilization of a public school building must be reviewed by the Panel for Educational Policy; a majority of PEP members are appointed by the mayor.