WNYC's New Sounds Live to Host Record Release Party and Exclusive Live Performance of Meredith Monk's Songs of Ascension
Monk to Perform New Music Arrangements of Her Critically Acclaimed Work
Wednesday, May 18 at 7pm at The Greene Space at WNYC and Live Video Webcast at www.thegreenespace.org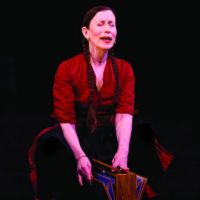 (May 4, 2011 – New York, NY) – To celebrate the record release of the highly lauded work, Songs of Ascension, New Sounds Live will present an exclusive NYC performance of new music arrangements of  this haunting piece by MEREDITH MONK.  
The event will take place at The Jerome L. Greene Performance Space on Wednesday, May 18 at 7pm.
The evening will blend music and conversation as New Sounds host JOHN SCHAEFER talks with Monk about the creative process for this piece – which includes inspiration from an encounter with a Zen Buddhist priest – and Monk's pioneering and inimitable career. Meredith Monk & Vocal Ensemble, along with the Todd Reynolds Quartet, will perform selections from Songs using a combination of voices and instruments including strings, reeds, percussion and the Indian shruti box to envelop the audience in contemplative, celestial sound.
"Over the past 25 years, New Sounds listeners have had the chance to hear Meredith Monk in our studio and in our live concert series, often unveiling new works," said Schaefer.  "A few years back, Meredith performed some of her brand new Songs of Ascension in our studio; it was a magical moment, and all I could think was, 'I wish I weren't the only person in here witnessing this.'  Now, everyone at The Greene Space, as well as those joining us online, will have the chance to share that experience."   
Songs of Ascension debuted to rave reviews in October 2008 and was later conceived for an innovative presentation at the Guggenheim that included 120 performers sprawling through the tiers of the Museum.  The work was last performed in New York in 2009 at the Brooklyn Academy of Music and recently won the Herald's Angel Award at the Edinburgh International Festival. 
Tickets are $20. The event will also be available as a live video webcast at www.thegreenespace.org, and will stream live on Q2 – WQXR's dedicated new music webstream – at www.wqxr.org/q2.
The press release announcing the record release may be accessed here: http://meredithmonk.org/temp/MonkSongsofAscension.pdf.
WHAT: New Sounds Live with Meredith Monk & Vocal Ensemble and the Todd Reynolds Quartet
WHEN: Wednesday, May 18 at 7pm
WHERE: The Jerome L. Greene Performance Space, 44 Charlton Street (at Varick Street), New York, NY 10014
TICKETS: $20, includes a complimentary glass of wine, available at http://www.thegreenespace.org/monk or by calling (866) 811-4111
Live Video Webcast: www.thegreenespace.org

Live Audio Webcast: www.wqxr.org/q2 
Photo: Cameron Wittig courtesy Walker Art Center
---
New Sounds provides a place for your left and right brain to unwind at the end of day. Host John Schaefer combs recent recordings for one of the most educational and enchanting hours on radio. For 20 years, he's been finding the melody in the rainforest and the rhythm in an orchestra of tin cans. The program offers new ways to hear the ancient language of song. With guest musicians from David Byrne to Meredith Monk to Ravi Shankar, Schaefer presents performances and premieres new works from the classic and operatic to folk and jazz. 
New York Public Radio is New York's premier public radio franchise, comprising WNYC, WQXR, and The Jerome L. Greene Performance Space, as well as www.wnyc.org, www.wqxr.org and www.thegreenespace.org.  As America's most listened-to AM/FM news and talk public radio stations, reaching 1.1 million listeners every week, WNYC extends New York City's cultural riches to the entire country on-air and online, and presents the best national offerings from networks National Public Radio, Public Radio International, American Public Media, and the British Broadcasting Company. WNYC 93.9 FM broadcasts a wide range of daily news, talk, cultural and music programming, while WNYC AM 820 maintains a stronger focus on breaking news and international news reporting. Classical 105.9 FM WQXR is New York City's sole 24-hour classical music station, presenting new and landmark classical recordings as well as live concerts from the Metropolitan Opera, the New York Philharmonic, among other New York City venues, immersing listeners in the city's rich musical life. In addition to its audio content, WNYC and WQXR produce content for live, radio and web audiences from The Jerome L. Greene Performance Space, the stations' street-level multipurpose, multiplatform broadcast studio and performance space. For more information about New York Public Radio, visit www.nypublicradio.org.