Savion Glover appears in the following:

Tuesday, May 03, 2016
Dancer and choreographer Savion Glover and Judith Jamison, Artistic Director Emerita of Alvin Ailey American Dance Theater on upcoming performances and "Shuffle Along" on Broadway. 

Wednesday, June 26, 2013
Savion Glover talks about his dance company, the legacy of tap dancing, and about "Stepz," his new show at The Joyce Theater through July 6.

Wednesday, June 26, 2013
Tap dancer and choreographer Savion Glover was on the Leonard Lopate Show recently. He talked to guesthost Jonathan Capehart about his latest show, "Stepz," and he also told us about some of his favorite things!

Wednesday, April 24, 2013
Tony Award-winning tap dancer and choreographer Savion Glover joined us in The Greene Space to talk tap, dance and "The Rhythm of Freedom" — part of our ongoing EMANCIPATION 150 series.
During their conversation, host and journalist Charisse Jones noted records of African slaves using tap as a form of communication, having had their drums — what they previously used to communicate —  taken away by slave owners. Through the rhythm of their feet, they expressed disapproval, defiance, even mockery of their owners. Jones asked Glover how he saw tap being used as a form of expression today.
"I try to produce or evoke...feelings of a state of meditation, feelings of prayer," Savion said. "There are sounds that we can make that will make you cry...or think. It becomes more audial than visual. A lot of times the visual can be distracting."
Here he performs a nearly 15-minute tap improvisation, a form through which he says he best expresses himself. "This is not a routine," he said, asking the audience not to watch him, but to instead hear his feet. "You should be listening for the music, you should be listening to your soul."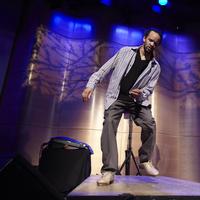 Friday, April 12, 2013
7:00 PM
Join Savion Glover in performance and conversation on his career, the history of tap and the influence of African-American dance on today's styles. Hosted by Charisse Jones. Watch on-demand video now.
Friday, July 25, 2008
Tony Award-winning hoofer
Savion Glover
's new show, "The Evidence," is an exploration of the sound heard from the music of tap dance. He's performing at the BB King Blues Club (237 West 42 St) on Thursday, July 31 at 8 pm. For more info and tickets, go
here
.
Friday, July 25, 2008
The price of oil is way up - but so is the price of natural gas, which is another major source of energy in the U.S. On
Please Explain
, find out what natural gas is, how the price is set, and why it's used for everything from heating ...