Robert Randolph & The Family Band first gained national attention with the release of the album Live at the Wetlands in 2002. The band followed with three studio recordings over the next eight years — Unclassified, Colorblind, and We Walk This Road — which, together with touring and unforgettable performances at such festivals as Bonnaroo, Austin City Limits, and the New Orleans Jazz and Heritage Festival, won them an expanding and passionate fan base. Randolph's prowess on his instrument garnered him a spot on Rolling Stone's "100 Greatest Guitarists of All Time" list, and also attracted the attention of such giants as Eric Clapton and Carlos Santana, who have collaborated with him on stage and in the studio.
Robert Randolph appears in the following:

Monday, July 08, 2013
Watch the virtuosic pedal steel player Robert Randolph perform with his Family Band live on Soundcheck from WNYC's Greene Space.

Friday, June 14, 2013
Robert Randolph & The Family Band came down to The Greene Space this week to preview their rollicking new material in a sold-out Soundcheck Live event.
Wednesday, June 12, 2013
Soundcheck is joined by comedian Tig Notaro, 30 Rock composer and producer Jeff Richmond and the high energy, pedal steel-led ensemble Robert Randolph & The Family Band, live in WNYC's Greene Space..
Read More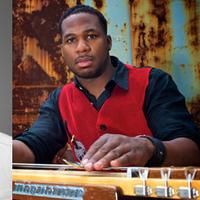 Wednesday, June 12, 2013
7:00 PM
An evening of music, storytelling and conversation. Hosted by Soundcheck's John Schaefer. Watch on-demand video of the entire event.

Tuesday, June 29, 2010
Robert Randolph grew up playing pedal steel guitar in church. Now, he puts his virtuosity to work in the funk, blues and soul outfit The Family Band.