Kent Tritle is one of America's leading choral conductors. He is founder and Music Director of Sacred Music in a Sacred Space, the acclaimed concert series currently in its 22nd season at the Church of St. Ignatius Loyola in New York City; in his sixth season as Music Director of the Oratorio Society of New York and fourth season as Music Director of Musica Sacra; Director of Choral Activities at the Manhattan School of Music; and a member of the graduate faculty of The Juilliard School. An acclaimed organ virtuoso, he is also the organist of the New York Philharmonic and the American Symphony Orchestra.
Highlights of Kent Tritle's 2010-2011 season include performances of Handel's Jephtha (St. Ignatius Loyola) and Israel in Egypt (Musica Sacra), and Mendelssohn's Elijah (Oratorio Society of New York); premieres of works by Viktor Kalabis and Juraj Filas (St. Ignatius Loyola); performance and recording of new works by Daniel Brewbaker, Christopher Theofanidis, and Behzad Ranjbaran, among others (Musica Sacra), performances of such choral gems as Strauss's Deutsche Motette and Beethoven's Christ on the Mount of Olives (St. Ignatius Loyola); Brahms's Ein Deutsches Requiem with the forces of the Manhattan School of Music; and the annual performances of Handel's Messiah with Musica Sacra and the Oratorio Society of New York.
From 1996 to 2004, Mr. Tritle was Music Director of the Emmy-nominated Dessoff Choirs, winners of the ASCAP/Chorus America award for adventurous programming of contemporary music. Under his direction the Dessoff Choirs performed with the Cleveland Orchestra, New York Philharmonic, San Francisco Symphony, and Czech Philharmonic, as well as a nationally telecast Live from Lincoln Center concert of Mozart's Requiem.
Kent Tritle has made more than a dozen recordings on the Telarc, AMDG, Epiphany, Gothic, VAI and MSR Classics labels. His most recent CDs with the Choir of St. Ignatius Loyola, Ginastera's The Lamentations of Jeremiah and Schnittke's Concerto for Choir; and Wondrous Love, music from 1,000 years of sacred repertoire, have been praised by Gramophone, the American Record Guide, and The Choral Journal.
Kent Tritle appears in the following:

Monday, June 18, 2012
It's becoming a summer solstice tradition – a huge series of free musical events across New York city under the name Make Music New York. And this year, to celebrate composer Philip Glass's 75th birthday, one of the events will be a performance of a brand new choral arrangement of Glass' "The New Rule." That's going to be right smack in the middle of Times Square on Thursday, June 21st -- and you can join in! We talk with conductor Kent Tritle to find out more.

Sunday, March 18, 2012
The St. John Passion is one of Bach's two great surviving Passions, or sacred oratorios, the other being the St. Matthew Passion.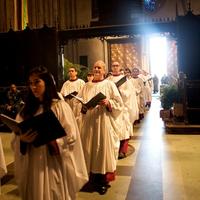 Friday, September 9, 2011
7:00 PM
WQXR presents The Cathedral Choir of the Cathedral Church of St. John the Divine's first public concert under the direction of the renowned Kent Tritle, performing works that capture the power of music to provide solace, inspiration and hope.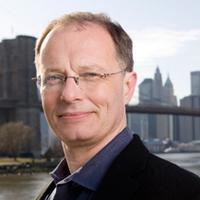 Tuesday, June 14, 2011
7:00 PM
Members from nine New York choirs lend their voices for a special performance of Johannes Brahms's Liebslieder Waltzes with Kent Tritle, host of The Choral Mix on WQXR.

Thursday, December 16, 2010
Our Critics Week series continues with a look back at year in classical music and opera. Washington Post chief classical music critic Anne Midgette joins us with her picks for the year's best. Plus: Tis the season – for Handel's "Messiah."  Every year at this time, Handel's big piece for chorus, soloists and orchestra takes over the NY concert scene. Kent Tritle, conductor of the Oratorio Society of NY and Musica Sacra, and host of the new "Choral Mix with Kent Tritle" on WQXR, updates us on all things "Messiah."

Monday, December 13, 2010
Trinity Church has presented Handel's Messiah every holiday season since 1770. Tonight at 7:30 pm, WQXR presents a live broadcast of the oratorio featuring the Trinity Baroque Orchestra.
Tuesday, December 22, 2009
Kent Tritle talks about what he's listening to and more after his appearance on The Leonard Lopate Show.
Tuesday, December 22, 2009
Conductor
Kent Tritle
is central to many New Yorkers' Messiah experience. In December, he's conducting a total of three performances of Handel's
Messiah
: with the
Oratorio Society of New York
at Carnegie Hall, with
Musica Sacra
at Carnegie Hall, and playing the organ with the Philharmonic ...

Thursday, November 22, 2007
Conductor
Kent Tritle
leads the Choir and Orchestra of St. Ignatius Loyola in a performance of George Frideric Handel's spectacular oratorio "Belshazzar," with special commentary by the conductor. Written in 1745, "Belshazzar" stands along "Messiah" as one of Handel's great Biblical oratorios. The story comes from the book of Daniel, ...