appears in the following: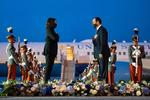 Wednesday, June 09, 2021
What does this visit mean for Harris and for U.S. policy in the region?
Thursday, May 20, 2021
"Love In Color" retells classic love stories in new ways.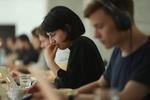 Monday, May 10, 2021
The economic downturn continues to be a "'shecession.'"

Wednesday, April 21, 2021
An out-of-touch relic? A celebration of cinema? What are the Oscars in 2021?

Wednesday, April 21, 2021
A jury found Derek Chauvin guilty of George Floyd's murder.

Wednesday, April 14, 2021
Police shot and killed Wright in Brooklyn Center, Minnesota as the trial of Derek Chauvin continues in Minneapolis.

Thursday, March 25, 2021
How has the Biden administration's border policy changed from President Trump's? We answer that question and talk about yours.

Saturday, August 20, 2016

Correspondents, editors and producers from our newsroom share the pieces that have kept them reading, using the #NPRreads hashtag. Each weekend, we highlight some of the best stories.

Thursday, August 11, 2016

Clinton argued that her plan would boost the middle class while Trump's plan "would give trillions in tax cuts to big corporations, millionaires, and Wall Street money managers."

Monday, August 08, 2016

In a vision described as "Winning The Global Competition," the GOP nominee is proposing three tax brackets and would limit taxes on all forms of business income as well as end the estate tax.

Saturday, July 02, 2016

Fan fiction, once reserved for the fantasy genre, is making its way to the campaign trail.

Friday, April 01, 2016

It wasn't what Sanders said that got young people's attention — it was what he had on his head.

Monday, December 07, 2015

President Obama's rhetoric is a familiar punching bag for Republicans running to replace him. In particular, they focus on his reluctance to say the phrase "radical Islamic terrorism."
It's meant as a way to cast doubt on whether the president takes the threat of international terrorism seriously, specifically terrorism carried ...