Jessamyn Waldman appears in the following: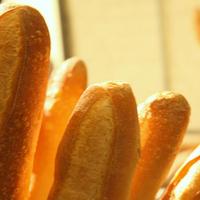 Wednesday, October 5, 2011
7:00 PM
Founder of the Hot Bread Kitchen Jessamyn Waldman, chef and owner of Pizza a Casa Pizza School Mark Bello, and owner of the Sullivan St. Bakery Jim Lahey joined Leonard Lopate to discuss the art of baking bread and more.
Friday, July 30, 2010
Our entrepreneurship panel discusses what it means to be a business-leader in tough economic times and how to succeed in different parts of New York.  Guests include: Seth Pinsky, president of the New York City Economic Development Corporation; Dr. Andre Fenton, neuroscientist and president of the Bio-Signal Group at SUNY/Downstate Medical Center's biotech incubator in Brooklyn; Leni Calas, editor and publisher of the blog QueensMamas.com; Gerdie Rene, owner of Sankofa Salon in Cambria Heights, Queens; owner of Brooklyn-based Otte Gear, Todd Fairbairn; Keavy Landreth, owner of Kumquat Cupcakery in Brooklyn; Celine Legros, owner & maker of miniature pastries at Les Canelés de Céline, now using WHEDCo's Bronx kitchen incubator; K.Y. Chow, president of Grand Meridian Printing in Long Island City; Jessamyn Waldman, executive director of the Hot Bread Kitchen in Long Island City; Rob Kalin, CEO of Brooklyn-based Etsy, with Etsy top-seller Alyssa Zygmunt of Brooklyn Rehab, and Puneet Mehta, the co-founder (with Sonpreet Bhatia and Archana Patchirajan) of MyCityWay in Manhattan.