Isabel Leonard appears in the following:

Monday, October 20, 2014
Marlis Petersen, who plays Susanna, and Isabel Leonard, who plays Cherubino, discuss their roles and the new production of Mozart's opera.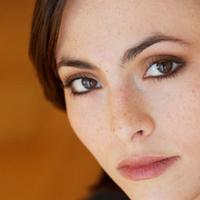 Friday, October 4, 2013
7:00 PM
Friday, Oct 4 | WQXR presents an exclusive performance with the mezzo-soprano and guests Matthew Polenzani and Anthony Roth Costanzo. Featuring a conversation with Sherrill Milnes.

Monday, April 08, 2013
We're setting you up on a blind date with a singer who can perform just as convincingly as a man as she can as a woman. But in the opera world -- that's not quite as provocative as it sounds.
Thursday, December 20, 2012
Met mezzo-soprano Isabel Leonard talks about starring in an all-new abridged, English-language production of "The Barber of Seville" designed for families. In the fall she starred as Miranda in the Met premiere of Thomas Adès's "The Tempest," and in the spring for a third production, a rare revival of Poulenc's gripping French Revolution tragedy "Dialogues of the Carmelites." "The Barber of Seville" runs through January 5 at the Metropolitan Opera.