Eric Ripert appears in the following:

Wednesday, May 18, 2016
Chef Eric Ripert, co-owner of Le Bernardin, talks about his memoir "32 Yolks." 
Monday, September 16, 2013
This week we're kicking off Food Fridays series, and to whet your appetite, we're sharing a conversation from last spring. In May, hundreds of WNYC listeners joined Leonard Lopate in the Great Hall of Cooper Union for a conversation with three great French chefs. Jacques Pepin, Daniel Boulud and Eric Ripert talked about falling in love with cooking in France and then finding their way to fame and fortune in America's kitchens.
Hear Daniel Boulud describe his love of baby eels (a delicacy that's gotten very expensive). Eric Ripert shares that his nickname when he was an apprentice was "Blue Shoulders." And don't miss Jacques Pepin's fantastic Julia Child impression!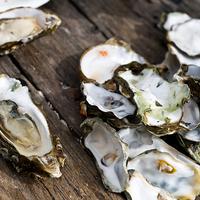 Wednesday, October 12, 2011
7:00 PM
Founder of the Blue Ocean Institute and author Carl Safina, co-owner of Le Bernadin Eric Ripert, oyster raiser Karen Rivara join Leonard Lopate to shuck oysters and discuss sustainable seafood.
Tuesday, September 01, 2009
Internationally recognized chef and owner of New York's famed Le Bernardin restaurant,
Eric Ripert,
discusses his first TV series "Avec Eric," on PBS. It takes viewers beyond just how to cook, and instead delves into
why
we cook. "Avec Eric" premiers on Sunday, September 6th, at 4:30 pm, on PBS.