Annie Bergen: Most likely to hit the dance floor. Annie is the midday host at WQXR.
Sharing the joys of music has been the connecting thread throughout Annie Bergen's entire life. Her happiest childhood memories were made gathering around the stereo as her father played his favorite classical recordings, when Annie would often get up and dance blissfully around the living room. Part of an Air Force family, she grew up in France and Germany, where her curiosity for art, music, and language blossomed. By the time Annie reached high school and college, she was known by friends for her sought-after mixtapes and always being first on the dance floor. 
The natural extension for Annie's interests was radio, and she began working in big band, jazz, and lite formats. When she got her first opportunity with a classical station, Annie went straight to the books, enrolling in night classes at Juilliard, devouring biographies and histories from album jackets, learning Italian and Russian, and studying the piano. Annie learned what she liked and developed a genuine passion for the music along the way — with Bach, Ravel, and Sibelius becoming particular favorites.
By the time WQXR came along, Annie had transformed her passion into an impressive career as the head of fine arts reporting at Bloomberg Radio and Television, where she interviewed countless legends, bringing their insight to audiences around the world. Now the midday host at WQXR, Annie presents Midday Mozart and New @ Two, igniting listeners' days, and inviting them to join her on her journey of endless discovery in the gold mine that is classical music.
Shows:
Annie Bergen appears in the following:

Tuesday, June 28, 2016
Listen to the recorded performance of Orpheus Chamber Orchestra with the blind Japanese pianist Nobuyuki Tsujii from the Naumburg Bandshell in Central Park.

Friday, October 09, 2015
Americans are less likely to hate certain types of music than they were a generation ago. Yet the study also finds that classical music faces particular hurdles.
Read More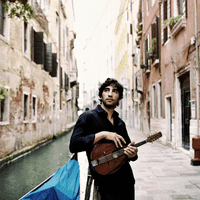 Thursday, March 12, 2015
7:00 PM
Thurs, Mar. 12 | Sold out. Watch a live video webcast of this special evening of Vivaldi and more Thursday at 7pm.

Monday, March 24, 2014
On March 21, WQXR presented the award-winning Chiara String Quartet in a concert performed completely by heart and without relying on any printed sheet music. 

Friday, August 26, 2011
Read The requiem that stands out for me is the performance I heard of Brahms's Ein Deutsches Requiem (A German Requiem) shortly after the attacks of September 11, 2001. The performa...