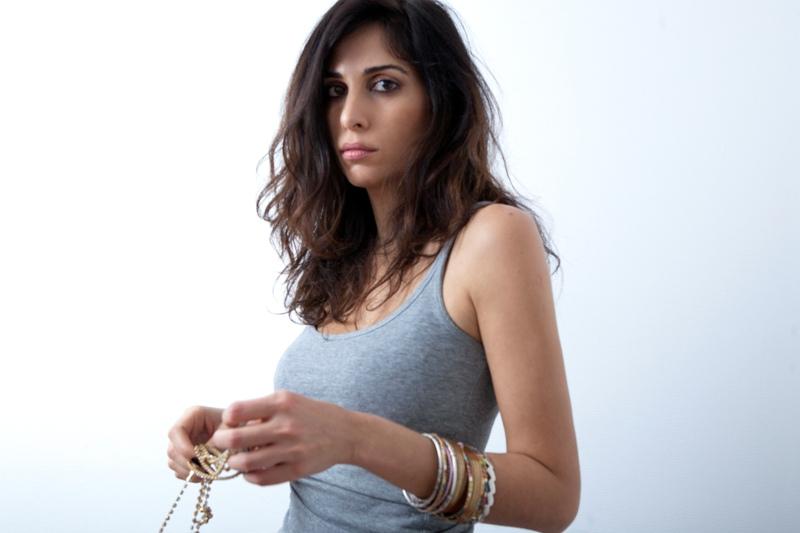 This week, desert blues, Lebanese indie pop, a poet turns lyricist, and two Soundcheck alumni collaborate.
---
Alexander F. and Kimbra Collaborate On New Song
Alexander F. is the work of New York-based songwriter Alex Toth.  We've met Alex before, as the trumpet-wielding bandleader behind (or in front of) the rambunctious indie pop group Rubblebucket.  But this project offers more of a garage/punk vibe, with perhaps a little nod to early Talking Heads. "Hello, I'm running/obviously I'm running. Hello, I'm running/obviously I'm running now," Toth sings in the video for the song "Call Me Pretty" (while seated cross-legged on the floor).  It sounds like something a young David Byrne might've written.  The chorus is an explosion of musical color, as guest vocalist Kimbra, a Soundcheck favorite, steps into the fray.  The video is basically time-stamped to last week: the word "Resist" is seen in passing, painted on a glass wall, and Toth raises a clenched fist at the very end.  Still, the song retains its droll, understated charm. 
Alexander F.'s debut album, otherwise untitled, came out on Friday.
---
Yasmine Hamdan's Beautiful New Single


Lebanese-born, Parisian-based singer and songwriter Yasmine Hamdan came to wider attention when she sang in a scene in Jim Jarmusch's 2013 movie Only Lovers Left Alive.  But by then she had already established herself as a groundbreaking artist on the contemporary music scene in the Middle East, using multiple Arabic dialects and the sounds of electronic music to great effect.  Hamdan is releasing a new album called Al Jamilat ("The Beautiful Ones") on March 17, and has offered an early glimpse with the single "La Ba'den" now.  It's a sultry, slightly wayward song, with Hamdan's crooning vocals and a brooding, almost David Lynch-ian soundscape of electronics and drums, punctuated by a piano fill here, a slashed guitar chord there.  There's a video as well, shot by Hamdan's husband, the Palestinian director and actor Elia Suleiman. 
---
Diagrams' New Song Crosses Continents And Generations
Sam Genders was the co-founder of the superb British folktronica band Tunng back in 2004.  For most of that decade he and Mike Lindsay made albums that blended the alternately pastoral and ominous sounds of British folk balladry with the blips and twitters of modern electronics.  The band eventually moved to a more accessible pop sound, and Genders moved on to other projects.  In May, he'll release his third album under the name Diagrams; the album will be called Dorothy, because it was created in collaboration with the 90-year old American poet Dorothy Trogdon, the Poet Laureate of the state of Washington.  Genders read her collection Tall Woman Looking and struck up an email correspondence that turned into a whole album's worth of lyrics.  (Mike Lindsay helped with the producing/arranging.)  The song called "Wild Grasses" is one of many on the album that deals with the healing power of being in, and being in tune with, nature.  It starts as a mournful ballad but soon builds to a lovely, orchestral climax. 
---
Passing The Torch Of Desert Blues
The Saharan band Tinariwen have been headliners on the world music scene for over a decade now, and on Friday they released their new album, Elwan.  Refugees from the desert of northern Mali, they make startlingly bluesy music with electric guitars – music that goes to the deepest roots of so much of Western rock and pop.  Rockers from Roger Plant to the guys from TV On The Radio have collaborated with them, but Tinariwen's new video, for the song "Sastanàqqàm," features a collaboration that clearly means a lot to the band.  It shows the globetrotting Tuareg (or Tamashek, to use their preferred term) musicians meeting a group of adolescents who had learned their music to such a degree that Tinariwen invited them to play this song.  But first, the older musicians wrapped the younger men's heads in new turbans – a rite of passage into manhood but also a passing of the torch of this extraordinary music to another generation.

Tinariwen play at Brooklyn Bowl on April 15 and 16. 
---
Communist Daughter Gives Folk/Rock A Darker Edge


Minneapolis band Communist Daughter is presumably named after the enigmatic track of that name from Neutral Milk Hotel's era-defining album In The Aeroplane Over The Sea.  So if I tell you that Communist Daughter is a folk-rock band, or even a "post-folk rock" band, as some of their press materials allege, don't go thinking of Mumford & Sons or The Lumineers or any of the other campfire rockers who fill the summer festival lineups.  Those bands are all about having a thumping good time and everybody singing along – which is great and sometimes just what you need.  Communist Daughter's "Keep Moving" uses the same fingerpicked guitar, organ, pounding drums and massing voices as those bands, but there is a distinct air of melancholy, and a rumble or two of darkness, that might remind you of some of NMH's material.  The simple but affecting video fits the song's mood perfectly.