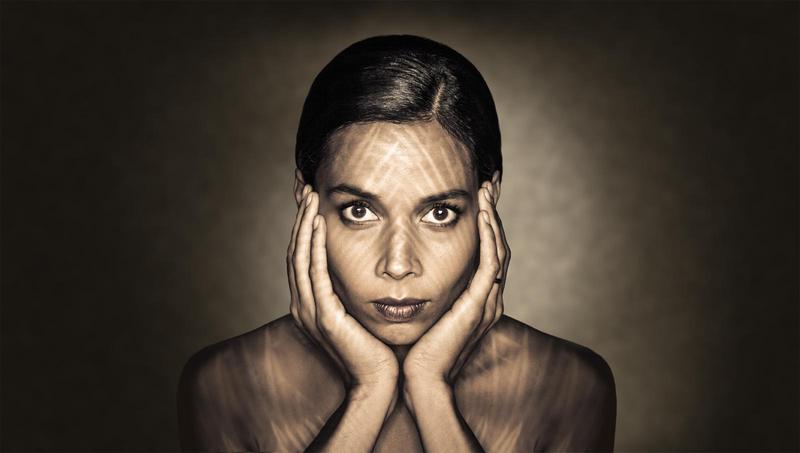 Week of September 12: This week, Peter Gabriel's tribute to Edward Snowden, a musical postcard from an African prison, and a new banjo master is crowned.
---
The New King Of The Banjo Is A Queen
Today the Steve Martin Prize, "for Excellence in Banjo and Bluegrass," was officially awarded to Rhiannon Giddens, who was one of the founders of the Grammy-winning Carolina Chocolate Drops. That group turned heads with its largely forgotten (but largely wonderful) black string band music from the late 19th and early 20th centuries, and actually featured two fine banjo players, Rhiannon and Dom Flemons. Rhiannon, who's also pursued a successful solo career, is a singer and fiddler as well, and you could argue that the banjo was her third instrument behind the other two. You could also argue that she doesn't play bluegrass, but rather it's earlier, more dance-oriented cousins, generally called old-time or old-timey music. But you can't argue with the excellence part: on her own, with the Drops, and especially in her winning performance in the Showtime concert film Another Day, Another Time: Celebrating the Music of "Inside Llewyn Davis," Giddens has been an important and visible reminder of the African roots of the banjo. And as Steve Martin himself said in announcing the Prize (which includes a $50,000 award), her victory is also a celebration of the diversity of the instrument and this music.
Watch Rhiannon Giddens sing and play "Ruby, Are You Mad At Your Man?" from the 2015 Bonnaroo Festival. 
---
Peter Gabriel Unveils New Song About Edward Snowden
"The Veil" is the name of a new single that Peter Gabriel wrote for the upcoming feature film Snowden—Oliver Stone's biopic of NSA whistleblower Edward Snowden. "An American hero, or a traitor who deserves to die," Gabriel sings, encapsulating the two views of one of the most divisive figures of the digital age—though there's little doubt where Gabriel's own sympathies lie. The lyrics are mostly quite literal, which is unusual for him, but using the image of the sea of data that we sail above is a reminder of Gabriel's more poetic tendencies. Even more unusual is that the song sounds like a demo, which is striking for a guy who's notoriously finicky about his production. But clearly Gabriel felt strongly enough about the project that he wanted to contribute something, which he did both in song and in a written statement. "As we become so visible in the digital world," he writes, "and leave an endless trail of data behind us, exactly who has our data and what they do with it becomes increasingly important." The film opens on Friday; the trailer is here. 
---
A Heartbreaking Song From A Central African Prison


In 2015, Grammy-winning producer Ian Brennan visited the maximum security prison in Zomba, Malawi and recorded I Have No Everything Here, a collection of songs written with the prisoners there. Some of the prisoners, living in difficult, overcrowded conditions, were serious criminals, but some were imprisoned after dubious trials, or after being accused of "crimes" like homosexuality or witchcraft. That album, credited to the Zomba Prison Project, received an unexpected amount of attention, including the first-ever Grammy nomination for the nation of Malawi. Brennan returned this year, and has now released a Zomba Prison Project followup called I Will Not Stop Singing. There are songs with titles like "I Am Done With Evil," and "Men Must Repent." But the standout track is this heartbreaking lament written, performed and recorded on the spot during one of Brennan's workshops. It's by a guard named Thomas Binamo, and it's called "I Will Never Stop Grieving For You, My Wife." It's a simple but affecting piece of music from a particularly dark place.
---
Newcomer Angelica Garcia Displays An Old Soul
"Little Bird" is a song from Angelica Garcia's debut album, Medicine For Birds, due on September 30. The image of a little bird leaving its nest is familiar from folk songs going back for centuries, although such songs are usually from the viewpoint of a parent watching the child depart. Here, Garcia's repeated "tell my mother to not come after me" may just be the sound of a 22-year old waiting for the "day that I turn 23" and reaching for independence—or it may hint at something darker. The sound is redolent of old ballads, and for a song that barely tops two minutes, "Little Bird" packs a surprising wallop: the ballad-like beginning soon picks up a decidedly gothic tinge from some spectral backing voices, and then abruptly leaves you hanging. The recording begins with Garcia's voice off-mic saying "I don't know what I'm doing," but this is a pretty assured performance.
---
Virgin Of The Birds' New Video Nods To Italian Horror Films
The Seattle band Virgin Of The Birds has a new album coming on October 14 called Secret Kids, and they've just released a video for the single "Spooky, Stony, Barely Over Thirty." The video follows a damsel in distress through an animated castle, where she is pursued— but not very quickly, nor particularly effectively—by a trio of good-looking people who are probably just after her hair-care secrets. Or her blood or whatever. It's a winking good time that nods to the so-called "Golden Age" of European, especially Italian, horror/camp movies of the 1960s, and it's an interesting counterpoint to the song itself, which has a classic jangly indie rock sound and singer Jon Rooney's copious and completely elliptical lyrics. It might be about the everyday horror of realizing that life isn't going where you wanted and the need to do something about it. At one point Rooney sings "I played bass in The Lemonheads toward the end/Before the 90's devoured us and then/No one remembered it was me, I played a Gibson EB3/I was 19 or 20, softly shadowed, almost free." That's pretty damn specific—too bad there is absolutely no evidence that he ever actually did that.
---
Watch Cass McCombs, Angel Olsen, and Some Stupid Human Tricks


Remember when David Letterman used to do his "Stupid Human Tricks" segment (a riff on his earlier "Stupid Pet Tricks")? Well he would appreciate the two "tea blowers" who star in Cass McCombs' new video. You may appreciate the understated humor and the striking cinematography; you might even like the song, which comes from Cass McCombs' new album Mangy Love and features Angel Olsen on backing vocals. She also appears in the video, introduced as "Angel Olsen, Asheville NC"—while wearing a t-shirt that says "Spokane." The song is "Opposite House," and it is, frankly, the type of song I would've hated as a teenager: measured, low-key, soft-spoken. You know, "soft rock." But that's what makes Cass McComb's new album so notable—his is the old iron-fist-in-a-velvet-glove approach. His lyrics are smart, often shot through with a droll wit and frequently laced with sociopolitical commentary, and his guitar playing is clean and tasteful. So you get drawn in by the winsome vocals and maybe a catchy guitar lick, and find yourself in a song that hits hard—even if it also accommodates a pair of tea blowers. Which really is exactly what it sounds like—here, watch the video: