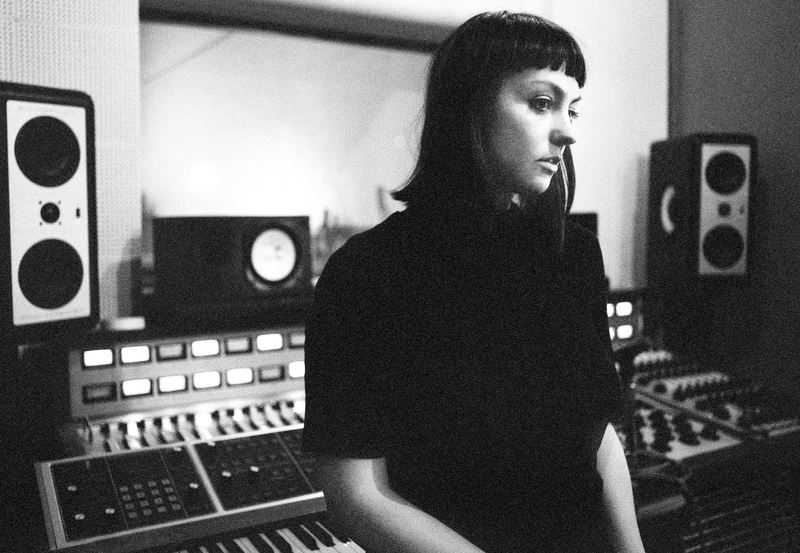 Week of September 5: This week, tragedy sparks a new Nick Cave song; Angel Olsen wows the critics; and Thom Yorke beams into a Mark Pritchard video.
---
Nick Cave Debuts Shattering New Song
Nick Cave and The Bad Seeds will release their next album on September 9; it's called Skeleton Tree, and it is the music Cave wrote after the death of his 15-year old son Arthur, who fell from a 60-foot cliff in Brighton, England last year. The lead track is a gripping song called "Jesus Alone," which begins with the lines "You fell from the sky/Crash landed in a field/Near the river Adur." (The Adur is the river that runs near Brighton.) The video, shot in stark black & white, shows Cave performing in the studio at the piano, with longtime collaborator Warren Ellis conducting a small string ensemble, and is taken from the forthcoming documentary film One More Time With Feeling, (view trailer here) about the making of this record. The music here is essentially a weave of undulating electroacoustic drones, with Cave's voice rarely approaching anything that resembles conventional singing. With its refrain "with my voice, I am calling you," the song sounds like a prayer, or a summoning. And in many ways, it completely represents what Nick Cave has always done so well – the haunted narrator, the Biblical imagery, and the dangerously alluring darkness.
---
Angel Olsen Releases 'My Woman'
It was tempting to view Angel Olsen's 2014 album Burn Your Fire For No Witness as a kind of pinnacle, a summing up of her musical persona. The folkie with the strong indie streak also nodded to 60s girl-group pop and to 90s guitar rock. But Olsen's new album, My Woman, may have surpassed it. Certainly it has been receiving the strongest reviews of her career since its release on Friday. The catchy single, "Shut Up Kiss Me" has been online for a while – it's a breakneck romp through classic party rock'n'roll with a video that does everything but snap its gum in your face. But the record as a whole casts a wider net, from the darkly cinematic opener "Intern" to the dusty country rock of "Heart Shaped Face" or the epic slowburn that is "Sister." Take a listen, though, to "Not Gonna Kill You," which despite its title is in fact one of the album's killer tracks. All brooding electric guitars and alternately plaintive and urgent vocals, it's a song that plays with form – the chorus seems to grow imperceptibly from the verse, gaining in strength and volume and then suddenly subsiding to let the next verse begin. Only then do you realize there's been a chorus after all.
---
New Soaring Orchestral Pop From Kishi Bashi
The singer, songwriter, violinist, and looper K. Ishibashi is about to release his third album under his near-pseudonym Kishi Bashi. It's called Sonderlust, and comes out on September 16; but this weekend he released the single "Can't Let Go, Juno." The lyrics and title suggest a character with more questions than answers, but that doesn't stop Ishibashi from creating a grand sweep of orchestral strings from his layered violin and driving it all forward on a sturdy dance groove.
---
Neil Cowley Trio Takes A Subway To Sci-Fi Land
The pianist Neil Cowley leads a trio that looks like a classic jazz combo (piano, bass, drums) but sounds like an instrumental rock band. Cowley was Adele's pianist for her 19 and 21 albums, so you've heard him before – hell, odds are he's in your record collection already. But his trio's groovy, insistent music deserves to be more widely known. On September 16 they will release their new album Spacebound Apes, a concept album that's inspired in part by writers like Arthur C. Clarke, whose 1956 novel The City And The Stars gives this track its title. While the album features some more (appropriately) spacey electronics, some courtesy of Brian Eno cohort Leo Abrahams, this song is just the trio, doing what it does best, and riding the London Underground to an unexpected destination.
---
Mark Pritchard and Thom Yorke's Video Is A Sundance Selection
English producer Mark Pritchard released his album Under The Sun early this year, and it included a collaboration with singer Thom Yorke of Radiohead. The song is "Beautiful People," and now it has a new video, which premiered a few weeks ago at the Sundance Next Festival and has just become available online. It's a strange one – enigmatic but beautiful – with a lone figure traversing a desolate, wintry landscape where the laws of gravity seem to apply only fitfully. The video synchs well with the song's layers of looped orchestral instruments and downtempo rhythm.
---
Piers Faccini Says "Mr. Trump, Tear Down This Wall" – Or Words To That Effect
Piers Faccini is a global citizen. From an Anglo-Italian family but based in France, he makes music that draws freely on Western pop styles but also West African, South African, and Mediterranean folk music. His latest album, I Dreamed An Island, is an exercise in utopian wishful thinking – something we could perhaps use a bit more of these days. The songs imagine a haven from terrorism, surveillance, drone strikes, and, in one case, politicians who think building a wall is better than building a bridge. The song is "Bring Down The Wall," and it was written in response to Donald Trump's plan to halt immigration from Mexico. It is largely sung in English, except for the middle of the song where Mauro Durante supplies lyrics in the Salentino dialect of southern Italy – an ancient dialect rooted in the Greek immigration to Italy over 2000 years ago. Durante, by the way, leads the absolutely wonderful group Canzoniere Grecanico Salentino, who play the old folk dances and trance rituals of that region with the fire and energy of a punk band. Some of those rhythms can be heard in the middle of this song, surrounded on either side by the sounds of the guitar-driven "desert blues" of West Africa.