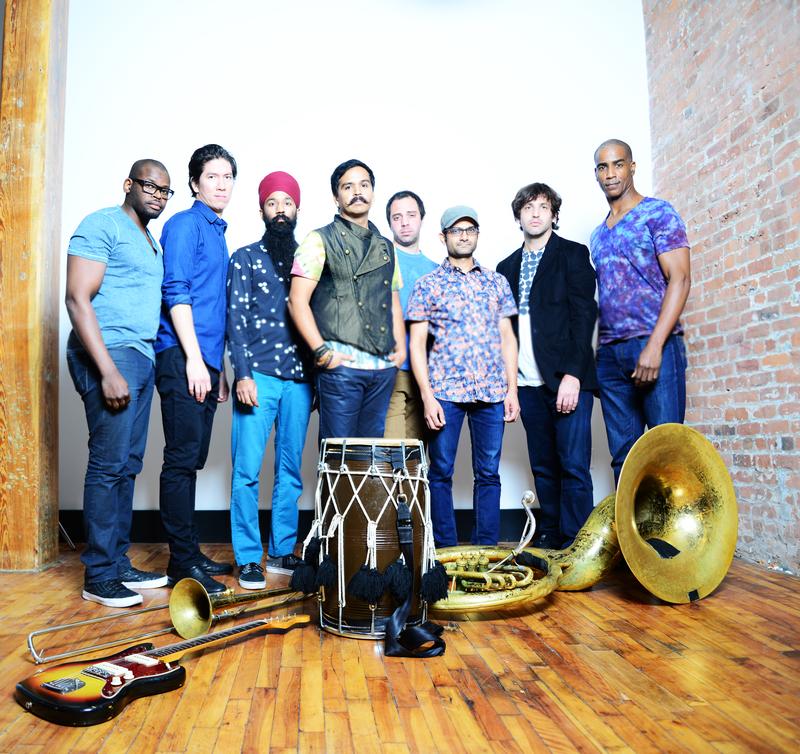 Week of March 13: This week, Brooklyn bhangra, a Hong Kong protest song, and a film composer's new sound.
---
PREMIERE: Red Baraat Returns With Punjabi Party Music, Brooklyn Style
The group Red Baraat has become one of New York's most dependable good-time bands, with their irrepressible mix of bhangra – the dance music of the Punjab region, New Orleans horns, and New York attitude. They're led by Sunny Jain, who plays the dhol, a traditional two-headed drum slung over the shoulder, and they've been busy lately, recording their latest album, Bhangra Pirates, and plotting a series of shows celebrating the South Asian Festival of Colors. The album comes out on March 24, but you can hear "Zindabad" here for the first time. The song starts out with a prelude whose reverby guitar might remind you of the beginning of Santana's classic "Black Magic Woman," but quickly gives way to the horns, which slowly gather energy until the drums kick in and the whole band is off and running. Well, maybe not running, exactly, but certainly moving…
Catch Red Baraat at Le Poisson Rouge on Thursday, March 16. 
---
Exploring "Modern Day Slavery," In Journalism and Song
I first heard Emmy The Great when she co-wrote "Seattle," perhaps the best song on Fatboy Slim's Brighton Port Authority record back in 2008.  Her own debut album followed in 2009, and a few years ago she relocated state-side.  But she was born Emma-Lee Moss in Hong Kong, and recently she went back to that crowded city to investigate the plight of the 380,000 migrant workers, most of them women and most of them from the Philippines.  In her article for The Guardian, she writes about protesters who claim the laws governing these domestic workers amount to "modern day slavery."  The story inspired Emma-Lee to don her Emmy The Great hat and write "Mahal Kita" – "I love you" in Tagalog, the major language of the Philippines.  The article is wrenching; "Mahal Kita," being a song, is not a journalist's account but rather a songwriter's poetic, poignant response to it.
---
Public Service Broadcasting Celebrates Progress
It almost sounds like a joke these days, when so much of the world seems bent on regression, but the members of the London group Public Service Broadcasting have always celebrated milestones in human achievement – most recently in the brilliant and surprisingly affecting 2015 album The Race For Space.  That album, like all PSB efforts, didn't feature singing, in the usual sense: the songs are built around carefully sampled collages of actual footage from the space race of the 1960s and 70s.  But their new single, "Progress," actually does use a singer – Tracyanne Campbell of the band Camera Obscura.  Her line is simple enough: "I believe in progress," sung as a chorus to the spoken verses put together from various old documentary sources.  Of course the found voices seem hopelessly old-fashioned (and sexist), but while humor is a big part of the PSB sound, cynicism is not; guitarist/keyboardist J. Willgoose, Esq. and drummer Wrigglesworth are sincere in their belief that eventually, somehow, we move forward. 
"Progress" is our first sniff of the new PSB album, the title and subject of which is on a need-to-know basis, and apparently none of us need to know.
---
Goldfrapp's Dark And Troubled "Ocean"


The popular electronic duo known as Goldfrapp (consisting of Alison Goldfrapp and Will Gregory) is about to release its seventh album, Silver Eye, on March 31.  "Ocean" will be the album's closing track, and it begins with a moody electronic prelude that recalls some of the earlier electronic music of Tangerine Dream or Vangelis before hitting its anthemic stride, with Alison Goldfrapp's typical breathy vocals floating over increasingly lush (but not notably brighter) layers of synthesizer.  An earlier single from the album, "Anymore," is more of a dance number, something that Goldfrapp has done with success in the past; but even there, the electronics tend toward the ominous and the industrial.  One of the collaborators on Silver Eye is The Haxan Cloak, the English producer whose own music blends "dark ambient" and drone metal; so expect a somewhat darker shade of electronics from the band this time around. 

Goldfrapp is playing at Brooklyn Steel on April 26 and 27.
---
Hauschka Goes Darker Too

The German composer/musician Hauschka (aka Volker Bertelmann) has made the prepared piano his specialty.  This instrument, invented by John Cage in the 1930s, uses metal, wood, rubber, and other materials on the strings inside the piano to turn it into a percussion orchestra of sorts.  Hauschka, whose early musical roots were in electronic music, has found a lyrical approach to the prepared piano that has served him well, especially in the soundtrack to the film Lion, for which he and collaborator Dustin O'Halloran received an Oscar nomination.  But his new album, What If, like the Goldfrapp album, also skews darker, and reintroduces the sound of old analog electronic gear along with the prepared piano.  It too is due on March 31.  Hauschka has released this song, "Constant Growth Fails," which is built in part on "player piano" sounds – instruments that play much faster than a person could.  The music has a manic, almost ecstatic, but perhaps also hysterical edge to it; it certainly led British director Daniel Gray to make a nightmarish video for the track.