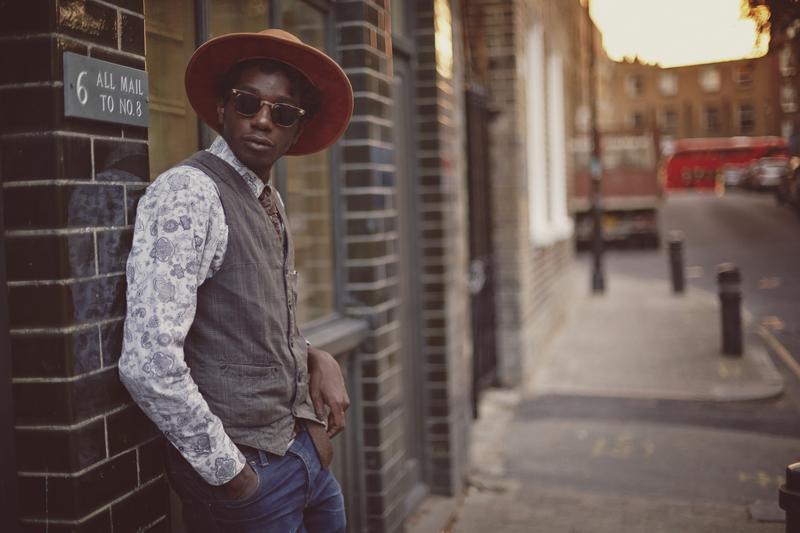 Week of Jan. 23: This week, musical responses to the Inauguration; a first look at the Brooklyn Folk Festival 2017; and a video premiere!
---
PREMIERE: L.A.Salami's "I Can't Slow Her Down" – Folk Blues From London


Lookman Adekunle Salami is a Londoner of Nigerian descent. He's appeared in these roundups before, because his debut album, Dancing With Bad Grammar, is full of strong songwriting and unexpected takes on modern city life.  Today we premiere the video for his song "I Can't Slow Her Down," in which L.A. takes a break from observing the socio-political mess we're in (but don't worry, there are plenty of others listed below who have that covered) to tell a simple love story. Boy is smitten with girl, but realizes he probably can't keep her. It's a wistful blues, with a startlingly minimalist bridge – a stinging, "wrong note" electric guitar solo; and the video, juxtaposing scenes of partying with shots of L.A. and others performing and walking backstage, suggests that familiar feeling of being alone in a crowded room. 
L.A. Salami will be playing the South By Southwest Festival in March, and is likely to be here in New York afterwards; watch this space for more.
---
Exclusive: Brooklyn Folk Festival Announces 2017 Event
This April's edition of the Brooklyn Folk Festival will be the biggest yet, with over forty musical acts and a host of workshops, installations, and more, packed into a three day period, April 28-30, at St. Ann's Church in Brooklyn Heights. Musicians include Peter Stampfel (from the groundbreaking 60s bands The Holy Modal Rounders and The Fugs), Jim Kweskin (another legend of the 60s folk revival), Willie Watson from Old Crow Medicine Show, Amythyst Kiah, and The Last Poets, whose fusion of politically-charged poetry with drumming and free jazz in the late 60s'/early 70s laid the groundwork for hip-hop. Native American, Balkan, Puerto Rican, Irish folk music and more will be included, and this year's festival will feature a panel and performance celebrating the 50th anniversary of "Hard Hitting Songs For Hard Hit People," by Woody Guthrie, Alan Lomax, and Pete Seeger; and a documentary film about delta bluesman Fred McDowell (who wrote "You Gotta Move"). Some things will be new (a performance art installation), but some will be old stand-bys, like the notorious banjo tossing contest (yep, just what it sounds like – who can toss the banjo the furthest across the Gowanus Canal?) and a performance by festival favorite Jerron "Blind Boy" Paxton.  Expect it to sell out, as it usually does; tickets go on sale today; for more info, go to http://brooklynfolkfest.com/.  Meanwhile, enjoy this taste of "Blind Boy" Paxton's artistry, live on an edition of Soundcheck that we did in The Greene Space a few years back.
---
Inauguration Day Message From Arcade Fire and Mavis Staples


The video, such as it is, appeared on Youtube early on Inauguration Day, last Friday, with the following statement: "It's never been more important that we stick together and take care of each other.  Love, Mavis Staples and Arcade Fire."  Yes, the Grammy-winning indie rockers and the great soul singer have joined forces, for one song at least, and while this may be a first glimpse at a new Arcade Fire record, for now it is just a badly needed reminder to those in power about where their power comes from.  "I give you power/and now I say/I give you power/I can take it away," they sing, over a crunchy dance beat and throbbing keyboards.  The video is simply a small mixing board, marked up with the infinity-themed logo that seems to be foreshadowing the next record and the date, 1/20/17.  
---
Gorillaz In Our Midst


Gorillaz are also back.  In what is clearly not a coincidence, a new song from the animated band came out just before Donald Trump's inauguration. The cartoon musicians haven't been seen or heard from in the past 6 years (while singer/songwriter Damon Albarn did other stuff, like reforming his all-conquering Britpop group Blur, doing big music/theater spectacles, and recording and producing with musicians from West Africa). But their new song, "Hallelujah Money," is an acidic anthem to money, walls, and blind acceptance. It features lead vocals by Benjamin Clementine, the Mercury Prize-winning singer/songwriter who, for much of the video, seems not to be lip-synching but actually intoning/singing his lines live on camera. Albarn's animated alter ego, 2D, sings the chorus, asking "How will we know/When the morning comes/We are still humans (remember, this is an animated simian singing)/How will we know?" The music is rumbling and ominous, as opposed to Gorillaz's more breezy confections (like the 2001 hit "Clint Eastwood"), and it builds to an alarming climax of falsetto vocals and clanging bells. 
At the end, SpongeBob SquarePants offers one possible response to everything we've just seen. 
---
John Mellencamp Laments "Our Country's Broken Heart"


Rock'n'Roll Hall of Famer John Mellencamp released "Easy Target," his new single, on the day before Trump's inauguration as well. As with the Arcade Fire and Gorillaz songs, there is no mention of Trump (or politics, policies, and elections) in Mellencamp's effort, but there is no doubt that the timing of the release was intentional. "Easy Target" is a melancholy folk ballad that sounds remarkably like a Tom Waits song, with its piano and gravelly vocals up front, and mandolin and a small string section providing the other sonic colors. Mellencamp is one of the longtime leaders of "heartland rock," but this is in the older, pre-rock'n'roll style that he has been championing for many years now, and it continues a long thread of social activism that runs through his music. Unlike his enduring support for Farm Aid, though, Mellencamp wades into treacherous waters with a politically-themed song like this, which points to the poor and the members of the Black Lives Matter movement as easy targets and ultimately ends up bemoaning "easy targets/our country's/broken heart."  Because so many of his fans are from the heartland, Mellencamp is not preaching to the choir but to a fair number of listeners who are Trump supporters. To see what I mean, just read some of the comments from Mellencamp fans, and ex-fans, beneath the lyric video for this song.
---
Spoon Bends In a New Direction

  
Need a break from politics?  Britt Daniels and the rest of the Austin-based band Spoon have just released a catchy new song, "Hot Thoughts," which will be the title track on their latest record, their ninth, on March 17.  Over the past twenty years Spoon has drawn on psychedelia, R&B, jangly guitar rock, and dance music, among others, and this track suggests they have not exhausted the sonic possibilities of pop that they've been exploring since 1996.  "Hot Thoughts" has a strong dance beat and an almost orchestral, Beatles-inflected sound in the chorus. 

Spoon is playing at SXSW in March; they'll be here in NY for the Panorama Festival on July 28.