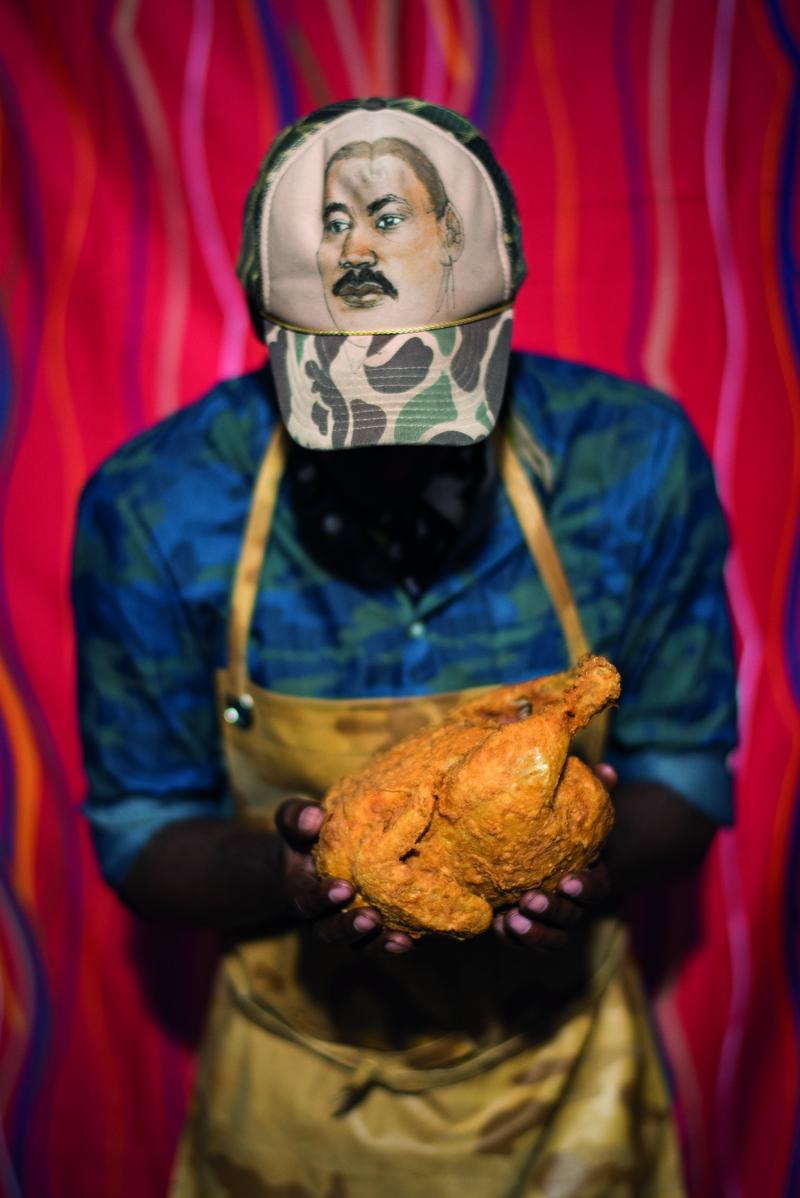 Melissa Clark guest hosts today!
James Beard Award-winning chef and restaurateur Marcus Samuelsson joins us to discuss The Red Rooster Cookbook: The Story of Food and Hustle in Harlem. Through essays and recipes, he details his vision of Red Rooster, his Harlem restaurant that blends influences from African-American cuisine, and the cooking traditions of Spanish, African and Caribbean immigrants. 
Recipes
Sunday Tomato Eggs
Serves 4
Tomatoes, celery, capers, horseradish—these ingredients remind me of a Bloody Mary. And that would not be a bad choice to accompany these eggs.
Ingredients:
1 tablespoon olive oil
cup chopped Mexican (soft) chorizo
1 onion, chopped
2 tablespoons minced celery
2 garlic cloves, chopped
1 (14.5-ounce) can crushed tomatoes
1 tablespoon capers, drained
3 Kalamata olives, pitted and chopped
1 chipotle in adobo, minced cup water
1 teaspoons horseradish, preferably freshly grated
Coarse kosher salt and freshly ground black pepper
8 large eggs
4 slices country bread, toasted
8 ounces burrata, at room temperature, cut into pieces (optional)
Extra-virgin olive oil 4 fresh basil leaves
Directions:
Heat the olive oil in a large cast-iron skillet over medium heat. Add the chorizo, onion, celery, and garlic and cook, stirring occasionally, until the onion starts to soften, about 5 minutes. Stir in the tomatoes, capers, olives, chipotle, and water and bring to a simmer. Simmer until the sauce is thick,
5 to 7 minutes. Stir in the horseradish and season with salt and pepper.
Crack each egg into the sauce and cook until the whites are set, 5 to 6 minutes.
Put a piece of toast on each of four plates. Spoon 2 eggs onto each piece of toast, and divide any sauce left in the skillet. Top the eggs with burrata if using, drizzle with extra-virgin olive oil, tear the basil leaves and drop on top, and serve.
Steamed Bass, Fiery Noodles, Long Beans
Serves 4
2 whole (1 pound each) striped bass, cleaned, rinsed, and patted dry
Coarse kosher salt
2 scallions, quartered 2 teaspoons sesame oil
1 pound long beans (see headnote), trimmed and cut into 3-inch pieces
1 pound fresh Chinese noodles
1 cup mala sauce or Chinese chili oil
Set a rack in a roasting pan. Pour in 1 inch of water and bring to a boil over high heat.
Season the fish inside
and out with salt. Stu the cavities with the scallions, and rub the fish with sesame oil. Set each fish in a shallow bowl.
When the water's boiling, set the bowls on the rack and seal the roasting pan tightly with foil. Steam the fish for 8 minutes. Turn on the heat and let sit for 10 minutes. The fish should be barely opaque in the center (make a cut into the fish to check). If the fish isn't done to your liking, steam it for another minute or two.
While the fish is steaming, bring a large pot of salted water to a boil. Add the long beans, bring back to a boil, and cook for 30 seconds. Transfer to a bowl with a spider or slotted spoon. Add the noodles to the boiling water, bring back to a boil, and cook for 1 minute. Reserve 1 cup of the cooking water. Drain the noodles and add to the beans. Add the mala and toss, adding some of the cooking water if you need to loosen things up.
Scrape the skin of one fish with a spoon. Slide the top fillet onto a cutting board. Grab the tail and lift the bones off. Flip the bottom fillet onto the board and remove the skin. Repeat with the other fish.
Divide the fiery noodles and beans between four shallow bowls. Top each with a piece of fish and serve. The fish heads can be the chef 's treat, or you can put them out and share.
All recipes have been reprinted with permission from The Red Rooster Cookbook: The Story of Food and Hustle in Harlem, published by Houghton Mifflin Harcourt.