SchoolBook
Top Education Official Supports More Teacher Professional Development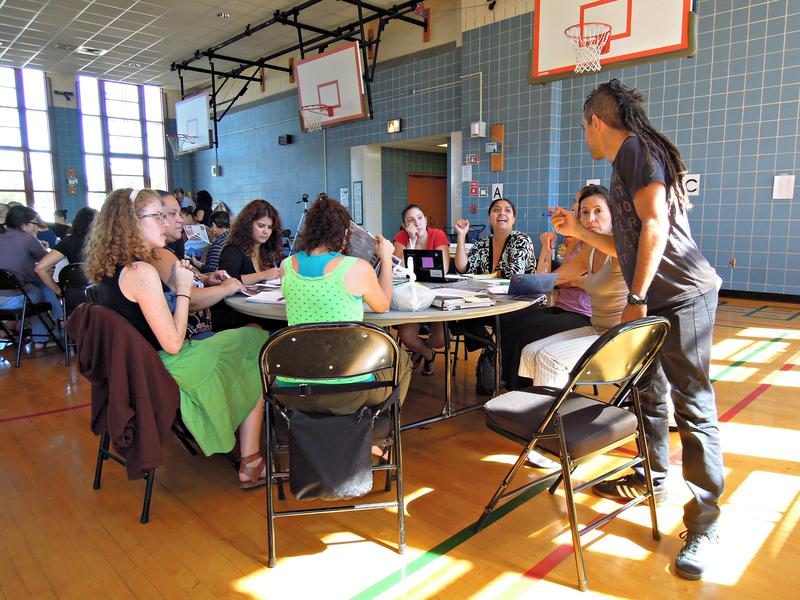 Chief Academic Officer Shael Polakow-Suransky criticized his former boss at the Department of Education, saying former Chancellor Joel Klein and the previous head of the teachers union made a mistake by removing professional development time from the teachers contract.
Speaking at a Philanthropy New York event about how private funders might partner with the next mayor on education, Suransky said "one of the biggest mistakes" that Klein and former teachers union President Randi Weingarten made in their 2005 contract was eliminating 100 minutes of professional development every other week, in order to extend the school day for students.

Although adding an extra 37.5 minute class at the end of the school day for at-risk students was a "worthy cause," he said it created a "huge risk" because teachers still needed time to plan their activities.
"And so there has to be an investment in the next contract in building real time in, ideally two to three hours a week, where teachers can meet together in teams and work on building their skills."

This rare criticism from within the city's Department of Education - with a specific suggestion for the next contract - comes during an election season to pick Mayor Michael Bloomberg's successor. Democratic candidate Bill de Blasio has frequently chastised the Bloomberg administration's approach to school reform, and he is comfortably ahead of the Republican candidate Joe Lhota in the polls.
Some observers have wondered if Suransky is gunning to stay at the D.O.E. The former Bronx high school principal and deputy chancellor has been at the helm of the city's instructional policies for several years. Suransky told WNYC he has not had any talks with the de Blasio campaign. Likewise, the campaign will not publicly discuss who is among the candidate's education advisers, or who he may consider for chancellor. 
Today's panel discussion with Suransky, state Education Commissioner John King and two other educators, focused on recommendations for whoever is elected mayor. Philanthropy New York, which consists of nearly 300 member groups, commissioned a series of research papers on challenges facing the city's public schools. The goal was to identify programs and reforms that could be funded by non-profit partners, which have already contributed $2 billion towards the city's public schools over the past decade.

The research papers emphasize the importance of early childhood education in keeping children on track from elementary school through high school. De Blasio has made universal prekindergarten a major theme of his campaign. Suransky agreed it's an area deserving of more attention.

"It's purely a resource challenge," he said.  "If we can get the resources to expand high-quality early childhood programming it will have a powerful impact." But currently, he said, the city's pre-K programs "are not uniformly good" and there's a lot of work to be done to get enough developmentally appropriate curriculum materials and the best teachers.

Judith Johnson, superintendent of Mount Vernon's City School District, offered one novel solution to improving literacy. She said she encouraged her district to replace its kindergarten and first grade teachers with literacy specialists, and to add a second person to every two classrooms.
"Because if we don't change the nature and character of how literacy's developed in the early grades we don't stand a really good chance of helping the students be successful as early as grade three," Johnson said.
But she said the move required encouraging teachers to retire, and winning approval from voters to add more money to the budget. 

The research papers, written by faculty members at Teachers College-Columbia University, point out the challenges of getting all students ready for college and careers, and the continued achievement gaps between upper income families and those of lower incomes. The most prepared students tend to be concentrated in a small number of city high schools. This happened despite the creation of hundreds of new schools and an expanded choice system for middle and high schools, in which more students are traveling away from their home communities.

Commissioner King suggested shaking up the city's local school zones in order to eliminate patterns of segregation. He noted a state study that found a high number of schools in New York City serve very few English Language Learners and poor students, even though they are just blocks away from neighborhoods with many of these very same students.

"Over the last 30 years we have stopped talking about the issue of school integration," he said, referring to Supreme Court rulings. "But there really is this huge opportunity to think differently about socio-economic integration."

Scott Evenbeck, president of CUNY's new Stella and Charles Gutman Community College, told the audience about how his school is trying to help the 80 percent of students who are unprepared for college-level courses. Instead of offering regular remedial math and English classes, which many students fail, his school offers a course called "City Seminar" where statistics, math and writing skills are incorporated in subjects such as sustainability or immigration.
"Students can see the utility of what they're learning and put it into action," he said.
Evenbeck said 75 percent of his students returned to school this fall for its second year, a promising retention rate for the new school.