SchoolBook
Report: What Works - and Doesn't - in NYC Schools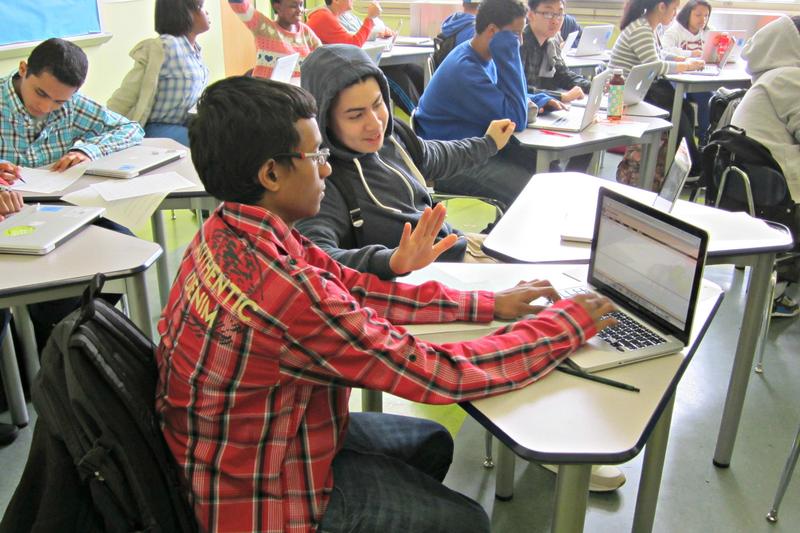 Despite "tremendous strides" in raising high school graduation rates, two new reports published today find the New York City public schools still face huge challenges in getting all students ready for college, and that academic inequities begin well before high school. The studies were commissioned by the Education Funders Research Initiative of Philanthropy New York to set goalposts for the next mayor, and for the foundations and non-profits that help fund the schools.
They will be the topic of conversation Tuesday at an event co-sponsored by SchoolBook. You can follow the conversation on Twitter. Look for these hashtags: #EdTalk or #PNYEvent.
Over the past decade, philanthropic organizations have contributed $2 billion towards the city's public schools - funding major policy initiative such as the creation of small schools. The four-year graduation rate has gone from less than 50 percent to 65 percent. But only 44 percent of the city's 2012 graduates met the state's college ready standards.

"It is not surprising that we are not there yet," said Ronna Brown, president of Philanthropy New York, which has nearly 300 member organizations. "But we want and intend to get there. So the question for the next administration in New York City is how do we build on what's been accomplished to get us closer to that next goalpost?"

One of the reports is an exhaustive study of students who entered ninth grade in 2005 and who hoped to graduate in 2009. Researchers from Teachers College-Columbia University found even more evidence of the role early literacy plays in a student's success. Only 2.7 percent of students who failed the state's third grade English Language Arts exam went on to pass the state's English test as eighth graders.
By contrast, more than 90 percent of students who exceeded the state standard's in third grade met or exceeded the standards in eighth grade; and almost 90 percent of these very successful students graduated within four years.

"The somewhat disturbing fact is these hierarchies of kids in third grade," said Douglas Ready, an associate professor of education and public policy at Teachers College who co-wrote the report. Although other studies have found similar trends, he said this new report reinforced how little academic mobility there is among students who struggle early in school. Ready said these findings further emphasize the importance of pre-school and early education.

The study also found ninth grade credit accumulation is the most important factor in ensuring students graduate on time. Kids who are absent, and those who are suspended, are much less likely to stay on track. Only 40 percent of students who received a suspension graduated within four years, compared to 72 percent of students who were never suspended.
Black and Latino students are far more likely to be suspended than whites.

Researchers also found further evidence of the "math pipeline," the strong correlation between taking upper-level mathematics classes and doing well in college. Low-income students, and black and Hispanic students, were less likely to take rigorous high school math classes than whites and Asians, stopping at the second semester of geometry instead of continuing through Algebra 2.

New York City now has more than 1,800 schools, a 50 percent increase since Mayor Michael Bloomberg took office in 2002. The researchers found some evidence that having more choices leads to less racial segregation as students get older. Kids typically start off attending neighborhood elementary schools that may have high concentrations of one racial or ethnic group, but they encounter more diversity as they attend middle and high schools in other parts of the city.
However, they remain "academically stratified," with struggling students clustered together in schools that have low attendance rates and high poverty rates. The struggling students are also more likely to be minorities.

Ready suggested some of this is caused by siphoning academically strong students into specialized and screened programs. But he also cautioned that "it's sort of an urban myth that kids get stuck on one pathway into low performing schools and they're actually stuck there. It's not exactly as common as you would think."
He noted that his team only looked at one graduating cohort, and wasn't able to prove any long-term trends in segregation during the Bloomberg years.

The challenges facing New York City are very similar to those facing districts across the country, as states embrace Common Core learning standards that emphasize more critical thinking and analytic skills. However, there is tremendous variety in New York, which has deep pockets of poverty as well as some of the wealthiest enclaves in the United States. Almost 70,000 students were homeless at some time during the 2011-2012 school year.

Thomas Hatch, another associate professor at Teachers College who co-authored the study of high school students, said it points out several steps the next mayor could take with the help of funders.  He suggested starting with the data on third-graders who continue to fail as eighth graders.

"That continues despite all the efforts that we put in place to get them on track and keep them going," he said. "We really need some better experiments at that level, the third to eighth grade or the K-2 level."

Hatch suggested grouping students in different ways, and developing a school day more tailored to their individual needs: "What's the best way for them to spend that whole day, taking into account that they are going to get tired?"

At a time when schools are collecting so much data, he suggested a more thorough assessment system that looks at socioeconomic and emotional factors, in addition to academics.

"Absolutely one of the messages for the next mayor is look at education as a part of community development, not as a separate system," Hatch said.

Brown, of Philanthropy New York, said she expects funders will look closely at these first two research papers, and a third due later this fall. Even after spending $2 billion on the public schools over the past decade, she said there is still a commitment to do more.

"Like the administrators, like the parents in New York City, everyone wants the school system to perform for all the kids," she said. "So funders are as committed as others to working with the next administration to see that they get there."