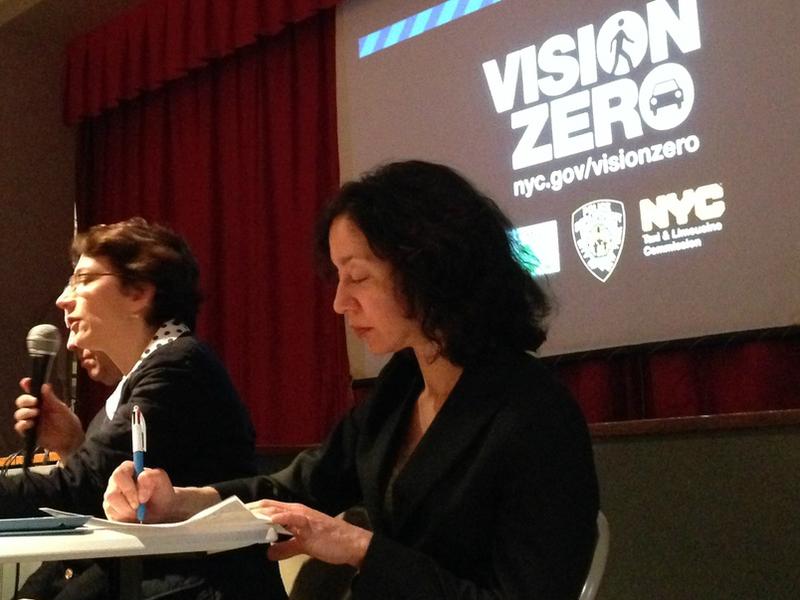 The city's newly appointed Taxi and Limousine Commissioner says poor driving habits need to be unlearned—and the city is getting ready to school bad drivers.
Meera Joshi told a group of Park Slope residents at a Vision Zero town hall on Monday she thinks the majority of cab drivers are safe, but "the outliers are not." She says the city will target dangerous cabbies and "change bad habits" with stepped-up enforcement and education.
The TLC is also looking to technology for safety improvements: it may implement black boxes to track driving and give a record of movements in case of a crash.
The black boxes also have a deterrent effect, Joshi said. "Drivers who know that the black box is in their car tend to be conscious of that and drive more safely," she said.
Asked about the driver who struck a woman, resulting in the amputation of her leg, Joshi said his return to the road is "an untenable situation." The TLC is working with the city council to "make it much easier" to suspend the license of drivers in critical or fatal crashes.
One audience member suggested a 'grading' system for livery drivers, similar to the health ratings in place for city restaurants. "It's something that has been talked about and it is possible," Joshi said, although it's not clear whether the commission would rate the dispatching base or the driver. The idea is not part of Mayor de Blasio's Vision Zero action plan, but she said "we're not bound, we can do more than what we promised."
Another audience idea: stickers placed in cabs that would encourage passengers to speak up about safe driving. "I often feel a little nervous and not empowered to say 'Slow down. You don't need to get here that fast,'" a woman named Valerie told Joshi.
The commissioner said the agency is exploring a range of rider education strategies, and suggested that passengers can reward good driving the traditional way—with a nice tip.