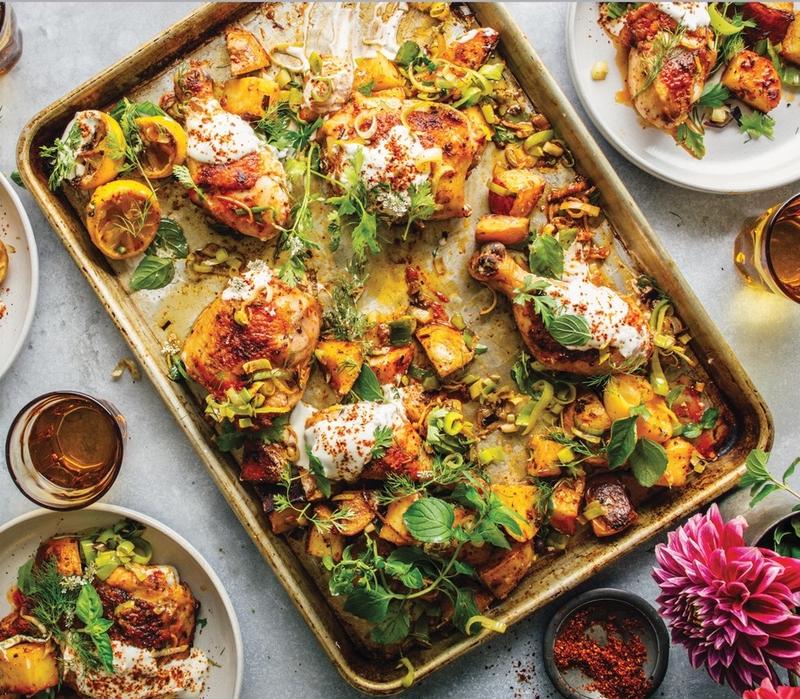 New York Times food columnist and cookbook author Melissa Clark joins us to discuss her latest cookbook Dinner: Changing the Game. Each section is organized by the main ingredient: chicken, meat, fish and seafood, eggs, pasta and noodles, tofu, vegetable dinners, grains, pizza, soups and salads. She offers a range of go-to recipes for a weeknight dinner, or something special including, sheet pan chicken laced with spicy harissa, burgers with chorizo and curried lentils with poached eggs.
Recipes:
JALAPEÑO-HONEY STEAK with Cilantro and Lime
Sweet and caramelized from the honey, sharp from the lime, and with a sting from the chiles, this is a simple-to-make recipe with a profoundly complex taste. And while you do need to plan ahead here in terms of marinating time (this really does benefit from at least two hours in the fridge), the ingredients are all supermarket-available, yet they come together in a dazzling, transcendent kind of way.
1½ pounds boneless steak, such as skirt, strip, ribeye, flank, or London broil
1 teaspoon kosher salt, plus more as needed
Freshly ground black pepper to taste
1 bunch fresh cilantro (about 3 ounces)
2 tablespoons honey
Finely grated zest and juice of 1 lime
1 teaspoon soy sauce
2 jalapeños, seeded if you like it milder and minced, plus more sliced jalapeño for garnish if desired
2 tablespoons extra-virgin olive oil
TOTAL TIME: 30 MINUTES + AT LEAST 2 HOURS MARINATING
SERVES 4 
1. Season the steak with the 1 teaspoon salt and with pepper to taste. Separate the cilantro stems from the leaves. Finely chop enough stems to make ½ cup, and add them to a shallow bowl large enough to hold the steak. Stir in the honey, lime zest and juice, soy sauce, minced jalapeños, and olive oil. Add the steak and turn it to coat with the marinade. Cover and refrigerate for at least 2 hours and up to 24 hours.
2. Heat a grill or broiler to high.
3. Place the meat on a broiler pan or rimmed baking sheet if you are broiling it. Grill the meat over direct heat or under the broiler until it is nicely browned on both sides and done to your taste (see page 62 for cooking times). Then transfer the steak to a cutting board and let it rest for 5 to 10 minutes.
4. Slice the steak against the grain and serve, topped with the reserved cilantro leaves, sliced jalapeño if you like, and additional salt if needed.
HARISSA CHICKEN
with Leeks, Potatoes, and Yogurt
One of my all-time favorites, this sheet-pan supper has it all—spicy harissa-laced roasted chicken; sweet, browned leeks; crunchy potatoes; plus a cool garnish of salted yogurt and plenty of fresh bright herbs. It's a little lighter than your average roasted chicken and potatoes dinner, and a lot more profoundly flavored.
The key here (and with all sheet-pan suppers) is to make sure the ingredients can all cook together on the same pan. This means cutting sturdy, denser things into smaller chunks that will cook at the same rate (chicken, potatoes), and adding the more delicate ingredients (here, the leeks) toward the end so they don't burn. Another important note: don't overpopulate the pan. You need to leave space between things so ingredients can brown and crisp rather than steam. If you want to double the recipe to feed six, you can, as long as you spread everything out in two pans rather than crowding them in one.
1½ pounds bone-in, skin-on chicken thighs and drumsticks
1¼ pounds Yukon Gold potatoes, peeled and cut into 1 × ½-inch chunks
3 teaspoons kosher salt
¾ teaspoon freshly ground black pepper
2 tablespoons harissa
½ teaspoon ground cumin
4½ tablespoons extra-virgin olive oil, plus more as needed
2 leeks, white and light green parts, halved lengthwise, rinsed, and thinly sliced into half-moons
½ teaspoon grated lemon zest
⅓ cup plain yogurt, preferably whole-milk (if using Greek, thin it down with a little milk to make it drizzle-able)
1 small garlic clove
1 cup mixed soft fresh herbs such as dill, parsley, mint, and/or cilantro leaves
Fresh lemon juice, as needed
TOTAL TIME: 1 HOUR + 30 MINUTES MARINATING
SERVES 3
1. Combine the chicken and potatoes in a large bowl. Season them with 2½ teaspoons of the salt and ½ teaspoon of the pepper. In a small bowl, whisk together the harissa, cumin, and 3 tablespoons of the olive oil. Pour this mixture over the chicken and potatoes, and toss to combine. Let it stand at room temperature for 30 minutes.
2. Meanwhile, in a medium bowl, combine the leeks, lemon zest, ¼ teaspoon of the salt, and the remaining 1½ tablespoons olive oil.
3. Heat the oven to 425°F.
4. Arrange the chicken and potatoes in a single layer on a large rimmed baking sheet, and roast for 20 minutes. Then toss the potatoes lightly, and scatter the leeks over the baking sheet. Roast until the chicken is cooked through and everything is golden and slightly crisped, 20 to 25 minutes longer.
5. While the chicken cooks, place the yogurt in a small bowl. Grate the garlic clove over the yogurt, and season with the remaining ¼ teaspoon salt and ¼ teaspoon pepper.
6. Spoon the yogurt over the chicken and vegetables in the baking sheet (or you can transfer everything to a platter if you want to be fancy about it). Scatter the herbs over the yogurt, drizzle some olive oil and lemon juice over the top, and serve.