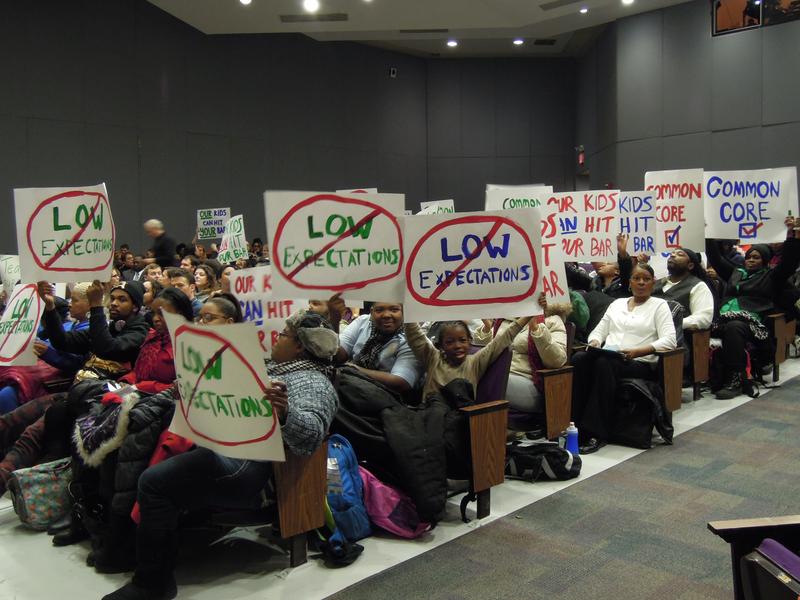 State education commissioner John King faced a highly supportive audience Tuesday night at his first forum on the Common Core learning standards in New York City.
Dozens of parents, organized by the advocacy group StudentsFirstNY, held signs in support of the learning standards and spoke of the Common Core's role in equalizing educational opportunities for students in poorer neighborhoods by raising expectations for its teachers and students.
"I'm here to dispel the myth that children in low-income neighborhoods cannot learn," said Darlene Boston, a parent of a child who recently graduated from high school. "Common Core is another way to bridge the gap of inequality that exists in New York City public schools."
Some of the parents who spoke were also affiliated with charter schools and the group Families for Excellent Schools, another advocacy organization that, like StudentsFirst, promotes school choice, charter schools, merit pay for teachers and other policies aligned to the "education reform" movement.
Tuesday's event was held at Medgar Evers College. Another forum, attended by Merryl Tisch, the chancellor of the Board of Regents, was simultaneously held in the Bronx.
Parents at the Brooklyn forum spoke emotionally about the need for improved instruction and at times recalled their own stories of performing well in high school, only to get to college to need remedial classes or tutoring.
Jacqueline Green Parks, who has four children at Leadership Prep Charter School in Bedford-Stuyvesant, said her children were ready and willing to meet higher expectations, even if it meant that they struggled. 
"It is okay for kids to feel challenged," said Parks. "It is even okay to fail, because most times this is what helps you to grow."
Several educators praised the Common Core standards as well, including Anthony Lombardi, principal of P.S. 49 Dorothy Bonawit Kole in Middle Village, Queens who said he "fundamentally" disagreed with a parent quoted in SchoolBook previewing the forum, who suggested that the Common Core would help drive instruction toward more test prep. 
On the contrary, he said, "I fundamentally believe that the Common Core is going to force schools to be creative, innovative and flesh out lessons and units of study that are going to propel student learning."  
But where some supporters of the new learning standards diverged from others was over the rollout of the Common Core and how well -- or poorly -- education officials had prepared educators to implement the new standards. Some expressed dismay that criticizing the Common Core came at the risk of appearing in opposition to higher learning standards.  
Kathleen Daniel, a member of the Community Education Council for District 16, said the Common Core is a "very good model."
"However, the Common Core was deployed by a bureaucracy that has not changed since the year of the flood," said Daniel. "So I'm very concerned that a great model perhaps isn't getting the support that it could because we have a poor deployment and implementation coming from a bureaucracy." 
She also implored King to include parents in implementation of the Common Core. "We need to be participants," she said.
Heather Lawrence, principal of P.S. 181 in Flatbush, Brooklyn, said the "execution" of the Common Core required more expertise and professional development. She said that teachers have worked to piece together instructional materials through the state's Common Core website, EngageNY, and new curricular materials.
"As we think about the execution of this we must think about the culture of which this system -- this new system -- was planted, and everybody's not ready," said Lawrence. "The fact that there's information does not imply that behavior change is coming," she said.
King put the responsibility of preparing educators in New York City's hands, saying professional development around the Common Core must be the focus of the next mayoral administration and schools chancellor. 
"This issue of ensuring that every teacher has the preparation and support to implement these high standards well, that has got to be a top priority for the leadership of this district going forward," he said.
King will hold another forum Wednesday night in Manhattan.