Stricter Rules Fail to Dent Black Market for Vendor Permits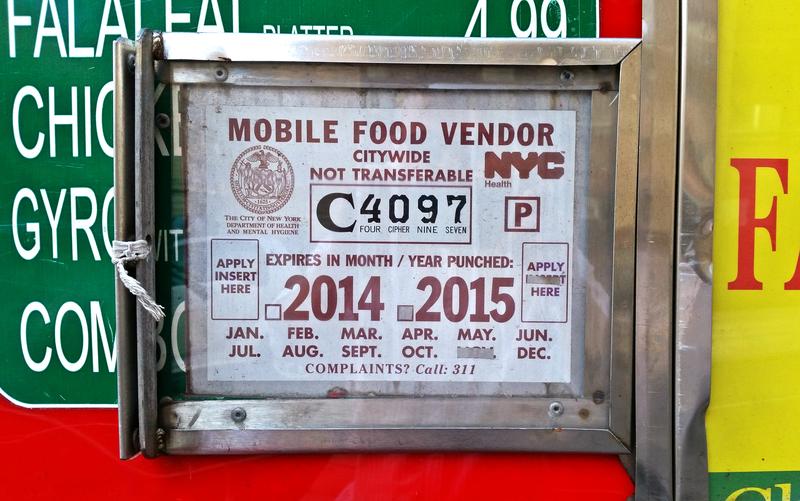 Spring means the return of food vendors, to the streets of New York. But there's a shadowy backstory to kimchi tacos and falafel platters. Three years ago, WNYC reported that many vendors pay high prices to "rent" other people's permits on the black market. Regulators acknowledged the problem, and said they would try to fix it.  But vendors say the government's own rules still essentially require them to break the law, in order to be in business.
Full-year, unrestricted permits can fetch $20,000 or more on the street, while it costs a permit holder just $200 to renew their papers every two years.
Three years ago, the New York City Department of Health decided to do something about this. Deputy Commissioner Dan Kass explained to WNYC that permit holders could no longer renew their documents through a representative: From now on, they'd have to show up in person.
"So that we can...communicate that we fully expect them to be deeply involved in the operation of their cart as the law expects them to be," Kass said at the time.
But fast forward to 2015 and Adam Sobel, founder of the Cinnamon Snail vegan food truck, says the rule change has only made things more complicated. Through a middleman, he rented his permit from a complete stranger who has since moved to Pakistan.
"You know, a simple violation, like our registration not being renewed on time, for instance – we had to go back to get the truck re-inspected because of that," Sobel said. "And to do that, we had to fly the guy back into the country again, so it took months to get that renewed."
WNYC wasn't able to corroborate Sobel's version of events. But many food vendors have their own stories to tell about the difficulty of working with an absentee permit-holder.
"I have one [permit], the owner is 83 years old and he lives in Florida," said Hakim Elnagar, who runs has six halal food carts around Times Square and in Brooklyn. During his eighteen years in the business, he has never managed to procure a permit in his own name. "It's not fair," he said.
Permitting and inspections happen far from public view, at a garage located at 5617 56th Drive in Maspeth, Queens. The sidewalks here is crumbling, and the entire block is jammed with Mister Softee trucks and Rafiqi's carts.
"I think the health inspectors try to not to ask the questions they don't want to ask. They're concerned with public safety and food safety. Which is great," Sobel said.
The Department of Health did not agree to an interview. But a spokesman, Levi Fishman, wrote in an email, that "The Health Department makes every effort to determine if permit holders are operating within the law and to enforce regulations when they are not." The Department has revoked 27 permits since the beginning of 2014 – some, because they were illegally transferred.
For the first time in many years, lawmakers seem ready to make real changes to how permitting works.
Last month, Speaker of the City Council, Melissa Mark Viverito, told a forum organized by the Street Vendor Project that "we have not seen a raise in the cap on the number of vendor permits in this city for way too long."
Vendor advocates expect a bill to be introduced in the Council in the coming months, to raise the number of permits. A bill has also been introduced in the state senate, which would also open the door to a higher cap on on permits.
For Adam Sobel and the Cinnamon Snail, it would come too late. When his permit recently expired, he decided not to go looking for a replacement. Instead, he's promoting a cookbook with recipes and stories about running a vegan food truck on the streets of New York.