Broken Permitting System Forces Food Trucks Into Black Market
Running a food truck may be the hippest job around. But there is a shadowy side to food trucks' fun and quirky image.
In order to get started, many of these gourmet trucks flout the law, and pay high prices to obtain black-market vendor permits. They say they have no choice.

Ed Song is a part of the new wave of gourmet trucks. Together with two friends, he started Korilla, a group of three bright orange trucks that sell bulgogi, burritos and tofu tacos.

Speaking from his office in Ridgewood, Queens, the spiky-haired 26-year old sporting a Mickey Mouse T-Shirt said he decided to start a food business shortly after graduating from Columbia with a degree in economics and mathematics.

It was the year Bear Stearns and Lehman Brothers failed, and striking out on his own seemed like the best path.

"All the jobs in finance were all drying up. And so I decided to take the opportunity to do what I wanted to do. And follow a passion," said Song, whose parents emigrated to New York from South Korea.

Then Song discovered the fact that confronts every new food truck entrepreneur: to sell prepared food on the streets of New York City you need a permit. It's a little bit like a driver's license, authorizing the holder to be on the road.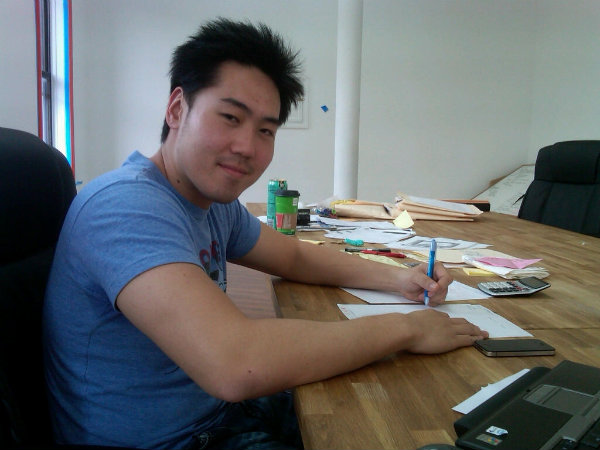 A Mobile Permit Road Block

There are only 3,000 citywide, two-year permits, and there are so many names on the wait list (more than 2,000) that the Department of Health hasn't taken names since 2007.

"There really is no legal channel to go through to obtain a permit," he said.

So Song (right) turned to a middleman for the permit for one of his three trucks (the other two permits he obtained by going into partnership with existing permit holders).

Recalling his first contact with the middleman, Song said "it was scary. You're giving them a lot of hundred dollar bills without a receipt. It's just the nature of the business."
 
After an initial down payment, Song took the truck to the Department of Health for inspection, and when it passed, he paid the balance and received the white sticker that's now on the side of the truck. In total, it cost about $20,000.

Several others in the food truck business confirmed the existence of a large and robust underground market for permits. But only Ed Song allowed his name to be used.

One popular vendor told WNYC anonymously that turning to the black market went against her instincts, as someone who'd worked in a variety of retail and service businesses.

"All the other jobs or businesses I was involved with were much more straightforward in terms of paperwork or how you get a license for something," she said.

Vendors say the city's Health Department does a thorough job of checking sanitary conditions in trucks. And traffic police frequently chase trucks out of spaces where vending is not allowed. But by ignoring the trade in permits, the Health Department forces them into the black market it claims it's trying to eliminate.

It's not known how many trucks operate under illicitly procured permits.

Song isn't even sure whose name is on the permit he uses, and treats as his own.

"I could try to remember. I do have his name somewhere," he said. "I don't think this person even lives in New York City."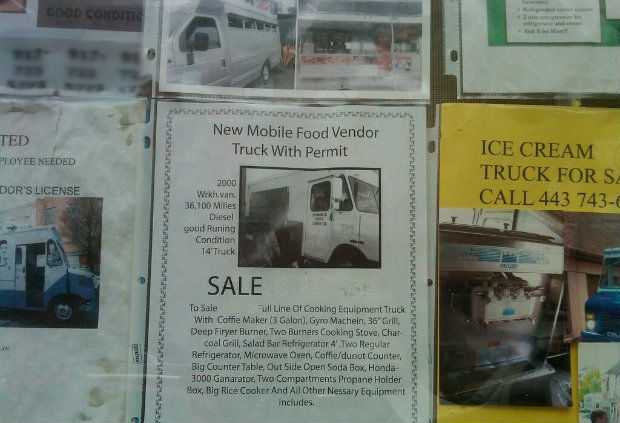 How it Works
Where red-brick residential Brooklyn gives way to a grittier industrial neighborhood, there's an unmarked asphalt lot where permits can easily be bought and sold.

This is a commissary, a one-stop shop where food truck entrepreneurs can get everything they need: purchase a vehicle, order meat and vegetables -- and secure a permit too.

On a recent visit to the lot, WNYC asked about buying a permit. A worker took the reporter into a store room full of jars of mayonnaise and pickles, and dialed a number on a cell phone and handed the phone to the reporter.

The man on the other end of the line, who called himself Mohammed, said he could obtain a second-hand permit in a few days, and it would cost $18,000.

New York City's Health Department charges just $200 for the same document, so the street value is nearly 100 times higher than the official price. In 2011, the Wall Street Journal reported the street price was around $14,000, up sharply from just a few years earlier.

Vendors say the black market thrives because permit-holders can renew their papers year after year, for decades, without proving that they still operate a truck.

Like an illegal sublettor with a rent-controlled apartment, the vendor pockets the difference between the price set by the government and the market price.

A Longstanding Problem

Authorities are aware of the problem. In 2009, six people were arrested for trading in black market permits, which can be a felony offense. The arrestees included a Queens woman, Ifigenia Tsatsaronis (PDF).

Today, Tsatsaronis still runs a permit-services business out of a storefront on a quiet, tree-lined street in Astoria. The window of Effie's, as the business is known, functions like a bulletin board for vendors – including those selling permits, as a recent visit by WNYC found.

"New Mobile Food Vendor Truck With Permit" said one. Another sign touted a "full-service lunch truck" including a two-year permit (no price given).

Tsatsaronis expressed surprise when a reporter pointed out these notices, which would seem to violate the city code forbidding the sale of permits.

"People put things in the window, I don't check everything," Tsatsaronis said, as she pulled down the flyers.

Tsatsaronis said the charges against her were eventually dropped, and that she was never prosecuted (the records of the case are sealed). And she said her work today is 100 percent legit: she works as an expediter, handling paperwork that can cut into the time vendors would otherwise spend on the street.

But she acknowledged the Department of Health's current system of issuing permits is frustrating and "should be more systematic."

Very Slowly, the City Responds

In a joint press release after the arrests, the Departments of Health and Investigation said they were discussing "improvements that would eliminate the criminal conduct found in the investigation, including the creation of a competitive, sealed bidding process to, in essence, replace the illegal payments with legal payments."

WNYC recently asked the Health Department what changes have been made since the 2009 arrests. For weeks, the Department was silent.

On Wednesday, as this story was about to be published, the Health Department abruptly released new draft regulations covering permitting, among other things. Dan Kass, deputy commissioner for environmental health, conceded it's a problem that longtime permit holders don't need to show up in person to renew.

"We're changing that," Kass said. "We're gonna require that the permit holder appear at least every two years, partly so that we can photograph them, we know who they are, to keep them close to the operation and to communicate that we fully expect them to be deeply involved in the operation of their cart as the law expects them to be."

This could cut down on illegal transfers. But even Kass concedes it's hard to eliminate a black market when the government limits the quantity of something valuable, and sets the price artificially low.

Song suggested the city raise the official price to reflect the street value and let the city collect that cash.

He reached for a calculator and did some quick math: $20,000 multiplied by 3,000 permits equals $60 million.

"That's a lot of money," Song said.

Song said he wanted to go public to draw attention to the issue, even if it meant putting the little Korilla food truck empire in jeopardy.

"That's the risk that we take," Song said. "Hopefully somebody will hear this, hopefully in the government, and would want to regulate and make a change in this industry. 'Cause they're leaving a lot of money on the table."
Health Department's new draft regulations: