Remembering WNYC Host Oscar Brand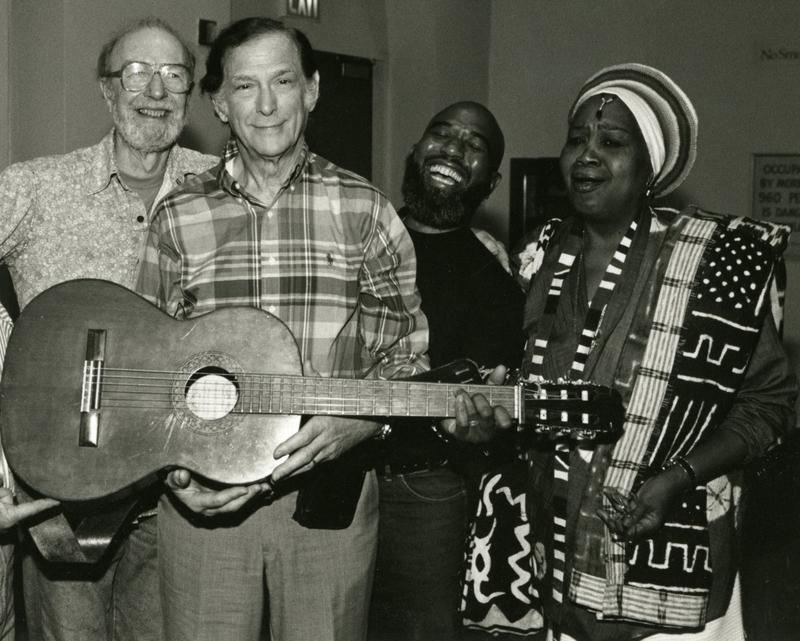 Oscar Brand – singer, songwriter, New York institution and host of Folksong Festival on WNYC since 1945 – died Friday, September 30, 2016. He was 96.
A two-time Peabody Award winner and Guinness Book's World Record-holder for radio longevity, Oscar Brand hosted Folksong Festival on WNYC for more than 70 years. As noted in the New York Times, Doug Yeager, Mr. Brand's personal manager, said the cause of death was pneumonia.
Folksong Festival has played a legendary role by showcasing iconic performers including Joan Baez, Woody Guthrie, Huddie Ledbetter and Pete Seeger. Bob Dylan made his solo New York radio debut on the show, and Arlo Guthrie gave one of his earliest performances of "Alice's Restaurant" right in Brand's studio. Suzanne Vega, Emmylou Harris, Judy Collins, Harry Belafonte, Harry Chapin and John Denver have all been featured guests.
Please feel free to share your remembrances of Oscar in the comments section below.
Read a short history of Folksong Festival that WNYC archivist Andy Lanset wrote about Oscar Brand last year in celebration of the show's 70th anniversary. 
Classic Oscar from the 1940s and 50s.
Oscar Interviews Bob Dylan - A Soundcheck Reprise