SchoolBook
Pressure Mounting to Halt Evaluations Tied to Common Core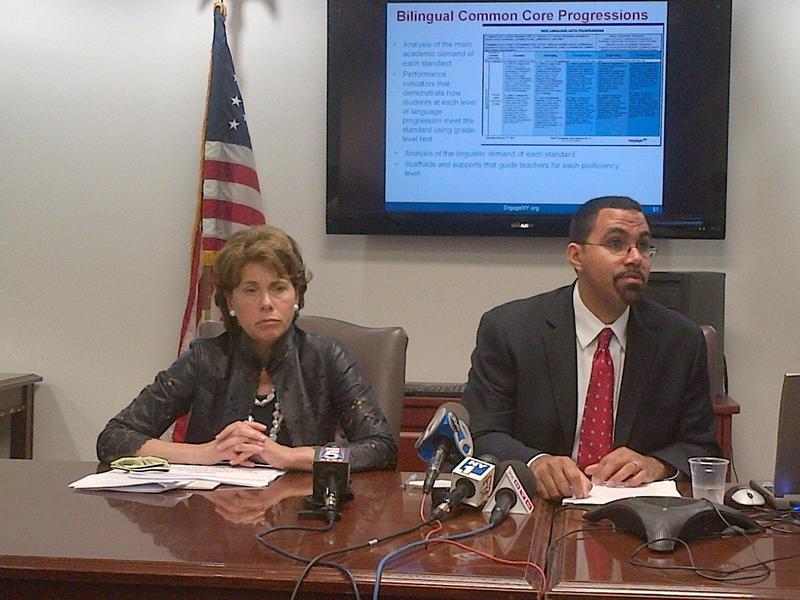 Legislative leaders are calling for a two-year break before the state uses its new exams to evaluate teachers or principals. In a bi-partisan push, lawmakers said the Board of Regents and the State Education Department should help local school districts develop curriculum materials adjusted to the new Common Core learning standards. 
But Gov. Andrew Cuomo urged patience. His communications director, Melissa DeRosa, issued a statement defending a "meaningful teacher evaluation system" and the Common Core learning standards adopted by many states.
However, she said Cuomo "believes that the way that Common Core has been managed by the Board of Regents is flawed, leading to too much uncertainty, confusion and anxiety among students and their parents. The strength of public education in New York is dependent on a rational system that is well administered."

Cuomo announced two weeks ago that he would assemble his own panel of experts and legislators to identify flaws in the roll-out and take corrective action by June. DeRosa said it would be premature to consider any moratorium before the panel did its work. 
This flurry of statements and press conferences reflected pressure lawmakers are feeling from constituents and teachers unions, whose frustration boiled over in public hearings last year. "There is growing concern about it,"  said State Assembly Speaker Sheldon Silver.

Educators have argued that it was unfair for the the state to begin using new standardized tests, before teachers and students received new curricula and adequate training, because teacher evaluations are based in part on how students score on state exams. Last year, only about 30 percent of the state's fourth through eighth graders were proficient on their new math and reading tests. 
"Common Core may be beneficial, probably is beneficial, but you can't thrust it upon students, on faculty and on administrators," Silver said on Tuesday. His comments were swiftly echoed by the co-leaders of the Senate, who said the implementation of Common Core has "been poorly executed." Republican co-leader Dean Skelos said if the Regents won't act to put the brakes on, the Senate will.
"They should do a moratorium or we will then do what we have to do legislatively," he told reporters in Albany.
But State Education Commissioner John King and Regents Chancellor Merryl Tisch said they were waiting for a new report on Common Core implementation, from a group of their own, appointed late last year. Recommendations from the group -- due next week -- would "reflect the input the Board has received from legislators and the public to make thoughtful adjustments to Common Core implementation."
In reality, however, the Regents can't do very much. The teacher evaluation system, in which 20 percent of the teachers rating is linked to student performance on standardized tests, is set by state law. Only the governor and the legislature could change it.

Meanwhile, critics of the roll-out want a shake-up of the Board of Regents. Four of the 17 members are up for re-election this year. Some see that as a chance for Silver to take action, because the Assembly Democrats have a majority of votes in choosing the Board of Regents. And the Regents pick the State Education Commissioner. But, according to sources, incumbent Regents board members are rarely replaced.

With reporting by Karen DeWitt