SchoolBook
Fewer than One Third of New York City Students Pass State Tests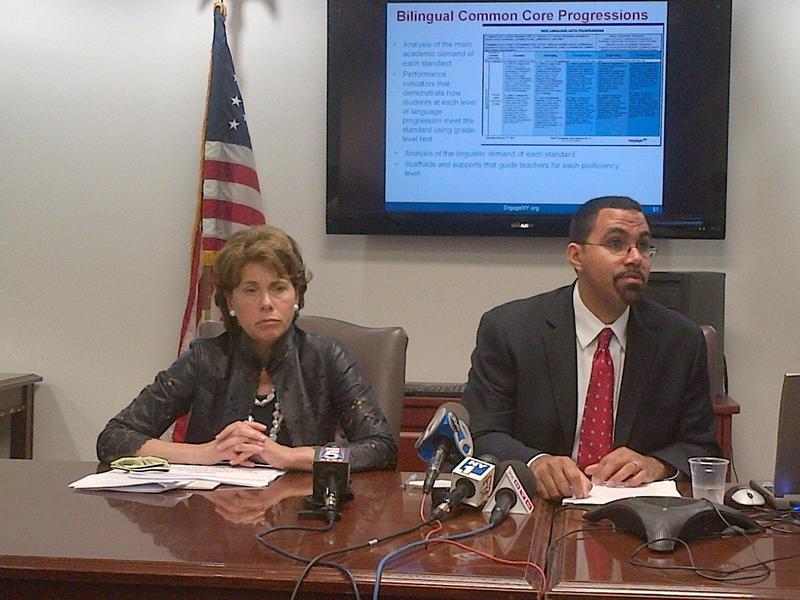 Test scores for New York City students plummeted this year, with 26.4 percent of third through eighth graders passing the English tests and 29.6 percent passing the math tests. Education officials tried to allay concerns, saying the tests created a new baseline that better reflects what students need to thrive. 
The city scores were slightly lower than the statewide averages which dropped from the previous year by between 24 and 35 percentage points. Last year, 55 percent of the students tested in New York State were proficient in English while this year the number was 31.1 percent. In math, the state average last year was 64.8 percent compared to 31 percent this year. 
A slide presentation of the New York City data is available here. 
We have the school-by-school results below. Just type in a school name and see scores over the last five years and how they compare to similar schools. 
Mayor Michael Bloomberg worked hard to put a positive spin on the numbers: "When you take a look at them and understand them I think actually there is some very good news, even though people haven't written it that way yet."
But New York State Education Commissioner John King said he knows the results are shocking. 
"I understand these scores are sobering for parents, teachers, and principals," King said. "It's frustrating to see our children struggle.  But we can't allow ourselves to be paralyzed by frustration; we must be energized by this opportunity. The results we've announced today are not a critique of past efforts; they're a new starting point on a road map to future success."
The Common Core learning standards that underpin this year's tests emphasize reading comprehension, more writing and problem solving in both English and math.
"The world has changed, the economy has changed, and what our students need to know has changed," Board of Regents Chancellor Merryl Tisch said in a statement. "We have just finished the first year of a dramatic shift in teaching and learning.  Teachers, principals, superintendents and school boards have worked extraordinarily hard to implement the Common Core," she said.
We posted the state's slide presentation with data breakdowns and analysis below. 
Both King and Tisch said they were concerned about the persistent achievement gap for low-income students, African-American and Hispanic students, and English Language Learners. On the English test, only 16.1 percent of African-American students and 17.7 percent of Hispanic students met or exceeded the proficiency standard. Just 3.2 percent of English Language Learners were deemed proficient on the English test and 9.8 percent passed the math standard.
Reaction to the state numbers was swift.
Ernest Logan, the president of the principals' union, the Council of School Supervisors and Administrators, blamed the score drop on a lack of training among teachers and principals ahead of the tests. These were the first exams aligned to the state's new learning standards known as Common Core and they are meant to measure success in a curriculum many educators haven't started using in the classroom yet.  
"We don't want these scores to end up undermining the success of the Common Core, placing the blame on educators and decimating the self-esteem of children.  We trust that education officials will stick to their word not to  punish schools for low scores and we can look forward to core standards that will gradually elevate our children's critical thinking skills and broaden their perspective on life and learning," he said.
Michael Mulgrew, president of the United Federation of Teachers, struck the same theme.
"We knew three years ago that the state was changing its tests to the Common Core tests. We have been asking for a curriculum since that point in time," Mulgrew said. "Standing here today, in August, we still have not been supplied a curriculum."
Nathalie Elivert, StudentsFirstNY Director of Educator Outreach and former New York City public school teacher, warned against using the results to score political points.
"We must put children's interests first.  The issue here is not about low results, but setting a higher bar. We need to move to these higher Common Core standards, adopted by forty-five states and the District of Columbia, so that our students are prepared for whatever it is they want to do after high school," she said. 
Another parent, Tesa Wilson from Brooklyn's school district 14, rallied with the group New Yorkers for Great Public Schools outside the Department of Education headquarters on Chambers Street in lower Manhattan. She said the scores were another sign of failure on the part of Mayor Michael Bloomberg.
"In my district, the D.O.E. has forgone their responsibility to the students and parents. They closed a school, co-located many, starved them of resources and turned their backs on the students that need the most help," she said. "We call on the next mayor take us in a different direction."
Damon Hewitt, director of the education practice at the NAACP Legal Defense Fund, said he hoped the Bloomberg administration would not punish schools, educators or students for the lower scores. "Our nation's best educators know that true student learning cannot be fully captured by any single test. Current and future D.O.E. leadership should use this opportunity to move towards a more sensible, holistic approach to assessment and accountability."
Bloomberg said it would make no sense to use the scores as a performance measure this year. "We are not going to take a teacher and say 'your scores went down.' Because the scores didn't go down. There's no ways of knowing if the scores went down. They're just two totally separate things that you can't compare."
Starting on August 26, families will be able to see their child's test results online, at arisparentlink.org.