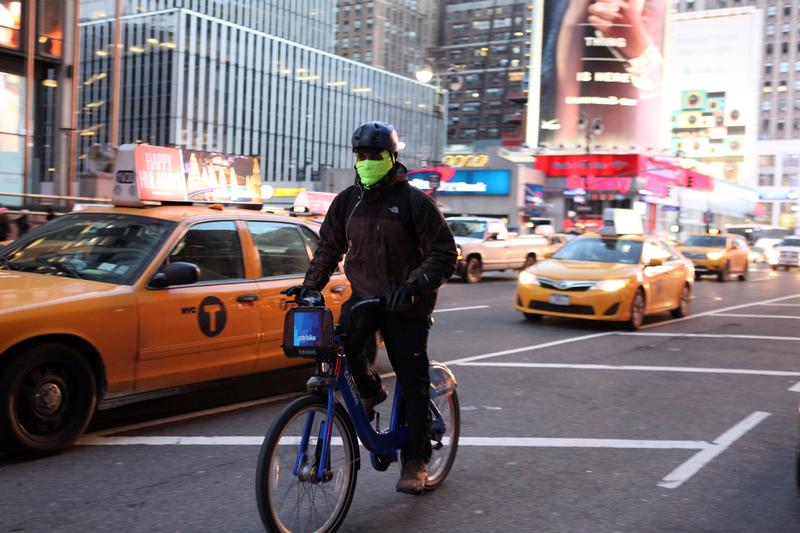 New York's bike share program is experiencing its first winter, and even though ridership is dipping with the temperatures, Citi Bikers are riding anyway.
The golden days of early fall (40,000+ trips a day) have been replaced by New York in January. On the third of this month, the temperature dipped to 9°, and the system recorded a record low number of trips -- 1,230.
The day before, the high temperature was 33° — and the system had nearly 9,000 trips.
Tuesday morning's temperature was the lowest yet this winter, and New York woke up to single digits.

Lesson: 22 blocks on a CitiBike in this weather today: It's gonna hurt.

— Peter Shankman (@petershankman) January 7, 2014
But WNYC reporter Stephen Nessen, who was documenting New Yorkers in the cold, spoke to this man:

Finnish Navy man says NYC weather reminds him of home. He'll still be biking to work today. pic.twitter.com/GvgtPNV9xW

— Stephen Nessen (@s_nessen) January 7, 2014
Early morning Citi Biker (Stephen Nessen/WNYC)
And Citi Bike tweeted this (note: today is the coldest January 7 in 118 years, not the coldest day ever in NYC. That record belongs to February 9, 1934, when the temperature hit -15°.):
2,485 trips have been taken today, the coldest day NYC has seen in 118 years. #Citibike is here for you year-round, #polarvortex or not!

— Citi Bike (@CitibikeNYC) January 7, 2014
Citi Biking this winter? Share your cold weather biking tips below!