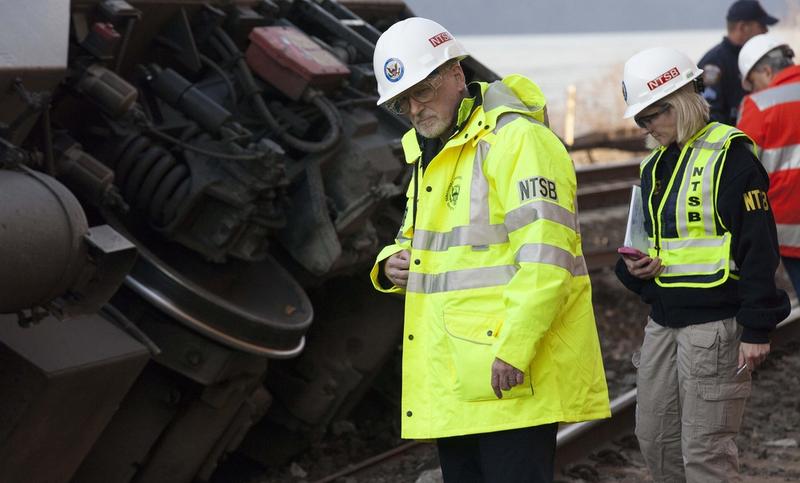 The National Transportation Safety Board, which is investigating December's deadly Metro-North derailment, is recommending the MTA install cameras in train cabs and make its speed limit signage permanent.
It's the first concrete recommendation to come from the safety board since its investigation began. The board says the cameras should face both inward and outward and be able to record audio as well.
"The images and audio captured by recorders can be invaluable to our investigators," said NTSB chairman Deborah A.P. Hersman. "Understanding what is happening inside the cab just prior to a crash can provide crucial information about how to prevent future accidents."
The NTSB also wants Metro-North to install permanent signs warning train operators of speed restrictions, although it noted signage might not have prevented the crash.
The cause of the December 1 derailment is still under investigation, although a union official said the train operator fell asleep. When the train derailed along a section of curved track in the Bronx, it was traveling at 82 mph in a 30 zone. Four people were killed and dozens injured.
The MTA said in a statement that "the safety and security of our customers is Metro-North's most important concern, and it is a concern we share with the NTSB. We have received the NTSB's recommendations and we are studying them closely. Metro-North is working with the NTSB to address questions about implementation of the report's recommendations."
After the crash, the MTA modified signals along the route. The federal agency that oversees train safety also began the process of requiring cameras in rail cars.
But Senator Charles Schumer said Tuesday the transit agency should act now. "The Federal Railroad Administration has already taken a step towards mandating the cameras, but that's going to take a while. Metro-North should not wait for the cameras to be mandatory."
In addition to the December derailment, the NTSB is also investigating three other Metro-North incidents.
Read the full NTSB recommendations below.