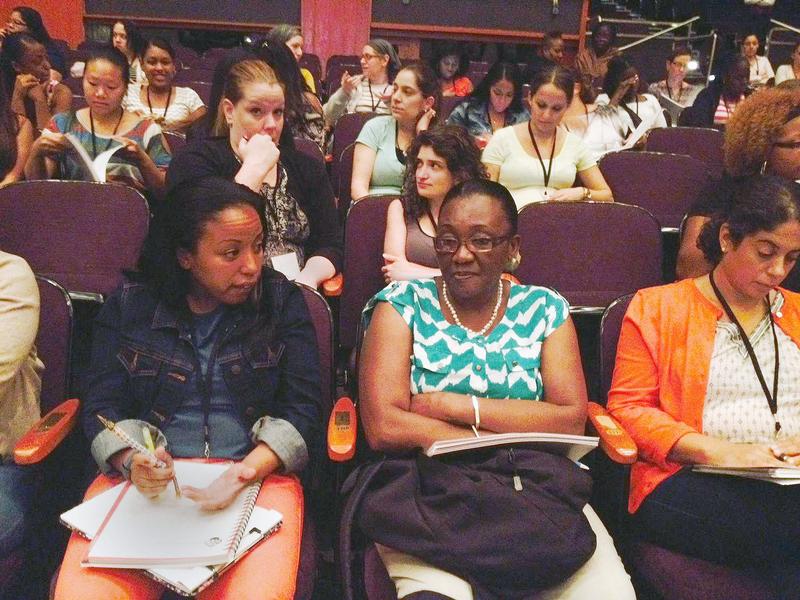 If there was ever a receptive audience for Mayor Bill de Blasio's pre-kindergarten expansion, it was in a Brooklyn College auditorium Tuesday, where roughly 1,000 pre-kindergarten teachers cheered as he rallied them like troops ready for battle — albeit with four-year-olds.
"You undoubtedly will reach many children as individuals," de Blasio told the teachers, some of whose jobs he helped create. This year, he said, the number of kids in full-day pre-k will more than double, and he told the teachers, "you're also changing the rules of the game."
The teachers are part of a three-day training institute organized by Bank Street College of Education, a kind of crash course to prepare for the start of school. About 4,000 pre-k teachers are participating in sessions in Brooklyn and Queens. The City University of New York also has a program.
Those attending the institute discuss activities to welcome kids and their families in the first days of school, and learn techniques for engaging children with disabilities and those learning English.
They also discuss the basics of the Common Core, whose standards for a four-year-old include pre-literacy and math skills, such as recognizing letters of the alphabet and counting — but also skills like making eye contact, asking questions about a story, and correctly identifying people's emotions.
The city has been doing outreach to families. But it does not expect to know how exactly many students will enroll in its pre-k classes until early October, because community based organizations are not required to submit their enrollment figures until the end of September. About two-thirds of the 50,000 seats are in community based organizations and the rest are in the public schools.