Kids in Prison: Getting Tried as an Adult Means a Longer Sentence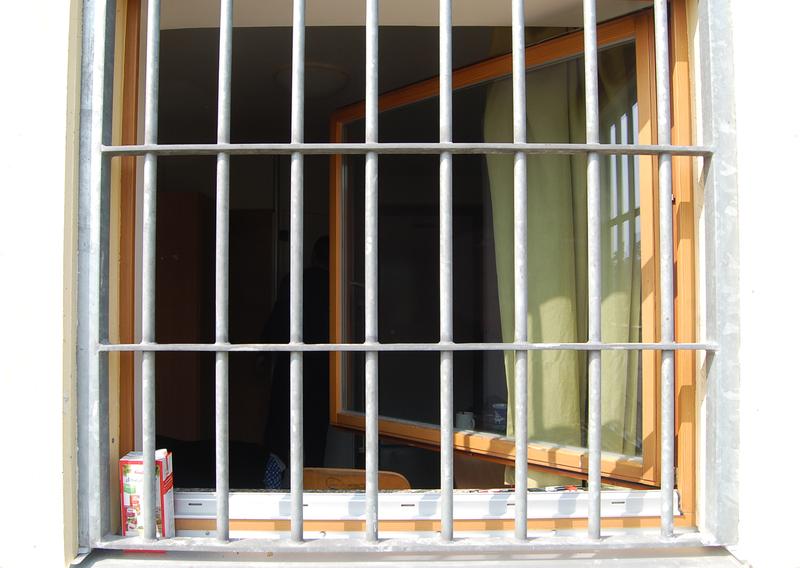 To celebrate his 21st birthday, Terence got himself a honey bun at New Jersey State Prison and decorated it with peanut butter.
"That was my birthday cake," Terence said. "Did a little creative design and closed my eyes and wished things get better."  
He drew a happy face, which Terence said "was kind of childish."
Terence was a minor — 17 — when he arrived at an adult prison. He had stabbed his former foster dad to death.
"Emotionally, I try to block it out," he said. "It's not that I don't remember, it's just as a defense for my body." Terence claims his former foster dad sexually abused him for years, but the victim's widow says it's not true and that it wasn't proven in court. 
In New Jersey, children who commit certain crimes face the same punishment as adults. But giving minors the same long prison sentences as adults might not be achieving the public safety goals people think.
(In Part 1 of WNYC's series, we found that close to 90 percent of the children prosecuted as adults in New Jersey are black or Latino kids. In Part 2 of our series, inmates tell us what it's like to be a minor in an adult prison in New Jersey, and we compare their experiences to the experiences of minors in Germany). 
Minors Stay in Adult Prisons for a Long Time
Terence was convicted of manslaughter and sentenced to 30 years in an adult prison. His former foster mom — who asked that we not use her name or Terence's real name because she is in the middle of a court proceeding — said his sentence isn't long enough.
"I really felt that it should have been a life sentence," she said. "And I'm totally against him coming back into the community." 
Minors in New Jersey who commit crimes that are considered adult crimes, like homicide, robbery, carjacking and drug trafficking, can get adult sentences, which are longer than juvenile sentences.
In New York, there's a separate sentencing scheme for those who are considered minors. Their minimum prison terms are shorter than New Jersey's.
Take a 15-year-old convicted of robbery:
In New York, that kid could get a minimum sentence of one year. In New Jersey, the minimum is 8½ years.
A 15-year-old who commits a murder in New York could get a minimum of five years. In New Jersey, it's at least 25

½ 

years.
"I don't think that we can say that one of these systems is better. They are both bad," because kids in both states are subject to similar maximum penalties, said Laura Cohen, director of the Criminal and Youth Justice Law Clinic at Rutgers University. "Children should not be prosecuted in the adult system, period."
At least, she said, minors convicted as adults in New York have the possibility of earlier parole release than they do in New Jersey.
WNYC's Data News Team looked at the record of every minor who was sent to an adult prison in New York and New Jersey in the past five years. We wanted to find out how common it was for minors to get long sentences. Our results:
In New York, less than 5 percent of the kids are doing 10 or more years in prison.
In New Jersey, 20 percent are.
Some received minimum sentences of 50, 60 and 100 years.
Kids Who Get Life in Prison
Mary Baker's son, Walif, was found guilty of shooting and killing an elderly woman during an attempted carjacking when he was 15. Walif was sentenced to life in prison at 17. He's now 40.
"I've been dealing with this for 23 years," his mother said. "For 23 years, I talk to my son every morning. Every morning he calls me."
He tells her he just wants to do one thing.
"He wants to breathe night air," Baker said. "That's all he wants. Just to breathe night air." 
The U.S. Supreme Court recently ruled that kids can no longer get life sentences without the possibility of parole. Minors need "hope for some years of life outside prison walls," it said.
But minors can still spend the rest of their lives in prison.
One inmate in New Jersey who was 16 when he committed two murders won't get the chance to go before a parole board until 2116 — 100 years from now. And that's not considered life without the possibility of parole.
Other countries, like Germany, don't allow minors to face the same long prisons sentences as adults. 
In Germany, a Belief That People Can Change
The longest sentence a minor can get in Germany is 10 years, even if the crime is murder, said Joerg Jesse, director general of prisons and probation in Mecklenburg-Western Pomerania in eastern Germany.
"You have to say, 'He was young. He was 15, 16, 17 years,'" Jesse said. "We have very, very very few cases of that, but then you have to decide: should he have another chance in his life?"
At the core of the German correction system is the belief that people who commit crimes can change their behavior. Jesse says the point of prison is not to punish offenders with long prison sentences. "The aim is, he learns something for his future, that he gets the opportunity to change their life."
Katja Ellen-Rieder, who runs Butzow prison in eastern Germany, says long prison sentences do more damage to young people.
"You destroy their personality," Ellen-Rieder said. "Then when you get them out, they wouldn't function at all in society anymore, which always means more crime."
Most prisoners at some point get out. And Ellen-Rieder says keeping them in prison for many years isn't going to make them better people.
"It's like you do the contrary of what our duty is. Our duty is to get them out as someone who functions without crime," Ellen-Rieder said.
Germany does have violent inmates who are tough to turn around. A 17-year-old at Neutrelitz prison for adolescents recently knocked out another inmate's front three teeth. Plus there are repeat offenders like 23-year-old Yan, who has been in and out of prisons for violent offenses since he was 14. Yan recently pushed someone off a bridge, served his sentence, got out and months later shot someone in the leg three times. Both of his victims survived.
In the U.S., repeat offenders get punished more harshly. But American research on recidivism among serious juvenile offenders has found that long sentences don't deter juveniles from re-offending any more than short ones.
Can the U.S. Handle Short Prison Sentences?
Vincent Schiraldi, a senior research fellow at Harvard's Program in Criminal Justice Policy and Management, says the United States has always struggled with judges who hand out short sentences.
"So we passed a bunch of mandatory sentences that take that power away from those loosey-goose judges and make it so that everybody who does X gets Y," Schiraldi said. "And what we realized when we did that is we just transferred that power to prosecutors who could control what a person was charged with."
When people re-offend, Schiraldi says our solution has always been to create longer and longer prison sentences.  
"So bit by bit by bit, everybody gets more and more time, and then we have a system that is very reliant on prisons rather than rehabilitation or rather than improving our communities."
The average sentence in Germany's Neustrelitz prison for young adults is 1½ years. "And it might not, quote, 'sound' like enough time," Schiraldi said. "But we would love to have their outcomes."
About 30 percent of Germany's young prisoners do come back within three years. But in America, more than 80 percent of offenders under age 24 are re-arrested within four years.
It's not just about the sentence length, though. The mission of Germany's prison system is different. And its starts with what they think the role of a corrections officer should be. 
"We think demonstrating power is the wrong way," Jesse said. "Demonstrating violence is even worse. Demonstrating that we are the ones who are the tough ones, that's the language that the prisoners know. That's what they know from the streets."
Tomorrow: a case for re-imagining the role of a corrections officer. All this week WNYC is exploring what it's like to be a minor in an adult prison in New Jersey. You can find all our coverage here.